Pirate's Treasure on Ambergris Caye: Ridding the Reef of Lion Fish One Bowl of Ceviche at a Time
The dreaded lion fish are known to have reached Belize in 2008.  They are beautiful to look at but bad bad news for the reef since they eat indiscriminately and almost constantly.  Originally from the Pacific, it is thought that they were introduced to the Caribbean when someone dumped an aquarium.  And now the population is exploding almost everywhere and these buggers are out competing native fish and wreaking reef havoc around the world.
The have no natural predators but here is the cool thing.  They are delicious!  With firm white flesh that almost have the texture of lobster, they are difficult to clean…look at those long poisonous spines!…and don't get particularly large but worth it.
A very cute shirt at the Lionfish catching and cooking competition at Wahoo's Lounge in Dec 2011.
Yesterday I finally stopped by the restaurant, just north of the bridge, that is specializing in lion fish.  Pirate's Treasure.  According to the owner, they have been in operation for one year, one month and two days.  But it was my very first visit.
The location, I've always thought, is a bit tricky.  They are on the road rather than the beach.  But I found that they have a rather cute set-up.
I took a stool at the bar.  Across from this guy…a preserved lion fish.  Take that!
Lionfish ceviche, lionfish fingers and their award winning Pina Colada lion fish.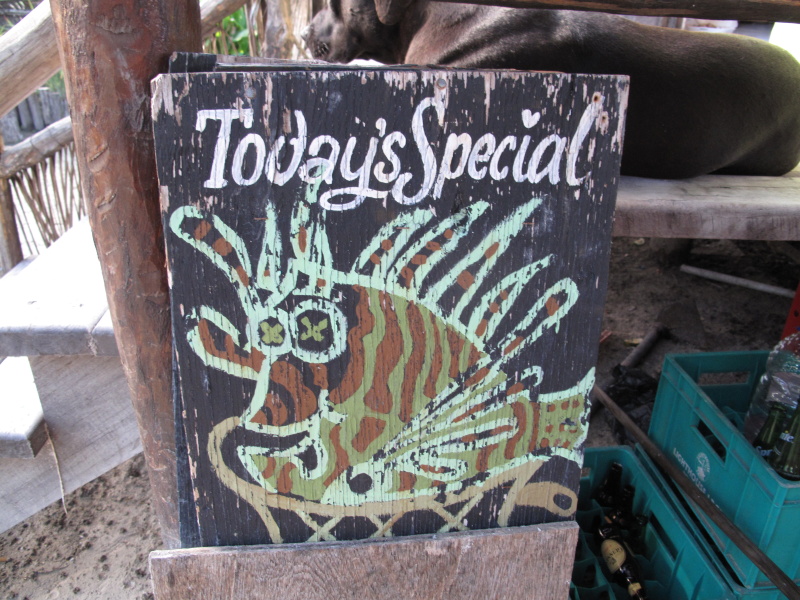 I ordered the fingers (since I had JUST eaten them in Punta Gorda a few days ago).  Here is my order.
YUM.  That is a handsome plate of food.
And plenty of it.  The lion fish was delicious (as were the super crunchy fries).
The owner showed me a new area that they are setting up towards the back of the open air restaurant.  It's what I've been thinking of for years!   An area where they are going to do dinners/cooking lessons around this cool hearth.
When it is ready, they will have a menu for each night available at the bar.  You can sign up to sit in the private area with a chef and bartender, learn to make Belizean food, taste, eat and drink.  Pretty cool, right?
Bottom line:  my lion fish was very tasty.  The plate cost $30bzd, which is a bit on the pricey side, but lion fish are a specialty item when it comes to spear fishing them and particularly cleaning them.  All food is not expensive at Pirate's Treasure.  A plate of Jalapeno poppers, for instance, is $12bzd.
Check them out.  Pirate's Treasure is located over the bridge past Reef Village but before Palapa Bar.  Less than one mile up.
And no need to thank me for helping to save the reef.  It's my pleasure.