New Year's Eve 2013 – 2014 in San Pedro: Belize Style
Clearly New Year's Eve is a massive party around the world.  And San Pedro, Belize is a party town.  There is something going on pretty much every night of the year.  So on New Year's Eve, things need to be turned up just a bit.  They need to be cranked to eleven if you know what I mean.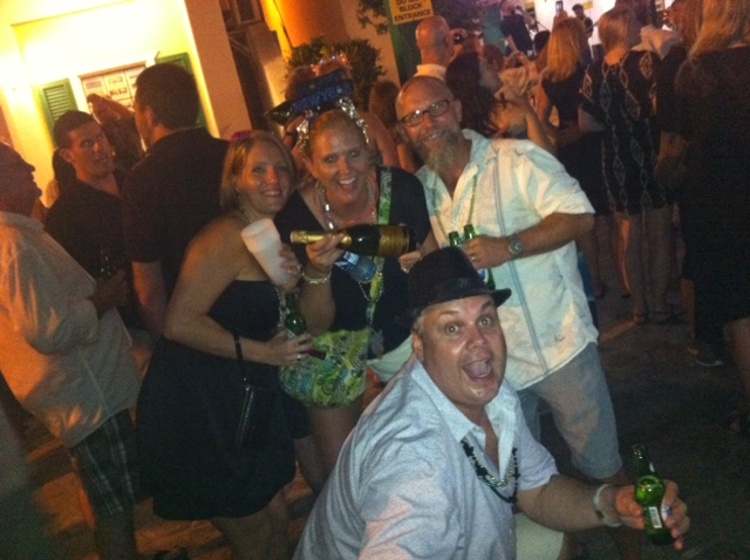 I am SO not a late night person and I had jokingly posted this "ad" on my SanPedroScoop.com facebook page :
"Anyone want to guest scoop New Years Eve in San Pedro?  Here is what you need to do. Go to Fido's Restaurant & Bar from 9 to 10:30pm, Lola's Pub from 10:30pm to midnight to enjoy the band, the champagne toast and the ball drop, jog over to Central Park for the HUGE midnight fireworks spectacular & the mayor's address for the new year, between 1am and 3am hit both Jaguar's Temple Night Club and Daddy Rock Nightclub and then, the party at the Lions' Den until dawn.
Please take lots of pictures for me and submit blog post by 7am January 1st. Thanks!"
Krista aka GingerScoop TOOK ME UP ON MY CHALLENGE.  She made it through the first few stops AND…get this!…she sent me the pictures late last night.   Before my faux-deadline.   To put it in super annoying 2013 terms "Amazeballs!"  I'm hoping that is retired.  But based on how the world seems to be going these days, it will probably be a 2014 addition to the Websters dictionary.
Here's our girl Ginger with Samantha, Josh from Hurricane's Ceviche Bar (with his shirt on!) and her husband Rob.
The first stop at Fido's Courtyard.
You really didn't have to go far to find the next party.  They walked passed the Lions' Den (the party that really doesn't get going until the wee hours of the morning)…
Hmmmm…I don't know DJ Mandy…but I like a DJ that travels with their own truck.
Front Street, San Pedro.
Lola's Pub (THE place to watch sports in San Pedro) was the expat party hub.  They had a full block party set up.  I'd been there earlier in the day…
And last night.
Shanti at the outside bar…
The band was up on the Belize Bank driveway.
There was some shoe swapped.  You know what they say about guys with small feet…
Tamera was looking hot…
Kevin, Ilianja, Heather, Kathy, Tanya and a friend.  Cute!
Steve, the owner of Lola's, was giving out bottles of Sparkling Wine to the VIPs.  SUCH a luxury in Belize…these cost at least $40bzd down here.  How?  
At midnight, a coconut with an umbrella and straw dropped from the upper stories of Belize Bank.
And it was time for the MASSIVE fireworks display put on by the San Pedro Town Council.
Awesome.  Happy 2014 everyone!  It's going to be a good one.
And thanks so much to Krista from Crazy Canucks.  If it had been a blog about my evening, I would have lost a few readers.