Hurricane Earl in Belize, What a Nightmare: Pictures from Ambergris Caye, Caye Caulker and San Ignacio
HURRICANE EARL IN BELIZE.
Yesterday morning, after a night of light rain in my hammock deep in the Chiquibul Forest National Reserve, the rangers radioed in to HQ for the day and we got a startling message.
EVACUATE.
It was like being hit in the face with a bucket of cold water.  A storm was coming.  And that's all we knew.
We packed up our tents, gear, the entire camp on the hill face sliding down to the Raspaculo River, packed into two boats and made our way to the truck near the Chalillo Dam.  Flash flooding in this area is a SERIOUS risk and the rain forest branches/tree crack and fall on normal days.
The weather was grey…but still…we had no signals on our phones, no radio.  We had no idea what was coming our way.
Hurricane Earl.  Just after mid-day, I was in San Ignacio town in the west of Belize.  Finding out that a probable hurricane Cat One storm was headed to Belize and that all flights and boats to the Cayes were cancelled.
He hit before midnight just north of Belize City…thank god he organized late.  If a Category One can do this…
What a night for everyone in Belize.  Especially Coastal area like the North Cayes and Belize City.  San Ignacio is dealing with her own issues.  After SERIOUS rainfall, wind and power loss early this morning, this town on the Macal River is watching the river swell…consuming the market area and moving higher…
Here are the pictures taken just an hour ago.  The lower bridge is completely submerged.
A view down to the market.  Totally underwater.
The Visitors Center and bus terminal area under water.
You can see the statue a few days ago.
A bit earlier in the day, a view from the Hawksworth Bridge.
Information on Caye Caulker has been spotty.  No electricity yet.  These photos were taken today around the tiny island.
The Lazy Lizard.
Formerly:
And another shot of the beach front.
And Ambergris Caye – Ben Popik of Truck Stop and Island Films took these amazing drone pictures.  The Palapa Bar as it stood a few days ago…with the brand new second floor decking.
And now.

There is a GO FUND ME Page to help with donations.
View of docks in town.
And photos from Nook Restaurant's Erin right downtown.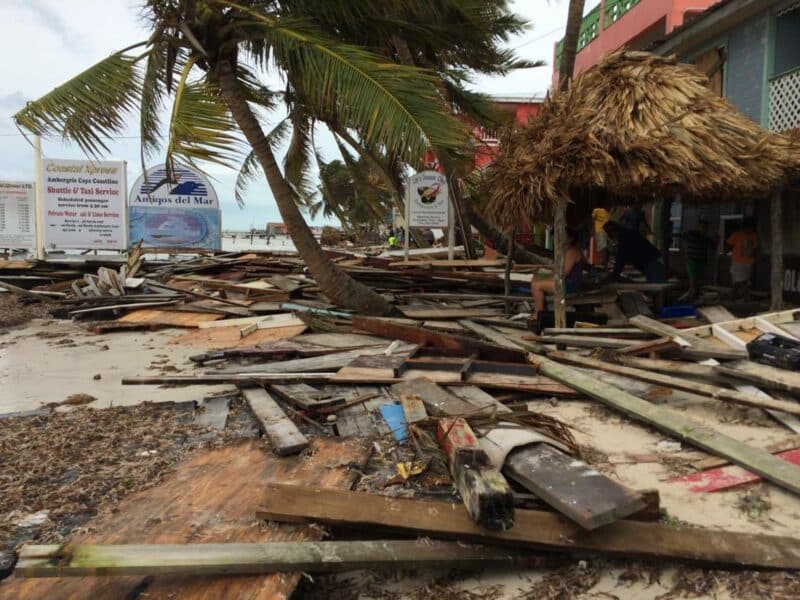 Oh the beach.

From Karen Canul in mid-town.  The old Tacklebox stands alone.  Ironic?  The owner of the dock and the owner of Tacklebox are fighting in court about who owns the bar/restaurant.
Now there is little dock left.
Before the same view.
And from Instagrammer John Romero – this shot of Ramon's Beach – without a dock or dive shop at all.
Absolutely devastating.
This dock and building now gone.
This slide now gone at Caribbean Villas.
This palapa and yoga studio/dock is now gone at Ak'Bol Restreat.
Over and out for now.  I am planning to fly back to San Pedro late tomorrow afternoon.  We have power in San Ignacio.  San Pedro is still without.  Will update as I get more news.  Keep your eyes on Facebook – my page, the San Pedro Sun's page and Ambergris Today.
Please check Bob Hawkin's blog for updates and lots of pictures of Tres Cocos, Ambergris Caye.