A Helicopter Trip Along the Reef From Ambergris Caye to Placencia, Belize
Blogging in Belize has its ups and downs – and that's probably true anywhere.  From the totally non-glamorous – like looking at site statistics and answering "a what?  you can make money at that?" to the most fun parts – like traveling and meeting some of the most interesting people in the country.
But a few weeks ago, I received a message from a reader that asked "Would you like to take a helicopter to Placencia?"
And…and…and…OBVIOUSLY the answer was YES!
It was the start of 24 AMAZING HOURS – an hour long helicopter ride down to Placencia (riding co-pilot), overnight at Francis Ford Coppola's Turtle Inn and the ride back.
There is no way I can fit all of these pictures or experiences in just one post so let me start with the ride with Astrum Helicopters along Belize's Barrier reef.
I think maybe my five…wait…SIX YEARS of blogging have led up to this.  It was worth the wait.
Reef to snaking rivers to miles of banana groves to jagged mountains.  Right now I can't imagine a more beautiful country in the world.
Let me just show you the photos of our trip down (combined with some on the way up) – and try to give you a rough idea where we are.  It's absolutely the best way ever – what feels like hovering at 700 feet (even though you are cruising at 140 mph) – over Belize – and humming the Magnum PI theme song the whole time.
Our ride pulling up at Blue Dolphin's helipad.
It's almost too much.  I think that if it was a perfect day I would have either passed out from the beauty or made myself helicopter-sick viewing it all through my camera.
This was perfect.  You can see the curve of Las Terrazas dock below (that's about 4 miles north of San Pedro town.)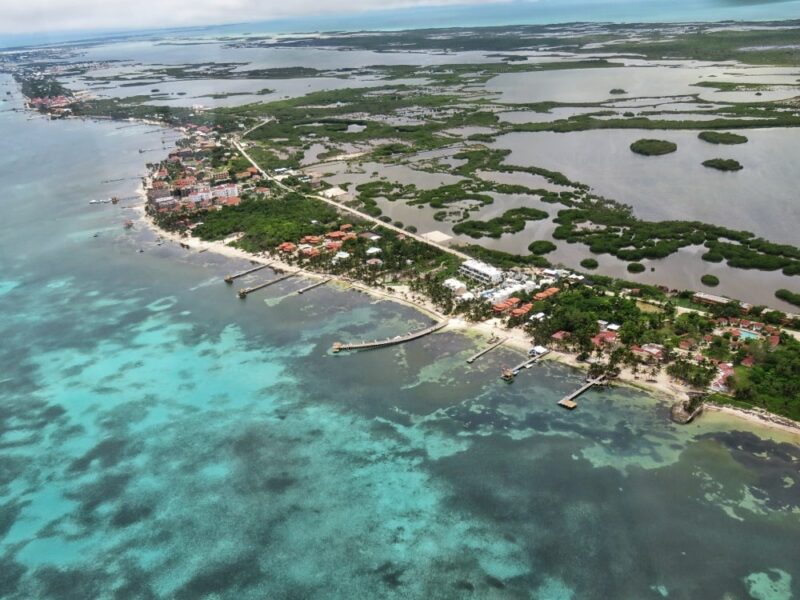 A quiet Shark Ray Alley.
Over to Caye Caulker.
And then you can see Caye Chapel just to the south.  The former resort/golf course that was sold.  I hear it is now building a real estate sales area – and that perhaps a St. Regis Hotel is coming?  Rumors only…
We then passed over St. George's Caye and near Belize City to some of the mangrove cayes south.  The almost cyrillic rivers and winding lagoons…
And the reef starts getting farther and farther from land.  The rivers making the water a bit murky.  There is almost no evidence of human life…
And then the first town – Dangriga.
Hopkins village, the gorgeous Sittee River and the HUGE development – formerly Sanctuary Belize and now renamed The Reserve.
A piece of land larger than the island of Manhattan with construction coming slowly.  (Here is my visit three years ago.)
The marina is just a tiny portion.
And then over the Placencia Peninsula.
And if that wasn't enough, we landed at Turtle Inn.  One of Francis Ford Coppola's resorts in Belize.
Our butler, Oscar.  OUR BUTLER.
He escorted us past Francis' home…
…to his daughter Sophia's Beach House.  The spot we would be staying for the night.
You know Sophia…the writer and director of Lost In Translation???!!
Wow.  I'll get back to you on that.  I'm still looking through my photos and letting it all sink in.
For more information about helicopter travel in Belize, contact Astrum Helicopters.  See if you can get more information out of your pilot about Leonardo DiCaprio and the others stars they ferry about – I was fairly unsuccessful 🙂
Or, if you are on a more modest budget, you can take my usual route – check out my last trip to the peninsula on the water taxi and the bus.  Takes a little bit longer but it definitely has its charms.