El Fogon Restaurant in San Pedro: Traditional Belizean Food in a Traditional Setting
El Fogon is legit.  Authentic Belize in all ways…family run, old school cooking over a "fogon" or open fire stove and delicious simple Belizean dishes.
All the classics from stew chicken (the unofficial national dish of the country) to salbutes.
The restaurant is located just a street north of the San Pedro Tropic Air terminal in San Pedro…if it's your first time and you are rightly confused about my super vague directions, just ask.
Here is a look at the kitchen that you see as soon as you walk in.  It's almost like being at someone's house.  Well…if you had friends that cooked this way.
Alberto, our waiter and smiling guy pictured above, came over with the menu board to explain anything you need help with.
Maybe a bit of gibnut…a nocturnal rodent from the mainland that was served to Queen Elizabeth when she visited years ago?
Awwww cute…do you think my cats will let me get one?  I think I'll pass on the stewed version.
We decided to start out with something tamer…well…less cute…the Conch fritters.  I heard buzz from quite a few locals and visitors that they are the best in town.  Let me start out by saying I am not usually a huge fan of fritters.  Often these things are big, greasy, with very little meat and lots of gummy dough in the center.
(First gigantic lime juices were served.)
But this huge plate of mini-fritters at El Fogon (I think it was 15 to the standard order though you can order just half) is delish.  They are small and crispy on the outside and light, yes I said light, on the inside.  Yum.  15 seems like too many but these things go quickly between four people.  They are more like conch poppers.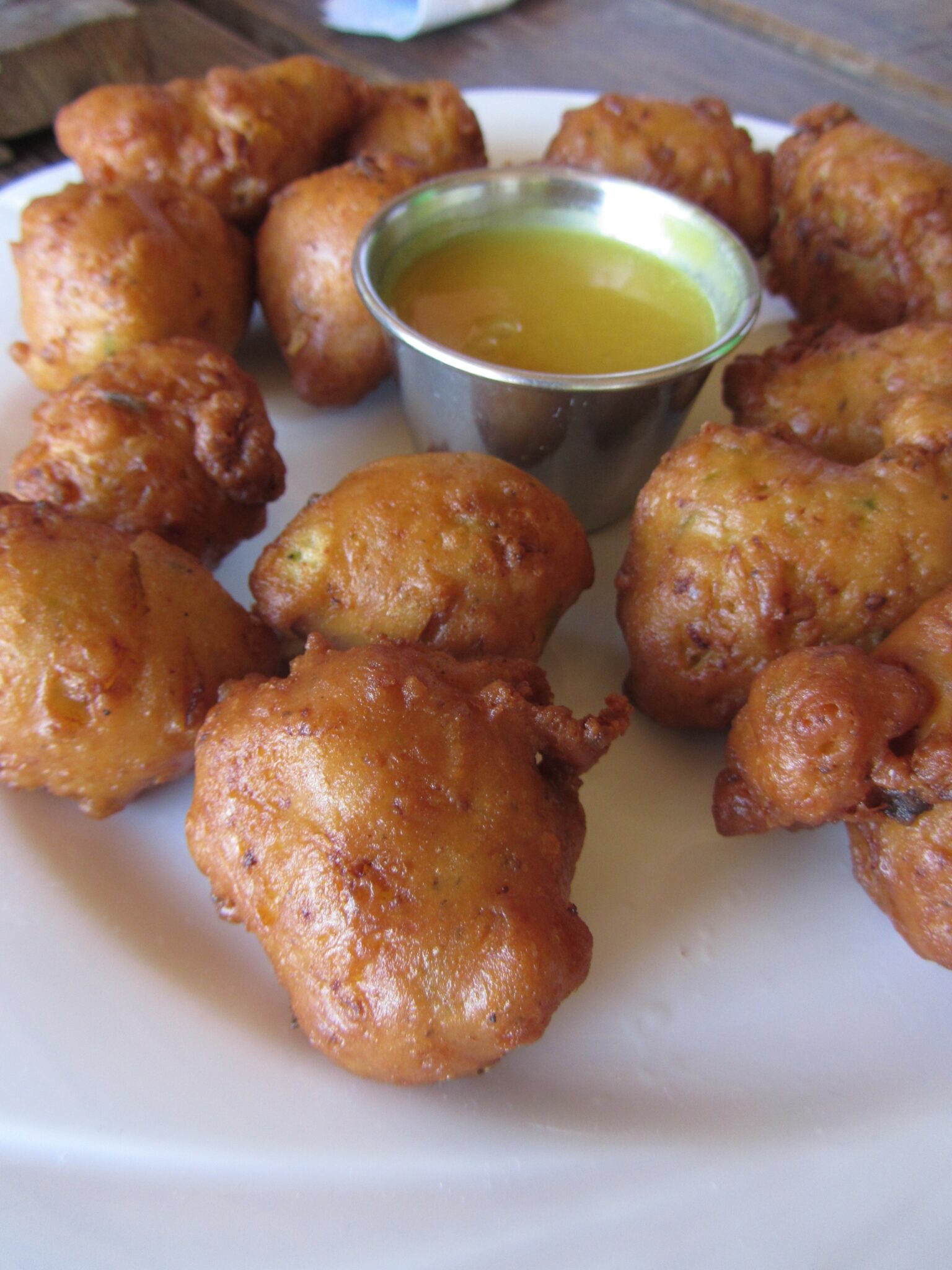 The hot sauces were also served with a stern warning.  THEY ARE HOT.  Not just "beware gringo hot" but beware everyone this is straight habanero hot.  Even the milder one (habanero cut with onions) was too much for me.
If you are not familiar with the habanero, check them out.  They make the jalapeno look like a red bell pepper.
Next up was beef soup for most of the table and a bit of fried chicken.
Served with coconut rice and a bit of plantain, this is good stuff.
There are so many great restaurants in San Pedro (I still have many more to add to my Restaurant Directory) that it's almost hard to chose.  But if you are looking for classic Belizean food in a very cool setting, try El Fogon.