The Lodge at Chaa Creek: My Personal Paradise Found – Part Two
Earlier in the week, I posted about my amazing two night stay at The Lodge at Chaa Creek in Belize's Cayo District.   I gushed about the grounds, the pool, the cottage, their philosophy and the staff.  THE STAFF.  Best staff I've ever encountered.  We packed a ton of activities and relaxation and delicious food into just two days…and would have LOVED to stay a week/forever.
So let me continue…
Just about an hour after arrival, we climbed the hill to the Blue Morpho Butterfly farm.
You can get a guided tour every hour on the hour and I definitely recommend it.   We met up with Selwyn who brought us into the enclosure and showed us the real live insect at every single stage of its life.  It was so interesting, I hardly took any pictures.
SO interesting that we almost hiked up to the enclosure at dawn to watch the butterflies emerge from their little green pupae.  (Don't get to use that word very often…)
And what is not to love about the final product?  A neon blue butterfly…it doesn't even look real.
On the outside…brown with eyes to scare off predators.
Inside?  Awesome.  Trust me, it takes practice to gently catch a flying butterfly like this.
The next morning, after fueling up with the most delicious homemade coconut yogurt, fresh fruit and granola…
(and also the best coffee I've had in Belize)…we suited up for a canoe ride down the Makal River to San Ignacio town for market day.
On the very short hike down to the river we spotted a toucan and some Jurassic Park looking bamboo.  Guess which one I actually got a picture of…
The river was a tad bit higher than usual so Chaa Creek thoughtfully provided us with a guide Hilberto.
If you look carefully, you can just make him out behind my giant forehead.  They didn't call me six-head as a young teen for nothing…
We picked our canoes and set off down the river with two British couples that were staying at the lodge.  I secured the very best seat…the middle one that requires absolutely no paddling and zero effort.  Jamie was put to work…
We saw birds, iguanas, we woke up tiny bats and sent them flying, we cruised over small rapids and went swimming in the cooling river…2 hours actually flew right by.  Especially for me…
We cruised into San Ignacio where our canoes were picked up and we spent a few hours in town.
When we returned to Chaa Creek, a massage was in order.  Riding like Cleopatra on her river boat really took it out of me.
I didn't think I was a big massage person…I've had only three or four in my life but this one, outside over the jungle valley, was Soooo relaxing.  60 minutes of heaven.
You could spend the entire week just on the resorts property horseback riding, bird watching (our canoeing buddies saw a toucan eating a baby bird from a nest while lounging in the pool!), a walk on the medicine trail..
hiking  on miles and miles of trails, mountain biking and the SUPER exciting night hike.  We'd heard many good things are the night hike.  Let's do it.
It was 8pm and after we strapped on our spelunking head lamps, there was no going back.  Now, after the sun goes down in Belize, I hardly want to leave my place and NEVER AGAIN barefoot.  Now I KNOW.
The creatures that are waiting for me are downright terrifying and at the same time…super cool.  On the hike, we saw hairy tarantulas, giant powdery moths, parades of evil leaf cutter ants, creepy scorpions, poisonous centipedes, darting bats, beady-eyed possums, big wolf spiders practically everywhere you step.  Kids are going to love this.
Here is the only thing relatively loveable that I saw.  This slimy obese toad.
Oh yes…and the very endearing kinkajou munching on mangos in a tree.  That was very cool.
Definitely go on this hike.  And my tip for you:   once you are deep into the jungle, get everyone to turn off their lights all at once.  CREEPY and totally awesome.
Here is one of my favorite things about my stay at Chaa Creek – they have so many friendly, knowledgeable staff members that are excited to show you things – even when you are not on a tour.  Returning from breakfast, we ran into Meshak on our last day.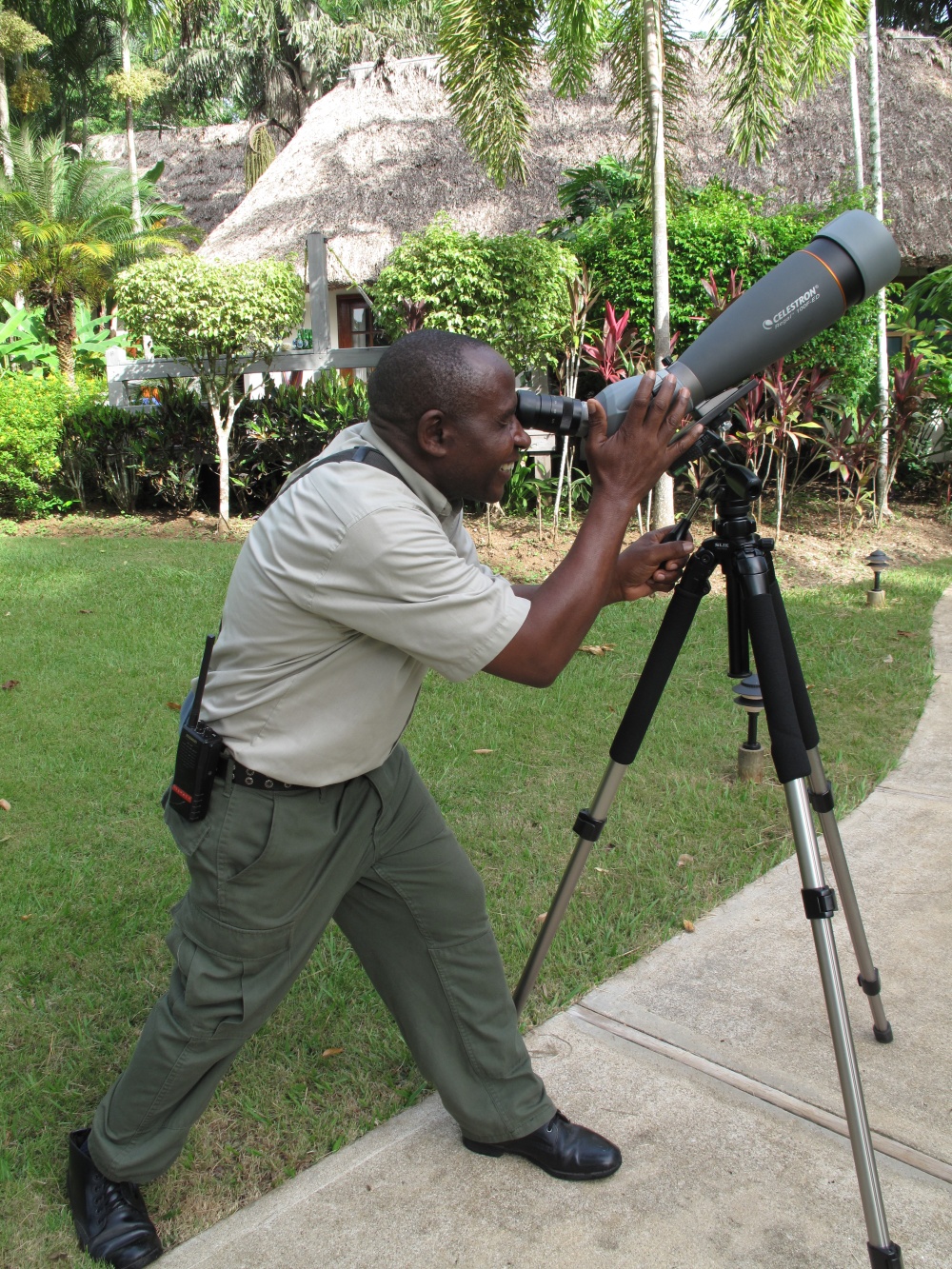 He had this powerful telescope trained on the face of a howler monkey in a nearby tree (we had heard them barking all morning).  The close-up was so awesome, I swear I could see this monkey crying.  (Here is a picture I could take of him later with just my camera.  Eating figs had cheered him up a bit.)
Who ever said that animals don't have human emotions?  Definitely not me.
The tours available off-site are equally, if not more, amazing.  The adventure trips and history can't be beat in the San Ignacio area and Chaa Creek is perfectly situated.  Cave tubing and zip lining, the ATM cave adventure (one of the most incredible trips Belize has to offer and one I have no been on YET!), waterfalls and Mayan Ruins…
I had a chance to visit Cahal Pech for the first time (you can see my friend Jamie striking a pose at the top).
And my favorite of all…Xunantunich.
Chaa Creek is absolutely amazing.  What the owners were able to build out almost raw jungle and farmland over the last 30 odd years is almost inconceivable.  And a policy to train and employee only Belizeans at all levels at the lodge and to give a percentage of profits back to the community?  To keep the development eco-friendly and sustainable?  I love this place.  And would recommend it to anyone…to everyone visiting Belize.
Yes.  It is expensive.  But the amazing staff is just one of the things that makes the money well worth it.
Good-bye Denise, Dario and Dosio, I really do hope to see you soon.
For my first post on Chaa Creek, click here.  And check out the lodge's website and very comprehensive blog for more information about the resort and about Belize.