2013 Belize Market Expo: Fun, Freebies, The Belize National Football Team and Plinko
The annual Belize Market Expo is a big deal.  Usually attended by over 15,000 people during the two days, it's a chance to shop and see displays by all sorts of companies (big and small) around Belize.  USUALLY the Carnival is the first weekend of the month of September and this fair is the second.  This year, they were on the same day.
One Belize City taxi driver didn't think that was a good idea.  LOTS of employees wouldn't be able to attend the Carnival since they would be working.  Fortunately for me, my schedule is quite flexible so after the 7:30am Water Taxi to Belize City, a short taxi ride brought us to the Expo.
And it was GOOD TIMES.  Almost as much fun as the Carnival…just in a different way.
We even saw the Belize National Football team being presented with their trophies for participating in FIFA Gold Cup.
Goalkeeper #1 Woodrow Wilson West (FANTASTIC name) and…help me ID the guy on the right!
Tickets were $5bzd at the door and here's the map.  Lots of different booths.
It wasn't too crowded when we got in and we set about trying to walk around to every booth.
There were handmade items from smaller companies…
And LONG lines for buying phone credits and discounted phones…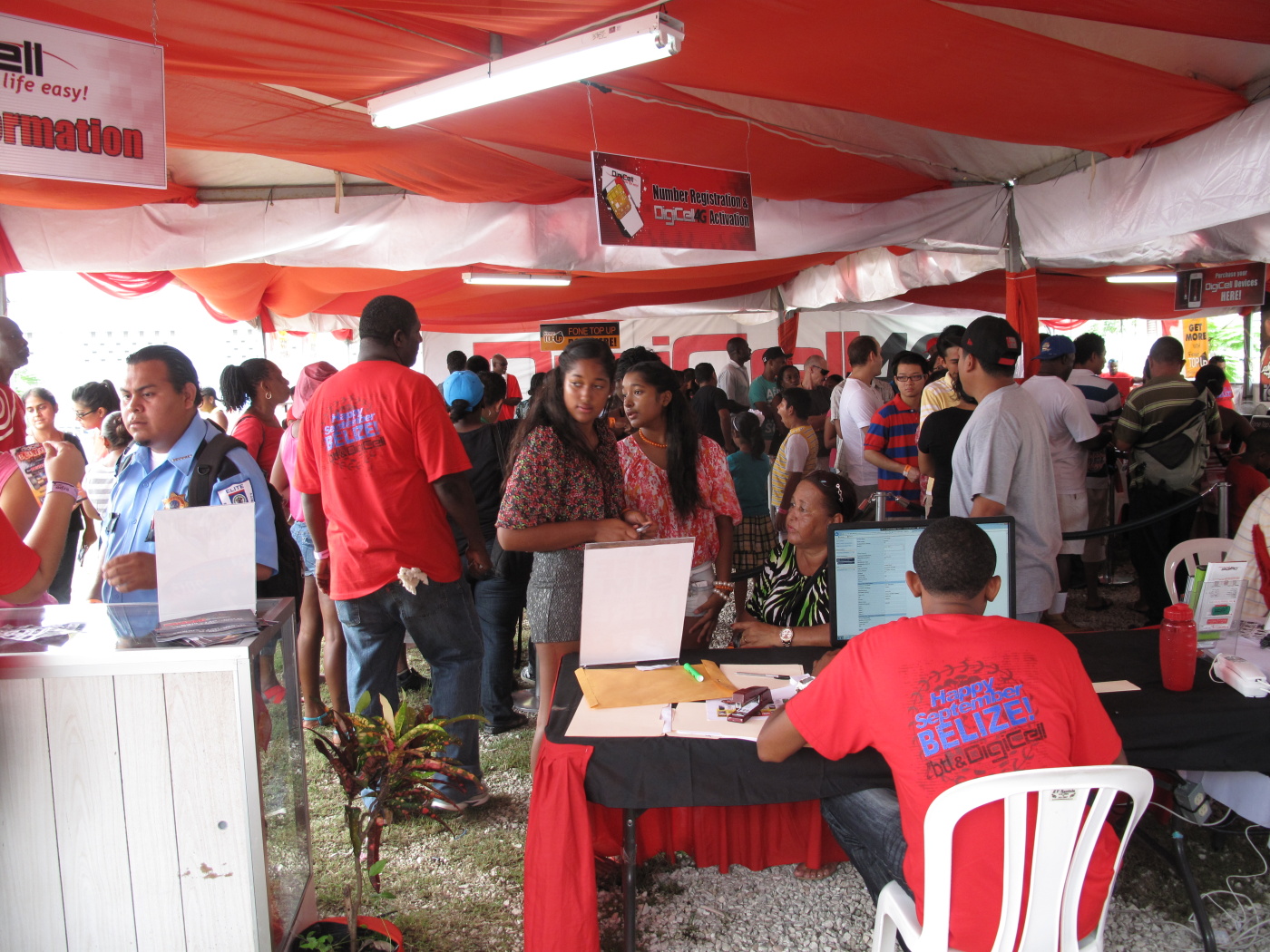 Tropic Air was representing with our first free game.
Nicolai took the 3 darts.  He had to hit that tiny envelope in the middle.
And did it!  First free t-shirt.  And my favorite of the day.
Grace Kennedy was doing a BOOMING business selling toilet paper and cereal (almost everyone was carrying around both) but you needed to make a purchase to play their Plinko.  I certainly wasn't going to haul a case of TP to Carnival.
Even Tony the Tiger was there dancing his HOT AS HECK butt off.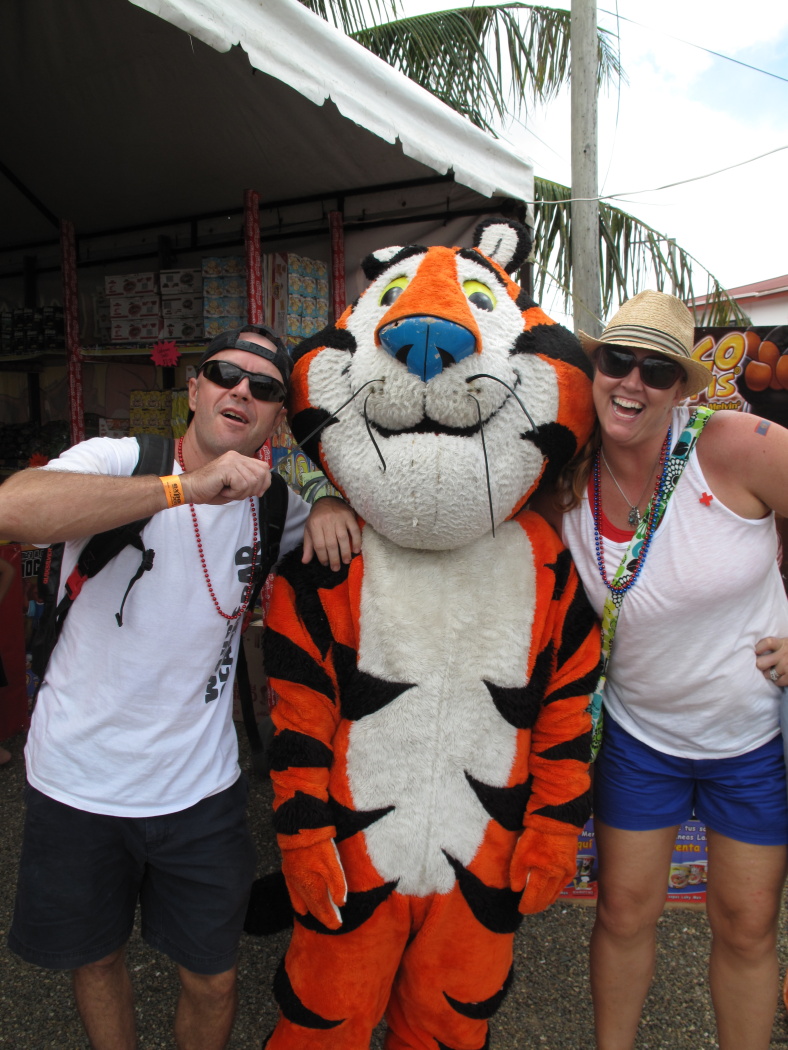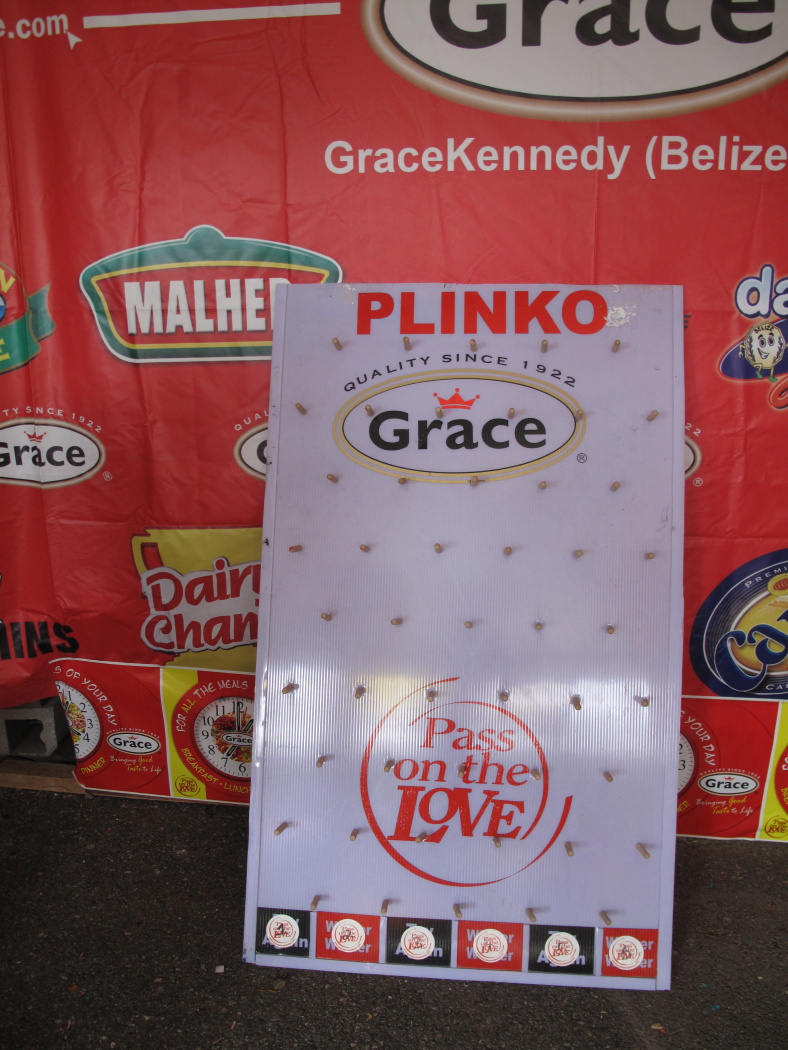 STRAW BALES!  They do exist in Belize.  Maybe now I can start my straw bale balcony garden.  Better get one of these QUICK before my homeowners' associate hears of my plan…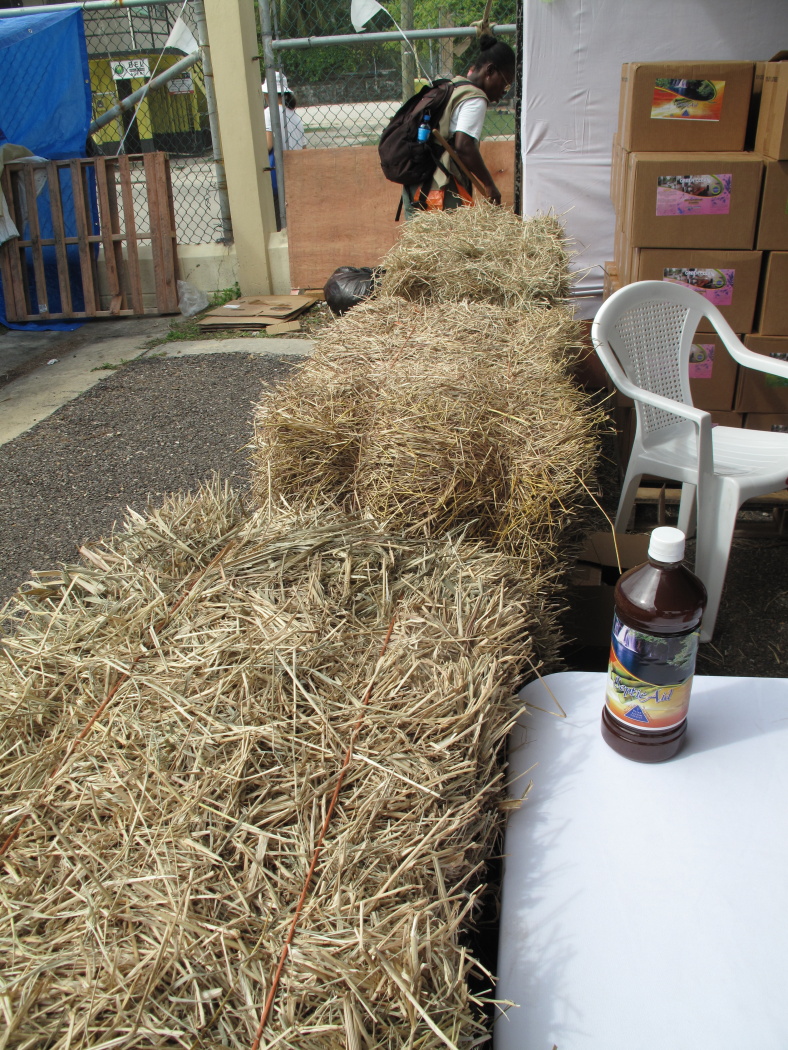 And the lovely people from "Harvest for Kids".  Buy some rice and send kids to camp.  Awesome.
Nicolai admiring some pretty fancy croc skin boots.  No Nicolai!  You can't win those.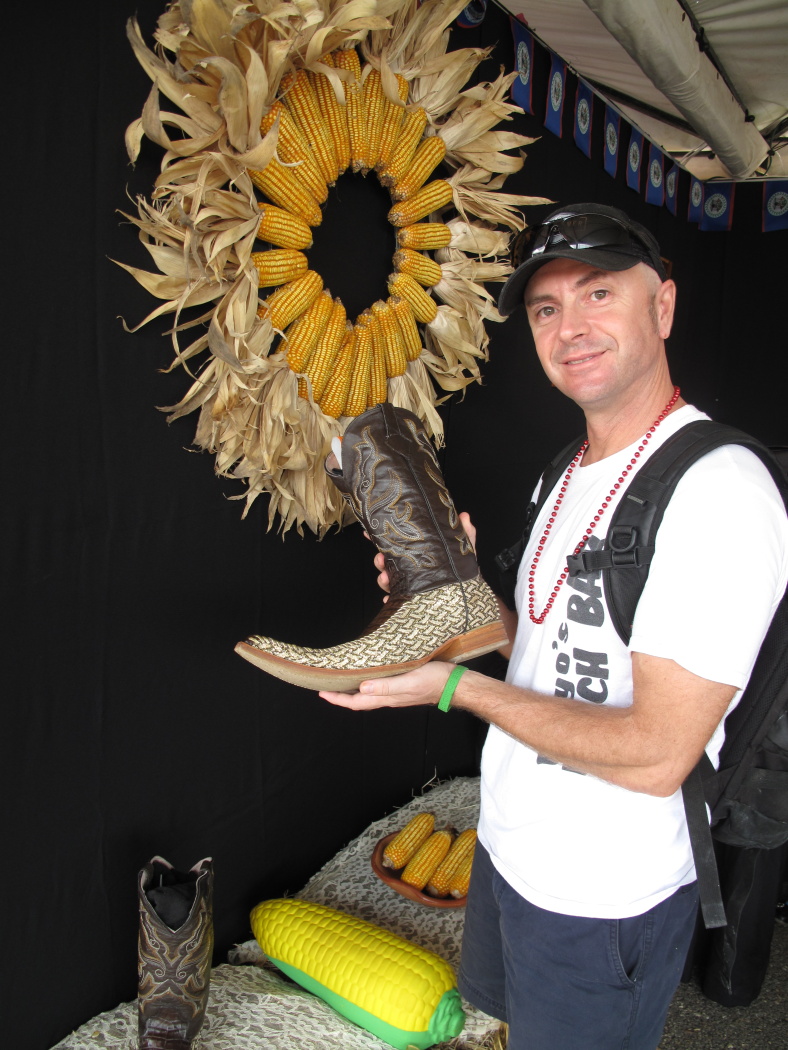 Even candies didn't attract people to the Income Tax booth…
Monster is really ALL IN when it comes to promoting in Belize.
Brodies Stores.
I tested my new technique at Carib Cement.  It goes like this.  Say just loud enough to be heard "Sigh…those are really cool *insert potential free item here*" and wait for results.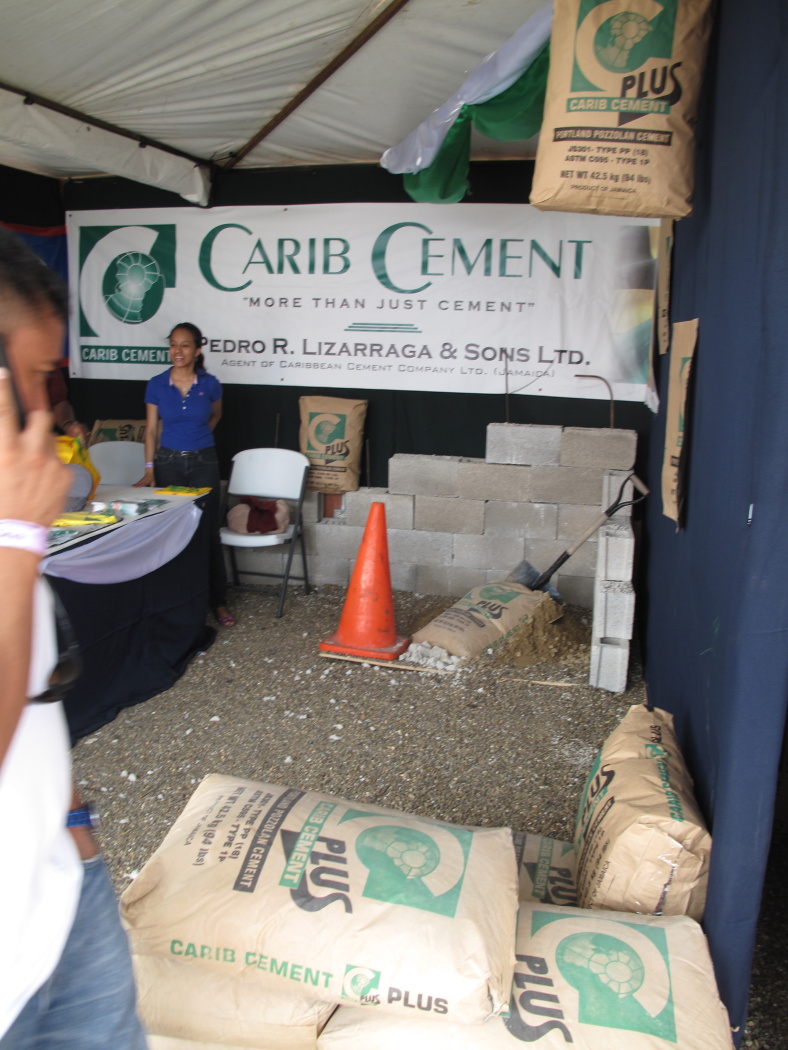 Yeah!  I got a free SHAMWOW style chamois cloth.  Thanks Krista for modelling it.
RF&G Insurance had a tougher game.  RF&G trivia in exchange for a game of chance.  Luckily you were allowed to look thru the materials for the answers.  My question?  What is RF&G's motto.

And now PLINKO!
And wait for it…wait for it…I won something awesome…
A fly swatter!
Nicolai gave PLINKO a go as well.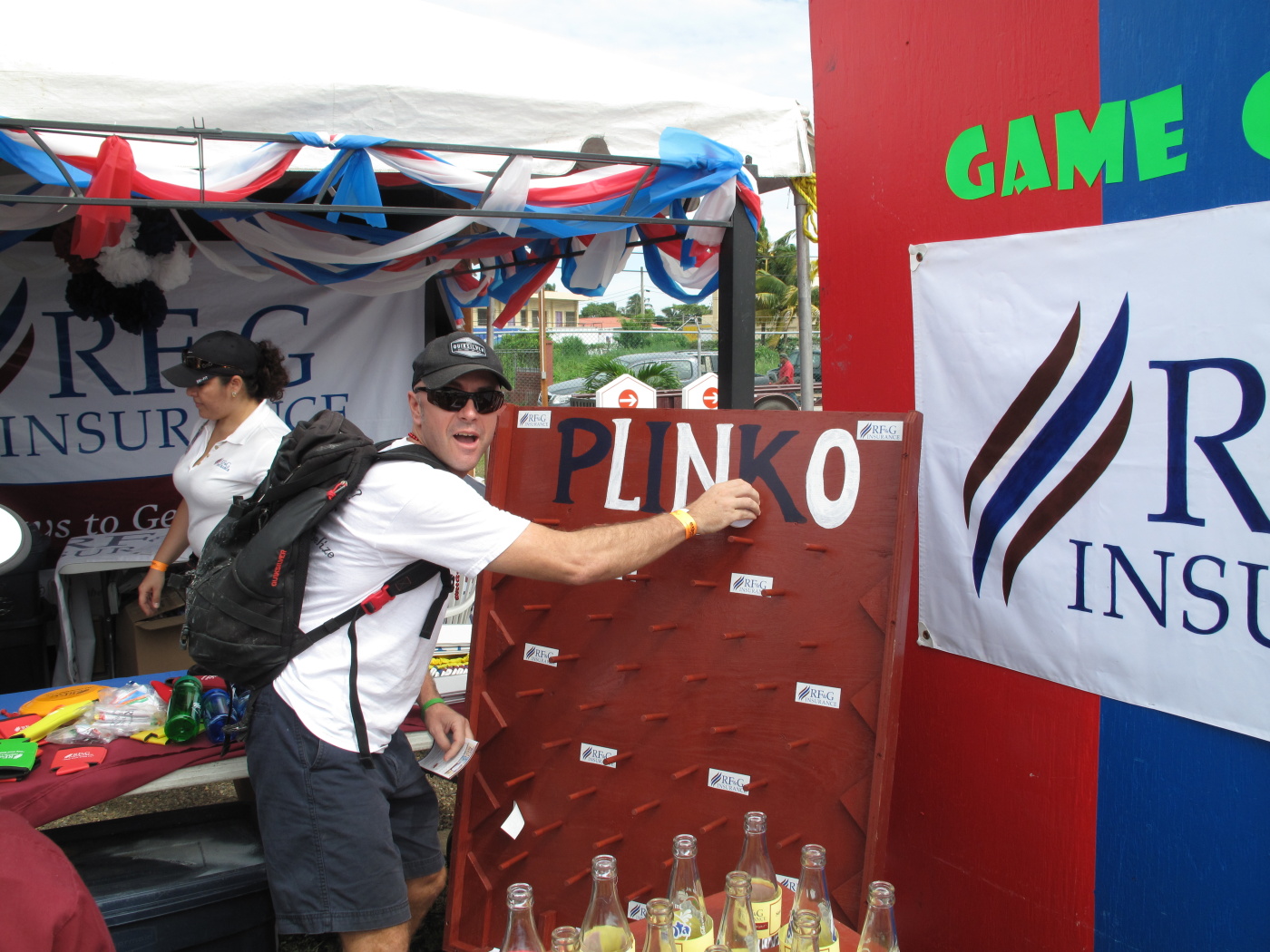 And, tee hee, won a car visor thing.  That doubles as a sun reflector tanning device for those without cars.
Thanks RF&G!  They put some SOLID effort into their game corner.  I think they win "Best in Show".
Pickles by the case but no free samples.
FREE SAMPLES!  That's what I'm talking about.
Interesting…no samples wanted here.
For $1bzd you could buy a raffle ticket to win a round trip to the USA.  Perhaps they needed a US embassy booth next door to raffle away a visa so you won't be rejected when you get there.
We all won t-shirts from this PLINKO game.
Already getting hot, it was time to buy a giant OJ.
Me with a phony smile and all my flair.  The red white and blue toenails are my crowning glory. 
Nicolai and Krista went for some chocolate shakes at Moho.
$5bzd well spent.
Another chocolate/cocoa booth.
And lots of cable companies.  Get this San Pedro citizens, there is DVR in Belize City!  My heart's fondest wish (followed closely by world peace) IN BELIZE CITY!  A FEW MILES FROM US.  Hopefully it jump over to us soon.
Then Belize will truly be paradise for me.  These internet rates seem GOOD to me.
Off to the main stage area, the beer & liquor tents and one of my favorite bands, Vibrations, was playing.  Here is the lead singer, Maskal, with his baby girl.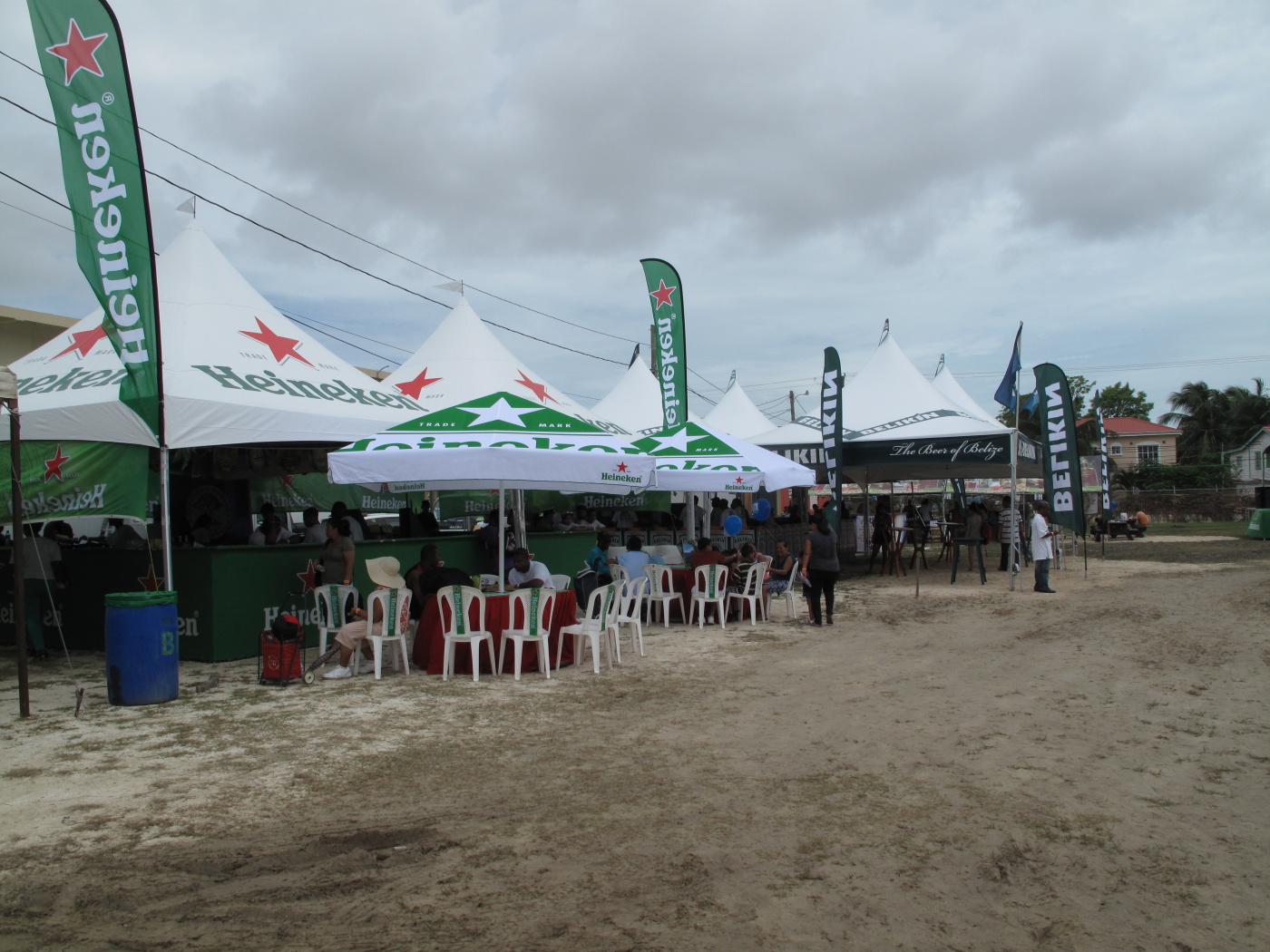 Travellers' Liquors had a good sized booth and PLENTY of rum.
I stopped to admire a young artist, Ernest Garcia's, paintings.  Only $150bzd each!  I promised to visit him at his shop in Placencia.  Can't carry one around!  I love the pastel colors…
Heineken had a huge tent and lots of games.  You had to buy 5 beer cans for $15bzd and then try to throw the cans into the holes for prizes.
They were pretty hard…
We didn't win but Nicolai was rewarded with this very cool wash cloth.
AND THEN WE SAW ONE OF OUR FAVORITE BELIKIN (I'll stop yelling) employees walking by.  Derl!  The official ref of the Lighthouse Lager Rock Paper Scissors Tournament.  Time for a little re-enactment.
Derl in action at the tournie.
And Derl at the Expo.  Great guy.
 Did I mention that I got one of those very cool Belikin Carnival shirts too?
There were local artisans…
And the Belize National Team receiving their awards.  Evan Mariano, FW is #6.  How cute is he?
Super super fun.  And a great way to start off our Carnival day with plenty to eat, drink and a sack of free stuff.  For more information on the event check out the website.  And plan to go next year.