Artist & Jeweller Mr. Dimas Guerrero: Someone You Want to Meet
Conch shells have always been plentiful on the island.  These days tourists bring them home (or try to…you'll find that they get confiscated from hand luggage), they are used in all sorts of decoration and artisans carve the pretty pink shells into jewelry.
But that wasn't always the case.  40 years ago, the shells were so abundant in the tiny fishing village of San Pedro that they were often laid down as a base before cement was poured and they could be seem in huge piles on the beach.  They were pretty much garbage.  Dimas Guerrero, born and raised in San Pedro, had an idea.  To carve the shells into beads and jewelry to sell to the just beginning tourist industry.
Dimas was the first in Belize to do it.  And almost 40 years later, he is still crafting jewelry, making art and practising his craft.
Look at this gorgeous shell necklace and bracelet.   And the very cool display coral.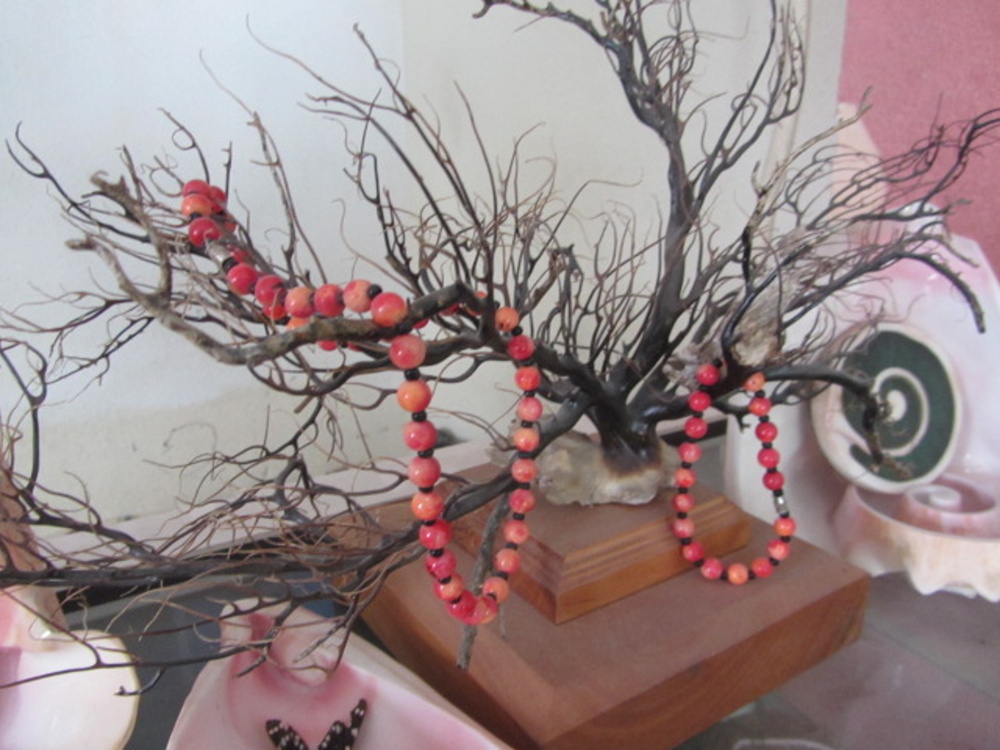 And what I find the most strange?  I walk past Dimas' shop on the main road in Boca Del Rio, San Pedro every single day and I just stopped in and met him yesterday!
Here he is, sitting in front of his shop, working.
And the very cool pendant right in front of him carved from a bull's horn is the one that really caught my eye.
The pendants are hanging right out on the street.  How did I miss this?
Dimas was also the first to discover the black coral that could be used for beautiful carving.  The coral is harvested when it washes up on shore after hurricanes.  It does not grow in the shallow waters of the barrier reef but in deep water…hundreds and hundreds of feet down.
Here is a picture of a picture of him gathering the coral over 30 years ago.
I love stories of San Pedro from 30, 40 or 50 years ago.  I could listen to them all day.
He makes art from all sorts of shells…look at this beautiful permit (bone fish).
And he's a real jeweller…not only carving shells and corals but casting in gold and silver.  These very pretty earrings would make great cuff links as well.
Or maybe you want them in coral or in conch?  Dimas can customize them any way you want.  Bring him a drawing…or just describe something you've imagined.  Conch shell pearls, a black coral pendant with Belize written in gold, a super special Belize engagement ring made out of local shells?  I'm getting excited just thinking about the possibilities…
My friend Coleen sent me this picture of conch and horn flip flops that Dimas made for her.
You are not going to find plastic beads in his shop.  This is the real deal!  Look at all these cool rubber molds.
I wonder if he is looking for an apprentice.
You should see his albums.  Seriously impressive.  Unfortunately many of his earlier albums where ruined when his shop flooded during Hurricane Mitch…
This shop is super super cool.  Not only do you get to see some beautiful jewelry and carvings but you get to meet Mr. Dimas and hear about his life growing up in San Pedro.  There are a few places in town where you can find beautiful San Pedro made souvenirs.  This is one of them.
For these reasons, it's easy to give D&G Fine Jewellry the SanPedroScoop Sunglasses of Excellence (still working on that name).
For other recommended shopping experiences in San Pedro, check out the Ambergris Caye Shopping Section of my site.
A side note – in case you like to play the "Seven Degrees of Separation:  San Pedro Edition" game:  Mr. Dimas showed me a picture of his two gorgeous children while I was there.  His son is DJ (Dimas Jr) of burger fame currently the Chef at X'Tan Ha Resort.  And his daughter Elvie, who studied Graphic Arts – artsy like her dad, now lives in California.
His wife is Gloria Staines.  Her mother is Ms Elvi – the founder and owner of Elvi's Kitchen.
Got it?
He is not closely related to Mayor Danny Guerrero but they are more distant cousins.
You are welcome.