Isla Mujeres, Mexico: A Continued Look Around and Three Interesting Facts about Cancun, Israel & The Island's First MicroBrewed Beer
In my first post about Isla Mujeres, Mexico, I documented my first morning (well until 10am) on the island.  I started on the north side in El Centro where most tourists (including me) stay.  I took a taxi to the middle of the island (where many residents live) and then continued south to see the beach, the turtles and some other interesting stuff.
I took a taxi back into El Centro and decided to explore the cementary.  Like San Pedro, Belize, the oldest official burial spot on the island is located on prime almost beachfront property.
On Ambergris Caye, it is beachfront (at the north end of town) hidden behind a high wall.  On Isla Mujeres, it is squeezed amongst the buildings right on the prettiest beach, Playa Norte.
The graves are packed so close together that you need to step on and over to move around.  I feel bad just typing that but it's true.
Interesting fact to me #1:  The first hotel in Cancun was built in 1972.  So just over 40 years ago, Cancun was just a bunch of mosquitoes and mangroves and Isla Mujeres, primarily a fishing village,  was actually hosting intrepid tourists – mostly divers.
Behind the cemetary is the gorgeous beach.  The sand is white powdery always cool perfection and the water is calm and no more than waste deep for at least one hundred feet.
The beach is packed with chairs, beach clubs and bars.  You need to rent a chair for anywhere from $50 pesos to $100 depending on your negotiation skills (I only got to $80 pesos).  If you promise to drink and eat a certain amount, you can often get a chair for free.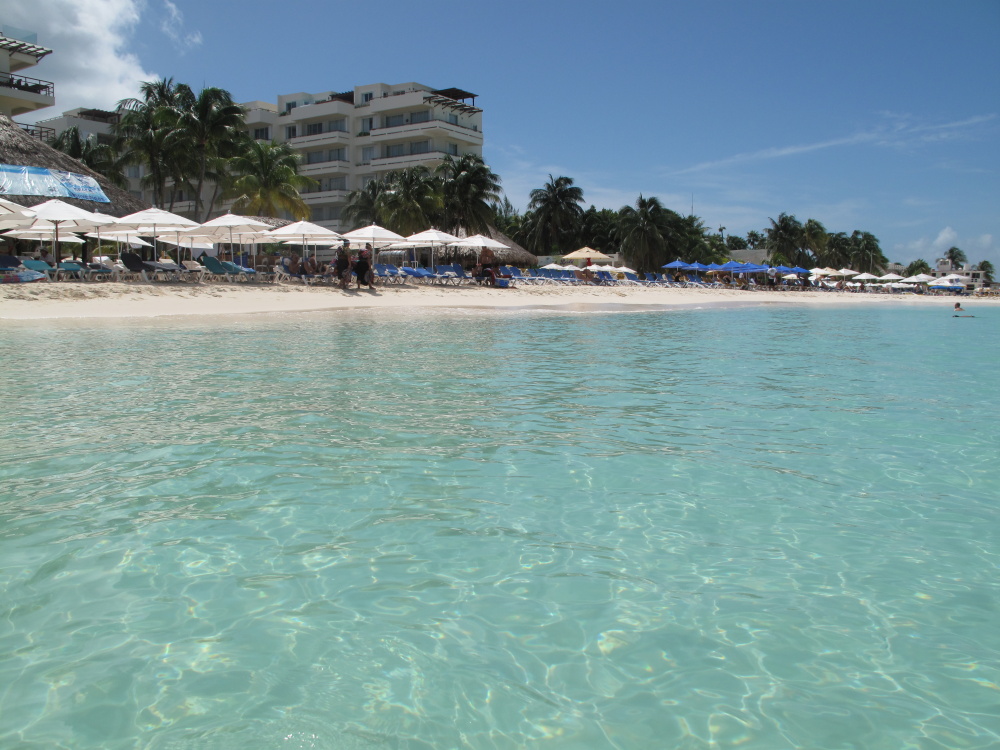 I picked Tarzan's mainly because I liked the look of the owner Tarzan.  He had a Mayan-Hawaiian surfer look that you don't see often enough.  Mahalo or Mahola (see what I did there?) Tarzan.
All of my neighbors at the beach were young, super tan and speaking Hebrew.  You heard me…Hebrew.  Interesting fact to me #2:  I learned later that day by walking around (there are Hebrew signs in many shops) that during the summer and fall, Isla Mujeres has a huge influx of tourists from Israel.
According to an expat business owner, budge travel in Central and South America is huge for young Israelis…particularly in the year off many take before the required military service.  The time of year is between Passover (generally late March/April) and Hannukkah (late Nov/early December)…interesting.  And very cool to hear Hebrew being spoken all over the place AND to see Kosher and vegetarian options at many restaurants.
These guys seem to stay at one hostel mostly…a big one.  Who else should we be marketing too in Belize?
After the beach I took a walk just around the bend to the more commercial beach side of the island.  The NW beach is where all the ferries come in from Cancun and where many of the old fishing boats pull up…
Fisherman hanging out…having a few chelas…
And a few super cute beach front seafood spots…
I was told that fishing is much much tougher these days…that good sized fish are way out at sea.  I think the same overfishing that most areas (all areas?) are experiencing.
There were people selling cute crafts…
And orange juice and fruits…
And then tons of junky stuff…particularly around the ferry landings.  My tip for you.  Get off the boat and walk just 2 or 3 blocks immediately.  Just to get away from the madness of the taxis, the tour sellers, the junk hawkers…you know how it works.
I found the guy selling my bag…the one I'd been eyeing since the morning.
No…not the pig bags though for a kid?  Super cute.
The one right behind them.  Flowered…a Hermes Birkin bag in straw and flowers.  (IN MY MIND!)  I've been looking for this bag for a white.
Lovely selection.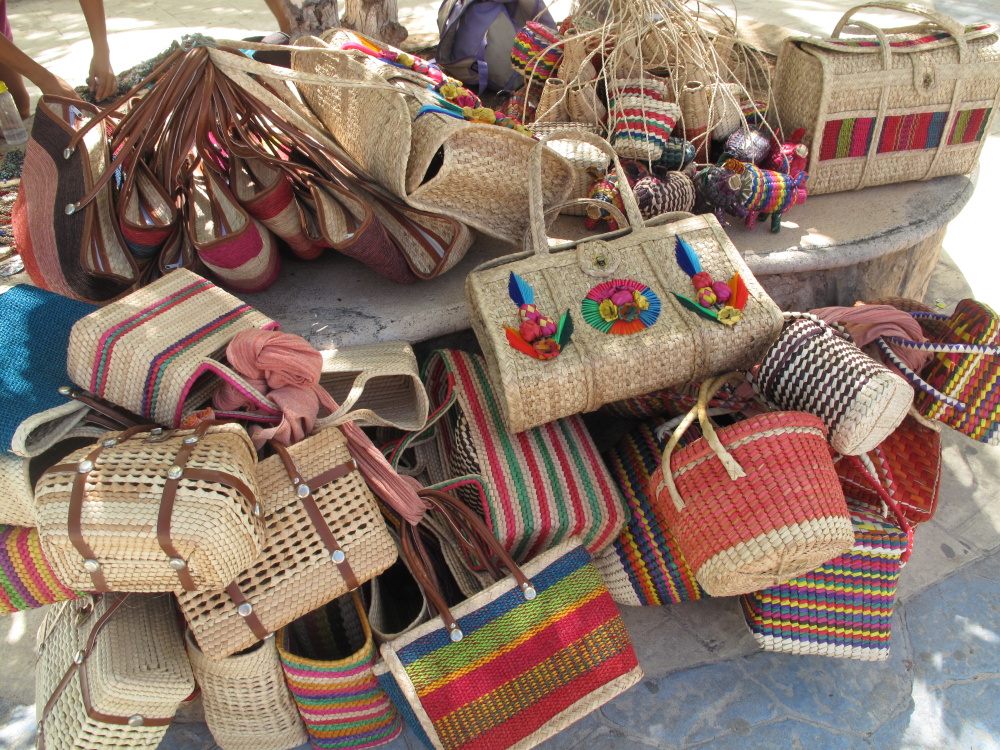 Love my new bag.  I mean J'adore.
And then back into town for more eating.  Here are some quick pictures.  One of the back streets.
A great spot to watch the people on the pedestrian street.
Some good t-shirts.  I like the play on the Mexican wrestling mask.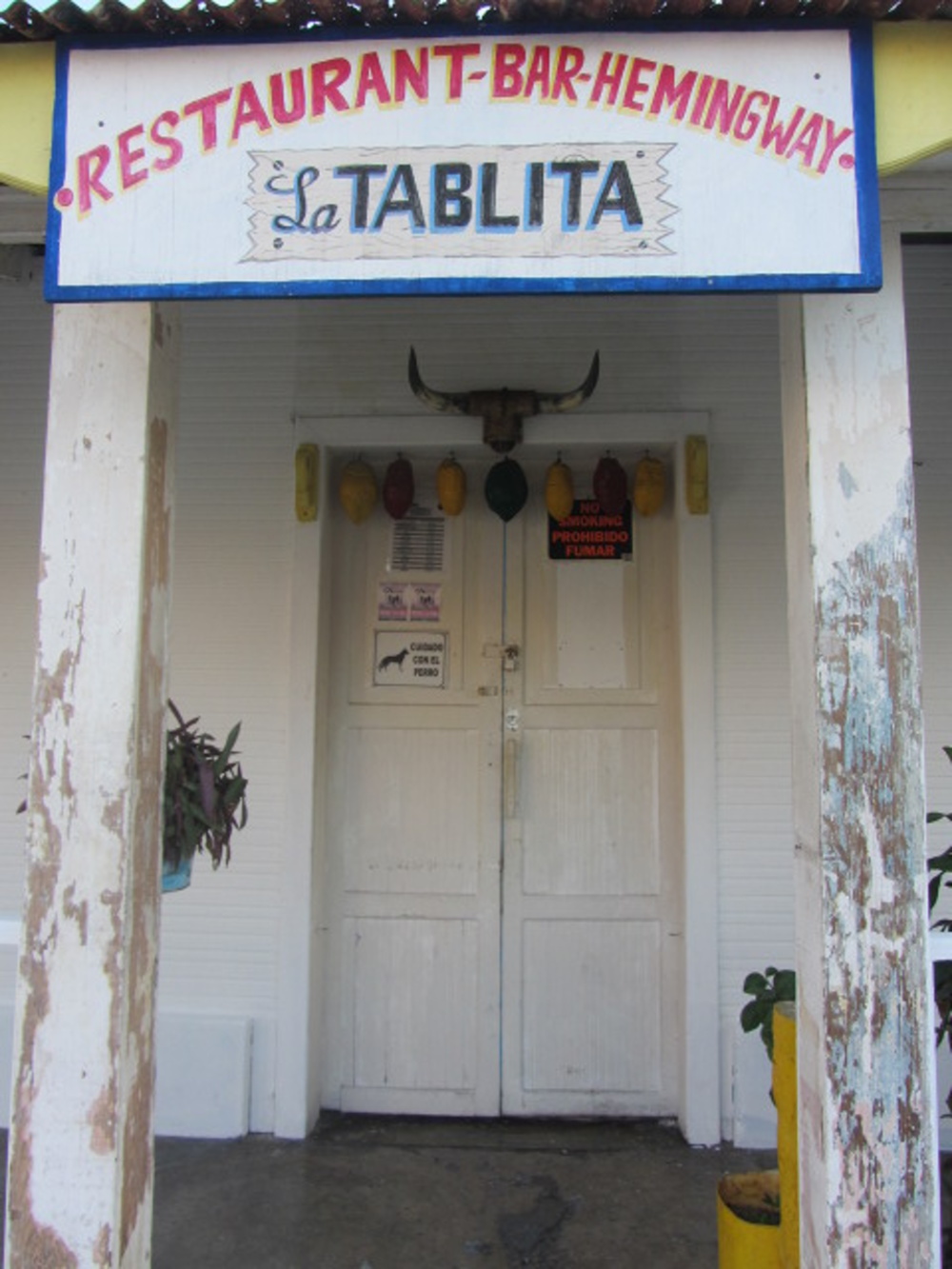 Many of the streets smell like laundry (clean not dirty).  There are SO MANY laundromats.  And $10 pesos for a KILO?  Why do you own washing?
Paletas are one of the world's great foods.  I can't eat enough coconut or mango ones.
And I went into a shop of a man who made all sorts of fantastic painting papier-mache masks and statues.
Which brings me in a totally unrelated way to the last interesting fact (to me) #3:  Like San Pedro, Isla Mujeres has a large expat population (Americans and Canadians seemed like the most prevalent group.)  AND sitting in and listening to some of the island gossip…it was just SO MUCH LIKE being at home.
Overheard:  A gringo couple has come to town and is starting the first micro-brewery on Isla Mujeres called "Isla Brewing" (they have a very new facebook page).   This similar announcement last year in Belize was HUGE.  Ambergris Caye's new venture Island Time Brewing had to jump the once IMPOSSIBLE hurdle of being the 2nd beer brewing license in the country of Belize (Belikin has been a monopoly for a while).
(Read about GingerScoop tasting the beer on Ambergris Caye.  The brew is NOT really in distribution right now.  I'm imagining that the owners are finding this business a tricky one in many ways.)
Cute bottle cap!  T-shirts, t-shirts, koozies and more t-shirts could be HUGE!
In Mexico, it's a bit different.   The beer business is run by just a handful of companies…well 2.  This new Isla Brewing is getting licensed through one of the giants, Groupo Modelo, and supposedly opening by December 2013.
New business worries are the much the same as they are for San Pedro.  Will it be able to weather the slow season when it is just local residents and budget travellers who may not be willing to pay extra for specialty beer?  Will people want to drink heavy stouts and amber beers in a country overflowing with light refreshing Sol and Corona?
I guess the island will find out!
For more on this trip and some of my previous trips around Mexico, check out my Mexico blog series and…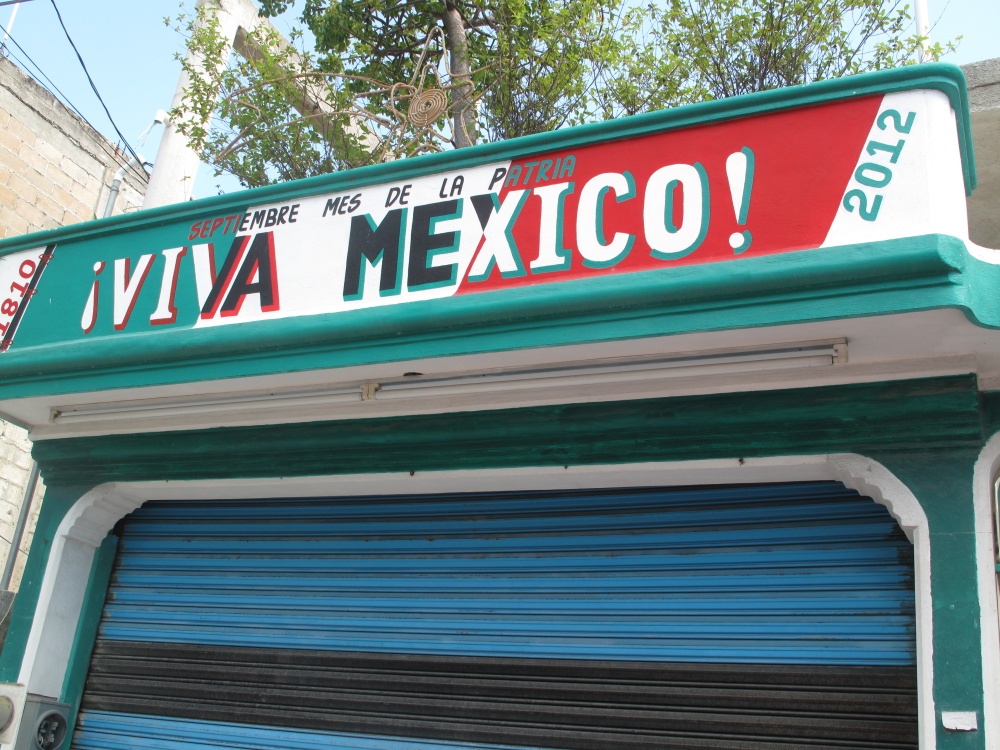 Good luck Isla Brewing…I absolutely ADORE your label!