Placencia, Belize: Charm, My Potential Pulitzer, Best Coffee in Belize and Good Eats, Part Two
In my last post about Placencia and its divine eating and coffee drinking, I visited Brewed Awakenings for 630am coffee, a local stand for breakfast tacos, Cozy Corner for a tender curry chicken lunch and Wendy's Creole Kitchen for the AMAZING coconut flan. I had a very good first day in the village… the rain held off and for that I was happy.
A few places were closed with the slow season starting…
Man I am a sucker for a good wooden sign…love this one from John.  And the whole village is just full of pastel painted cuteness.
Sunday morning, Day Two and the sun came right out.  I was staying at Captain Jak's and though I had originally planned to stay just one night, I decided to make it two.
Captain Jak's was great.  The location was so central and perfect and my own little cabin set back in the lagoon side garden was very reasonably priced and had everything I needed.  And lots of gorgeous thick towels.  Something that makes me very happy.
There was also a full kitchen that remained completely untouched… similar to my own kitchen at home.
My cabin Shaunie.
AND while there, I spent a whole 24 hours thinking thinking thinking about buying a ticket to win this golf cart from Captain Jak's Cart Rentals & Sales.  I really don't like gambling… it's not really a moral thing – more a "the odds are stacked against you, it's not even fun, casinos are THE most depressing places on earth and gamblers are suckers" thing.   But this gleaming brand new purple golf cart?  The potential Rolls Royce of the Ambergris Caye streets?
Oh I could not help myself.  Plus, the excess money is going to the local youth center.  Look at this place!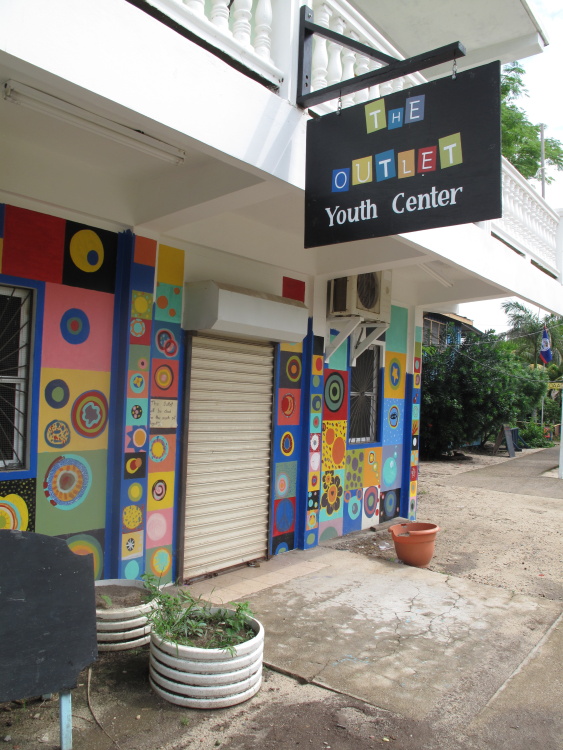 I had to do it.  100 big ones – $100bzd.  #180 PLEASE be my lucky number.
Just imagine the blog series I will write when I drive my brand new ScoopMobile from Placencia to San Pedro.
Rebecca on her 14 day journey over the Maya Mountains getting pushed off the road by speeding buses and 18 wheelers.  (I like to talk about myself in the 3rd person when dreaming of the ultimate blog post.)  Tooting my horn as I ride into Belize City for Carnival decked out in full red, white and blue.  A hush goes over the crowd…flash bulbs explode as Purple Lightening cruises by…
Dressed in my warmest cold-weather gear for the overnight ride on the barge to get to the Caye.  Oh THIS is going to be good.  Do they give Pulitzer prizes for blogs?
Maybe I need more entry tickets…
Back to the food.  So it was Sunday morning and a coffee place had been recommended to me. Above Grounds Coffee House.  Open on Sundays PLUS I heard they have bagels.  No two things make me happier in the morning.
A very cute, almost treehouse, on the main road.
Quite a few different blends of coffee from Guatemala.  The owner explained that proper Arabica beans grow at decent elevations…elevations we just don't have in Belize.
Wi-fi, a good sized book exchange, cute inside and outside seating, a decent bagel and…yum…the BEST cup of Cafe Americano/best coffee I've had in Belize.  Good grief, this was reeeaaallly good coffee.  I had to have two.
The sun was fully out so it was time to walk around and take more pictures.  Just a few more, I promise.
I love the signs like this all over town.  I wonder how they do it…does each business have to pay for their arrow?
Now that would be a great tattoo.
While most grocery stores on Ambergris Caye are owned by the Lebanese, it seemed most in Placencia (like much of the mainland) are Chinese owned.  What's my point you ask?  None really.  Just interesting to me.
The street signs are the cutest too.   Getting sick of the word "cute" yet?  I'm not.
But maybe cute isn't EXACTLY the right word.  This particular street sounds and looks very charming in Kriol but from the Gringo mouth – "Dude, meet me on Dog Teet Street"?  It loses something.
I'm pretty sure TEET = teeth.  But teet is much more amusing.
John makes sure you know where to find his shop and his cinnamon bons.
I'm getting overwhelmed by the volume of my own photos…and I have quite a few more.  But I really loved my time in Placencia and am (very passively) plotting my trip back.
So…I promise that I will wrap up my trip to the village in Part Three: The End.