Hidden Valley Inn – Some of the most relaxing and terrifying things I've ever done!
Once again, this is Meg, guest-scooping for Rebecca while she's out of town. We just got back from a fantastic honeymoon in Belize, and so far I've told you about our visit to Caracol, as well as our trip to ATM Cave.
Rebecca stayed at Hidden Valley Inn last year, and did a great job covering the amenities of the Inn itself – so much so, in fact, that her blogs helped us settle on it for our first stop!  (See the end of this post for those articles!)  Rather than rehash all that, I figured I'd focus on the rest of the property.
Hidden Valley Inn sits on almost 7300 acres of wilderness in the Mountain Pine Ridge- about an hour down the dirt road from Georgeville, near Blancaneaux Lodge.  Outside the main lodge building and 12 guest cottages, there are over 90 miles of hiking trails and 5 major waterfalls on the property, plus 1000-Foot Falls, which is just over the property line.
We spent 5 nights onsite, and of the 4 full days we were there, two were spent exploring all the property had to offer rather than taking day trips nearby. One was perhaps the most luxurious thing I've ever done and one was, surprisingly, one of the scariest!
The second full day of our honeymoon, we booked the day at "Secret Pools and Falls." Basically, this is a private waterfall roped off just for your party, which includes a great picnic lunch and a bottle of chilled champagne.
We hitched a ride from one of the guides, and hiked down a steep set of stairs built in the hillside, until we came to this:
Beyond the cabana was our own private waterfall.
We settled into our luxurious spot and tried out the hammock, which I'm embarrassed to say I'd never done before!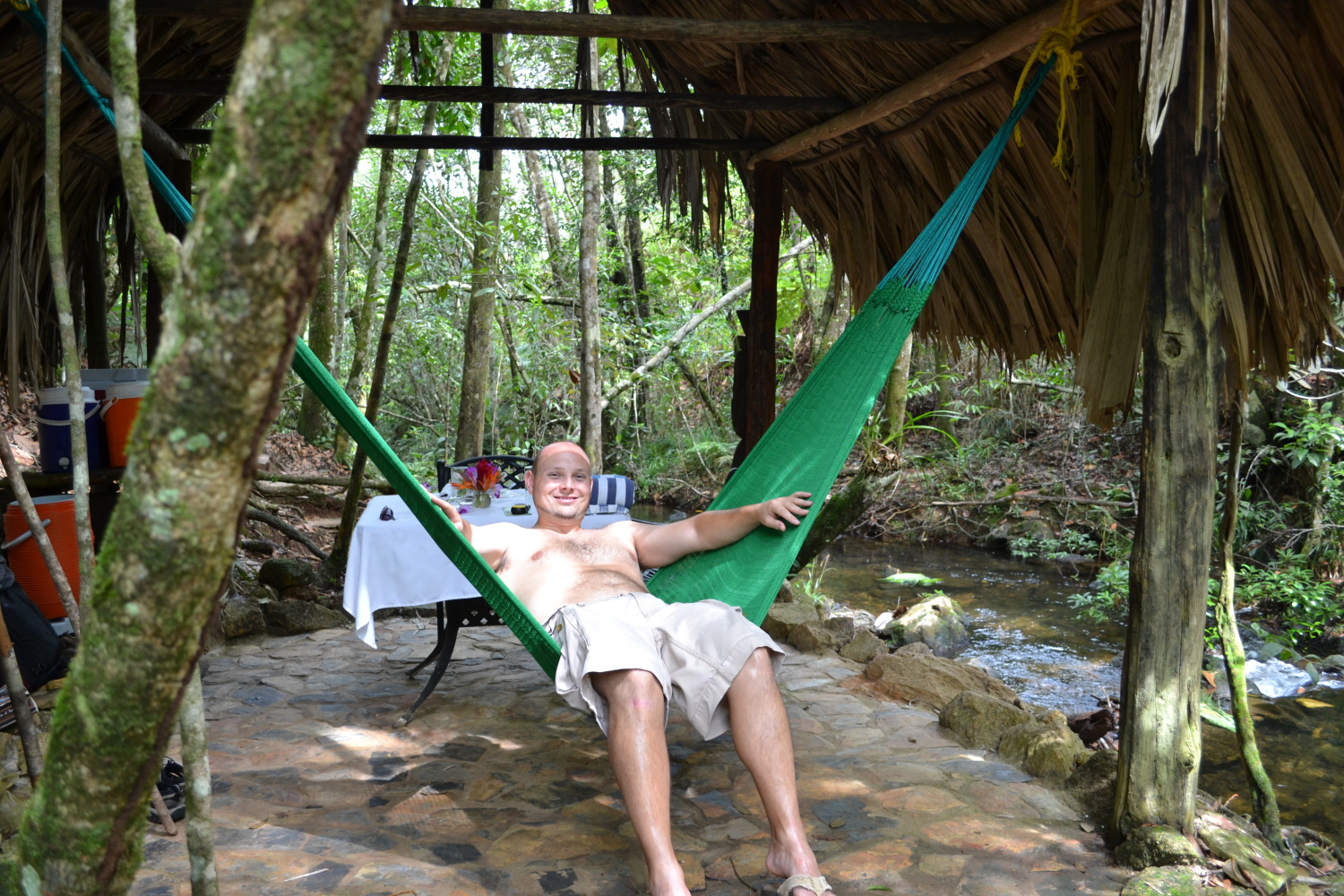 I, of course, kept busy by taking photos from my reclined pose.
We did eventually take a little bit of a hike up toward the source of Clear Creek (the stream that forms the falls). Secret Falls is really a set of two waterfalls. The cabana sits next to the lower falls. The upper falls are somewhat smaller, but still pretty- and the water is super clear!
I'd say we probably walked ¾ of a mile up the path, stopping to take photos along the way.
After we returned to our spot, we were hot- so took a swim in the FREEZING cold water! It was a challenge to get in, but how often do you get to swim below your private waterfall? Honestly, we really wish we had brought our snorkels. Who knew we'd need them in the jungle?
We spent the rest of the day eating lunch and reading in perfect weather. Before we headed back to the Inn, our guide stopped so that we could see the 1000-Foot Falls. The view was absolutely breathtaking.
Two days later was our more active day on property. We knew we wanted to see some more waterfalls, specifically Butterfly Falls, known as the "jewel of the property." These falls are featured on several tourist brochures of Belize. A quick look at the trail map told us that we could visit these on a hike between there and Devils Falls. The guide from a previous excursion recommended that we also hike Cascade Trail- and with these two goals in mind, a plan for our day took shape.
We checked in with the desk and were given a radio, as well as a ride out to the far side of the property. Our original plan was to hike from Butterfly Falls to Devils Falls, since the forecast called for rain and we wanted to make sure to hit the highlight before any weather rolled in. We'd then ask for a ride to the Cascade Trail, which looked to be a good distance from where we'd end the hike at Devils Falls.
After talking to our driver, he let us know that most people do the first section of our hike in the opposite order- from Devils Falls to Butterfly Falls. We deliberated for a bit, but since the weather looked pretty non-threatening for the moment, we decided to take his advice.
Quite a bit of downhill hiking down the Puma Trail took us to the base of Devils Falls.
At this point, we realized how right we were to follow the advice of our driver and do the hike in reverse order. The section just past Devils Falls was incredibly nerve-wracking, including slippery sections along a narrow ledge with just a bit of rope to hold onto. While it was a challenge climbing up, I'm pretty sure we would have had to turn back rather than climb down it!
This was also the point where I almost dropped my lens cap about 30 feet down into the river while trying to hug a tree and scoot around it on the ledge. Chris was able to retrieve it from a rock just below us by using our hiking sticks as chopsticks- while I continued clinging to the tree.  At that point, I realized I needed to put the camera away and just take it out for prime photo opportunities.
The trek got slightly less treacherous once we cleared the Devils Falls area, and I was able to snap a few photos along the way.
Soon we came to the intersection where we could choose to go down to the Hidden Pool, or up to Butterfly Falls. We proceeded to Butterfly Falls, thinking that we had been through enough and not wanting to miss out. It surprised us by how close it was, and a few moments later I found myself saying, "oh my gosh, honey… look up!" and there it was.
As we reached the base of the falls, we were hit by a glorious cool misty breeze off the falling water- and greeted with a gorgeous view.
Here are some gratuitous shots of each of us at the base of the falls. Too bad there was no one around to take our picture! (and by "too bad" I mean "it was one of the best parts!")
After a few moments snacking on our trail mix and enjoying the view and misty breeze, we headed back out toward the parking area- after first cutting back to see the Hidden Pool we'd skipped earlier.
We reached the trailhead after a bunch of uphill climbing, and radioed for our ride to pick us up. Since we had trouble connecting, we decided to hike up the road to even higher ground- and while checking our map, realized that our reversed path made it possible to just hike to the start of the Cascade Trail- so we did, after finally reaching the lodge to let them know of our change in plans.
Our new path took us from the Butterfly Falls parking area, down the road to the Armadillo Trail which connected to the Cascade Trailhead.
Armadillo took us across an open field with a view of how high we were, before descending all the way back down toward another stream.
This was also the first time we felt rain. We learned later that it had sprinkled on and off all morning, but that we'd been protected mostly by the rainforest canopy (instead, getting wet whenever we grabbed onto and shook a tree!).
Cascade Trail was as beautiful as it was described to be- working our way up a bubbling creek with plenty of pools and small rapids/waterfalls. There were more of these bridges than we'd seen elsewhere on the property- convenient, but still rustic enough to feel like we were hiking through the jungle.
Some of the leaf-cutter ants even took advantage of them!
We paused at an area called "Francisco's rest" and ate our lunches, and then continued on. We continued the downhill-uphill-repeat pattern until finally reaching the end of the trail.
Once again, we had trouble reaching the Inn via radio, so continued down the road another half-mile or so before we made contact. We asked for a pickup, and realized we'd probably covered about 7 miles in total- not bad for someone with a desk job. And it was only about 12:30!
On the way back to the lodge, we made one quick stop at King Vulture Falls- another glorious view off the escarpment.
Our guide picked us some craboo to eat (super sour!) and we enjoyed the view for a few moments before heading back in the truck toward a shower and clean clothes. While we hadn't seen the king vultures from the lookout, I swear I saw one through the trees as we drove away.
All in all, it was a great and exhausting morning- and such a sense of accomplishment. We spent the afternoon by the pool drinking margaritas, before drying off and packing up for our next endeavor- 5 nights just north of San Pedro, Ambergris Caye!