The "Real Belize": Punta Gorda Has SO Much Character & I Love It
I really didn't have many preconceived ideas about the southernmost sizeable town in Belize – Punta Gorda.  I knew the far south was the least touristy area of Belize.  They also see the most yearly rainfall and the entire region is pretty rural.   The majority of tourists never make it down there and there isn't a very big expat population.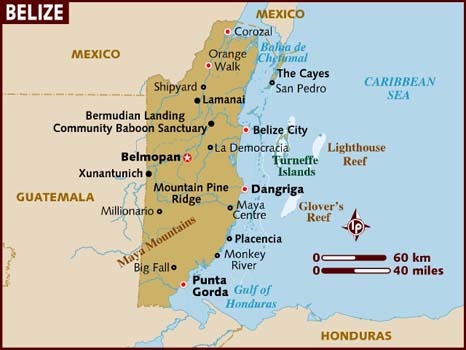 Hmmm…so wet, muddy and dull.   Could I really spend 3 full days and four nights in this town of a few thousand?  Absolutely.  In fact, I'm already plotting my next visit for very early 2014.  Punta Gorda may not be for every single traveller (but I'd argue neither is Belize) but it is for me.
Everything fantastic that I now know Belize can be, all in one small town:  culture, music, diversity, wildlife, the ocean, the cayes, seafood, rivers, caves, Mayan ruins, adventure and most of all?  An amazingly diverse population (you actually hear the Ketchi and Garifuna languages on the street) with a welcoming, proud sense of community.
I'm hooked.  Completely.  And rain and mud?  I saw very little of either.
I already showed you pictures of the Garifuna Settlement Day re-enactment, my main reason for visiting Punta Gorda…stunning, moving, fun, amazing, gorgeous…
but let me show you a bit around the town.
Each town in Belize (other than San Pedro as far as I can tell) seems to have at least one coffin business.  The signs always catch my eye.  Sometimes they are quite elaborate.  I'm pretty sure a coffin is not an impulse purchase.
Simple is all you need.
This shop.
The town clock at the center of Punta Gorda.
The Bay of Honduras.  The water is quite calm and blue-green from all the rain run-off (it's been raining quite a bit in Belize for the past few weeks).
A chocolate factory…the area is famed for its cacao production.  The sales women were lovely and gave us a tour…but I'll get back to that in a new post.
Next is a Confederate house.  You read me right.  Confederate.  After the US Civil War, some of the losers fled the country and picked English speaking British Honduras to "rise again".  Apparently when they approached the local Garifunas and asked them to be their slaves, they were turned down.  But they settled in the area and the man, Wallace, who owns this house is a direct descendant…
And still referred to as a Confederate.
Some of the buildings have been moderized (now are ugly cement blocks) but some look like they haven't been touched in 30 years.  Lovely.
The court house.  I had to walk up to it to make sure it was really and truly being used.
I passed a small eatery a bit back from the road and was loudly summoned by lots of men's voices coming from behind the police station…hmmm.  I MUST check this out.
The Snack Shack.
Marry me baby.  Just get me a water.  Just a "lee bail".  I'll stay with you forever.  Okay…most people would not approach but I found these 6 or 7 guys in the jail cell (that is open to the street!)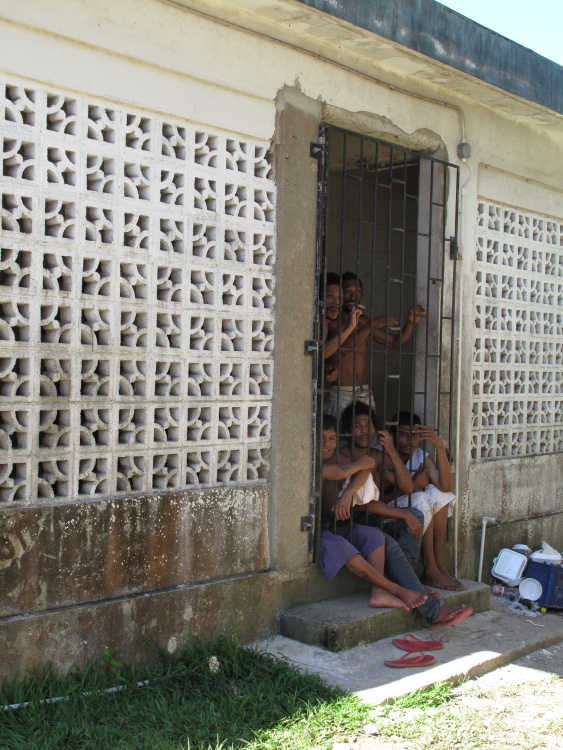 Looks like the drunk tank is pretty full after the holiday weekend…they were in excellent spirits.
We stopped for some cold drinks at an old hotel and met some old expats.  The bar inside was covered with photos and advice.
We sat with Rotten Ray (below), Big Jer and their friend.
Living on a small US Social Security check, enjoying his Belikins and just keeping it real in Punta Gorda.
The seaside Tourist Information Center.
The PG Fish Market.  Selling fresh catch…we saw a huge grouper being sliced, barracuda, conch, snapper.  What a great thing to have in town.
And then next to it a bustling market place where Mayan people and others bring their produce and crafts from surrounding villages.  Primarily by bus.
Look at this gorgeous produce!
Jackie, my travel mate and owner of Casa Picasso restaurant, was not going anywhere.  She was very busy sniffing, squeezing and gushing over the beauty and variety of produce.  I followed a young boy across the street to the Punta Gorda Library.  Founded in 1968, this place is so beautifully set up and welcoming.  Love it.
One of many things for Punta Gorda to be really proud of.
Across the street, I was urged to join a very lively domino game.
And that's the front street of Punta Gorda.
Time spent on Ambergris Caye and then Punta Gorda is not only spent on two opposite ends of the tiny country but almost in two different sides of the earth.
A bit corny but true – I think Punta Gorda is quite magical.  Its beauty does not immediately slap you in the face but it's there.  I don't think you need to be the "intrepid traveller" that some of the guide books say to visit the region.  Not at all.   You need to be curious…open to new things…willing to see the beauty in the non-traditionally beautiful…to chat with people that don't look just like you.  But isn't that what travelling is all about?
Punta Gorda is a bit of a step back in time.  And totally fascinating.
I'll stop for now.  But, maybe you can tell…Punta Gorda's totally hooked me.