Amazing Fun in Roatan: Gumba Limba Park
There are lots of activities in Roatan.  At over 35 miles in length and a population of about 150,000, it's a good sized island plus, they get some serious cruise ship activity.  And cruise shippers like to get off the ships and…do things.  There are dune buggies, zip lines, animals to see, shopping to do, dolphin shows and plenty of snorkeling and diving along the reef.
We decided to head to an area between West End and West Bay about a 10 minute taxi drive ($6USD) up a very steep road called Gumba Limba Park.  Monkeys?  Zip lines?  5 minutes to a gorgeous beach?  Yes please.
And on Friday?  No cruise ships in port.  We had the place literally to ourselves.  All the guides, all the zip lines, ALL THE MONKEYS!
We met our guides and paid our $55US for the 12 zip lines and the park fee and suited up.
The guys were goof balls of the very best sort.  I've zip lined once in Belize (along with cave tubing…so fun) and loved it.  But I was a bit nervous for the first zip…
And looking like this does not help.
And we started.  After my first step off the first platform, it was only good good times.
This guy convinced Krista to try some sort of Super Woman move…

That didn't look all that comfortable…
Ha.
She then got talked into going down upside down.
Tee hee.  There are longs ones, there are short ones, fast ones…I'm a big fan.  As we cruised over the pool into the park on the last zip…
Super fun.  We walked to the next part of the tour and met our new guide.  I skimmed the rules.  Do not give the monkeys lipsticks!  Got it!!
But now I am a little tempted to give the monkeys lipstick.
We first saw lots and lots of pretty green emerald hummingbirds and an iguana that only exists on Roatan.  The black iguana.
And then on to the Insectarium.  Thankfully, all these bugs are where they belong.  Dead.
Good god.
Ahhhh…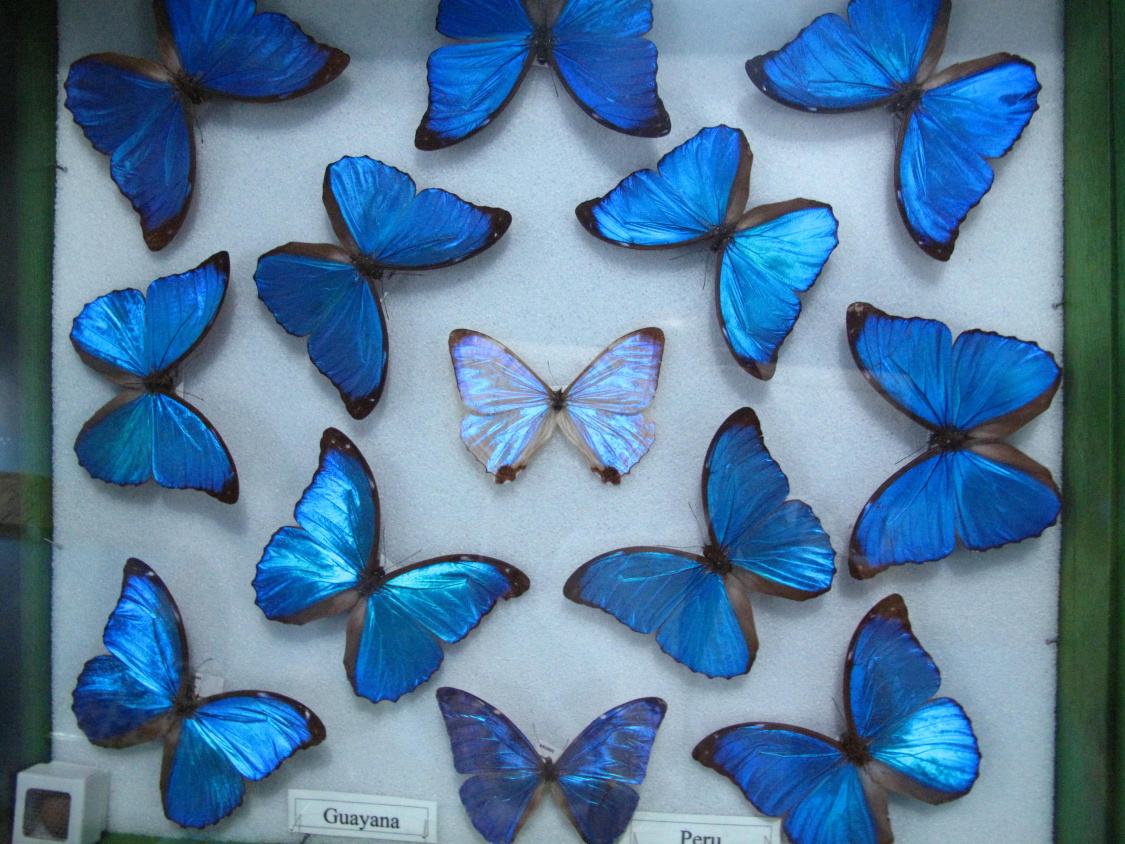 And I like this photo of numbers and letters found in butterfly wings.  Not sure about the person that compiled it (24 years?), but the final product is very cool.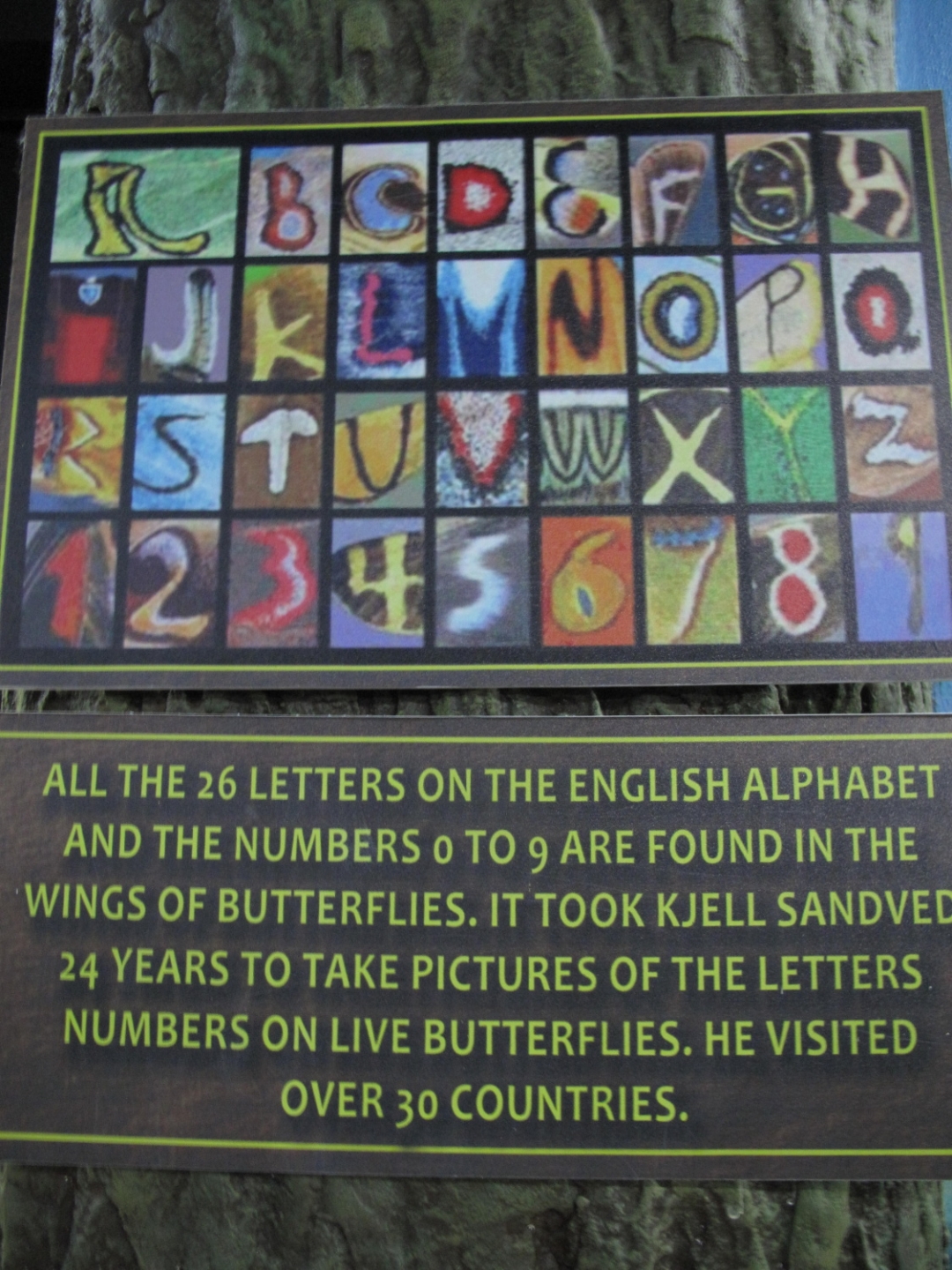 We then went into a bit of history of the island.  British pirates, Christopher Columbus and this map.  Can anyone see what is missing?
There is a painting of the Garifuna landing on Roatan.  That day is celebrated in April as a holiday.
A little bit cheesy but interesting to me.  And there were fruit bats hanging from the ceiling.  They take off one by one during your presentation to keep you awake and listening.  See?  A bit cheesy…
Apparently this pirate named Coxen (who was pivotal in the early history of Roatan) got so drunk one night that he swatted a mosquito near his eye and poked it out with his own hooked hand.   Not one for Roatan's great historical moments.
Outside we came upon just a few iguanas as feeding time.
And took the rope bridge to see the animals.  If you fear the rope bridge over the turtle infested moat, you can always opt out and take this…
And the beasts waiting to feed on human flesh.
And then this.  Corny to say but magical.  These are birds from the park not wild birds but to see them in their native setting is incredible.
You can also hold them.   Krista was loving the birds…
I don't trust trust animals with no arms.  I was ready to go to Monkey Town.
AWWWWWWWWWWWW.
These monkeys are awesome.  AWESOME.
I want a white faced capuchin.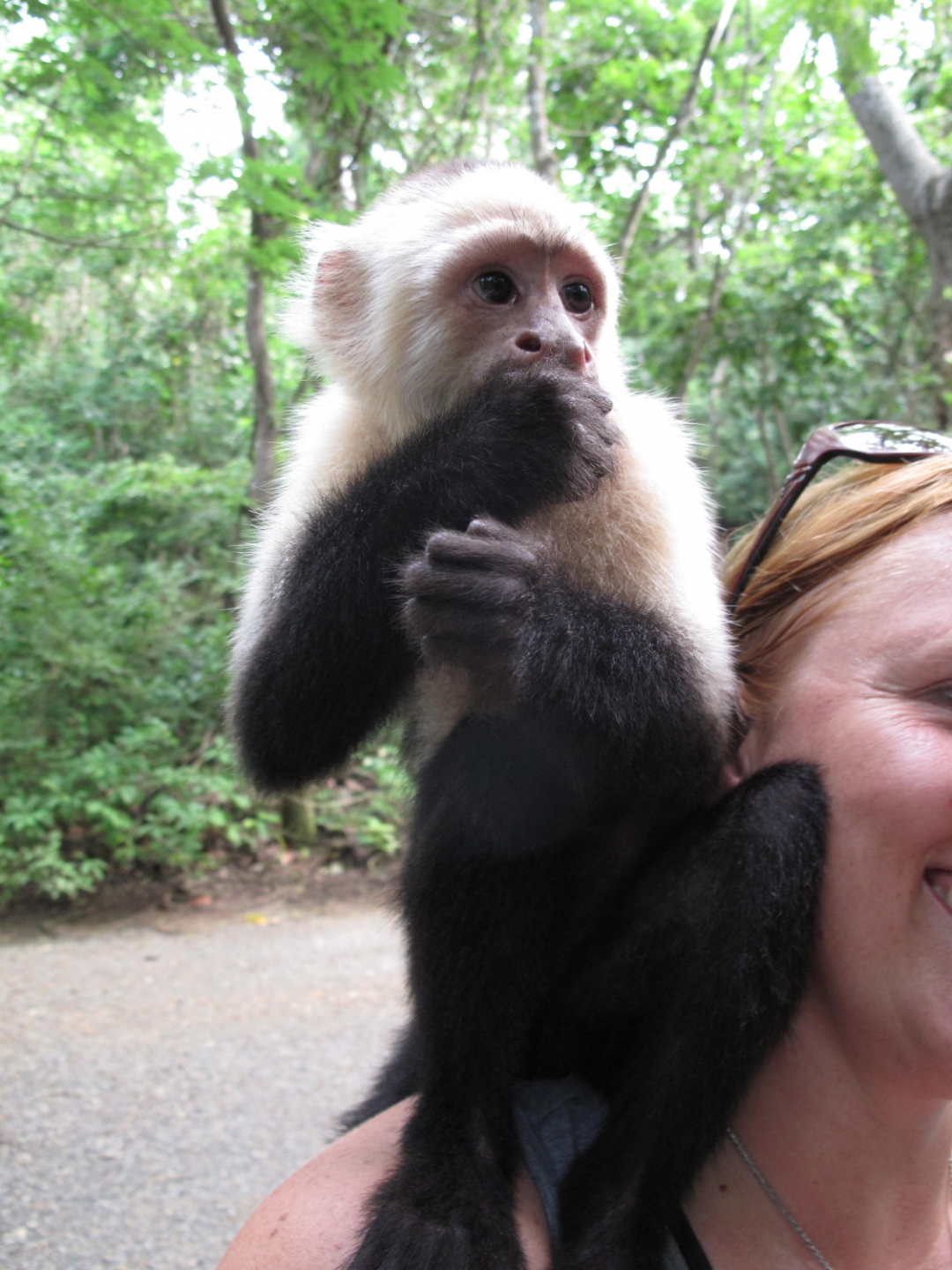 Twins!  They loved chewing on the orange peel and rubbing the oil on their fur.  Apparently a repellent.
MONKEYS!
Love love love Gumba Limba Park.  We finished the tour, thanked our guide and he told us we could wander around the park, swim in the pool and visit the animals on our own.  We were still the ONLY PEOPLE THERE.  If you can, go to Gumba Limba on a non cruise ship day.  It rocks.
We took the 10 minute walk around the bend to gorgeous West Bay.  The skies opened up and it was perfect for lounging.
And picked a place to hang out for a few hours.  The beach also was pretty empty…
And I saw this…
The question might never be answered.
For all the information on Gumba Limba Park, check out their website here.
And to find out about the new flight from Belize to Roatan, check with Tropic Air Belize.