Bucket List Trip: Catamaran Sailing the Belize Cayes with Raggamuffin Tours, Day Two & Three
Let me continue telling you about my catamaran sail from Caye Caulker to Placencia (north to south along the Belize barrier reef) with Raggamuffin Tours.  Yesterday I had left off at the end of day one (here is the post)…we had pitched our tent village on Rendezvous Caye, did a bit of sunning and snorkelling on our own private island…
ate a delicious meal of baked barracuda with vegetables, curried shrimp, coconut rice, potatoes and plenty of rum punch.
I think I fell asleep at about 9pm and even the partying crowd didn't make it much past 10pm.  Cruising, sunning, fishing, snorkelling and basically having everything completely taken care of for you is EXHAUSTING.
Plus, you knew that once the sun came up at about 550am, these tents were going to be HOT.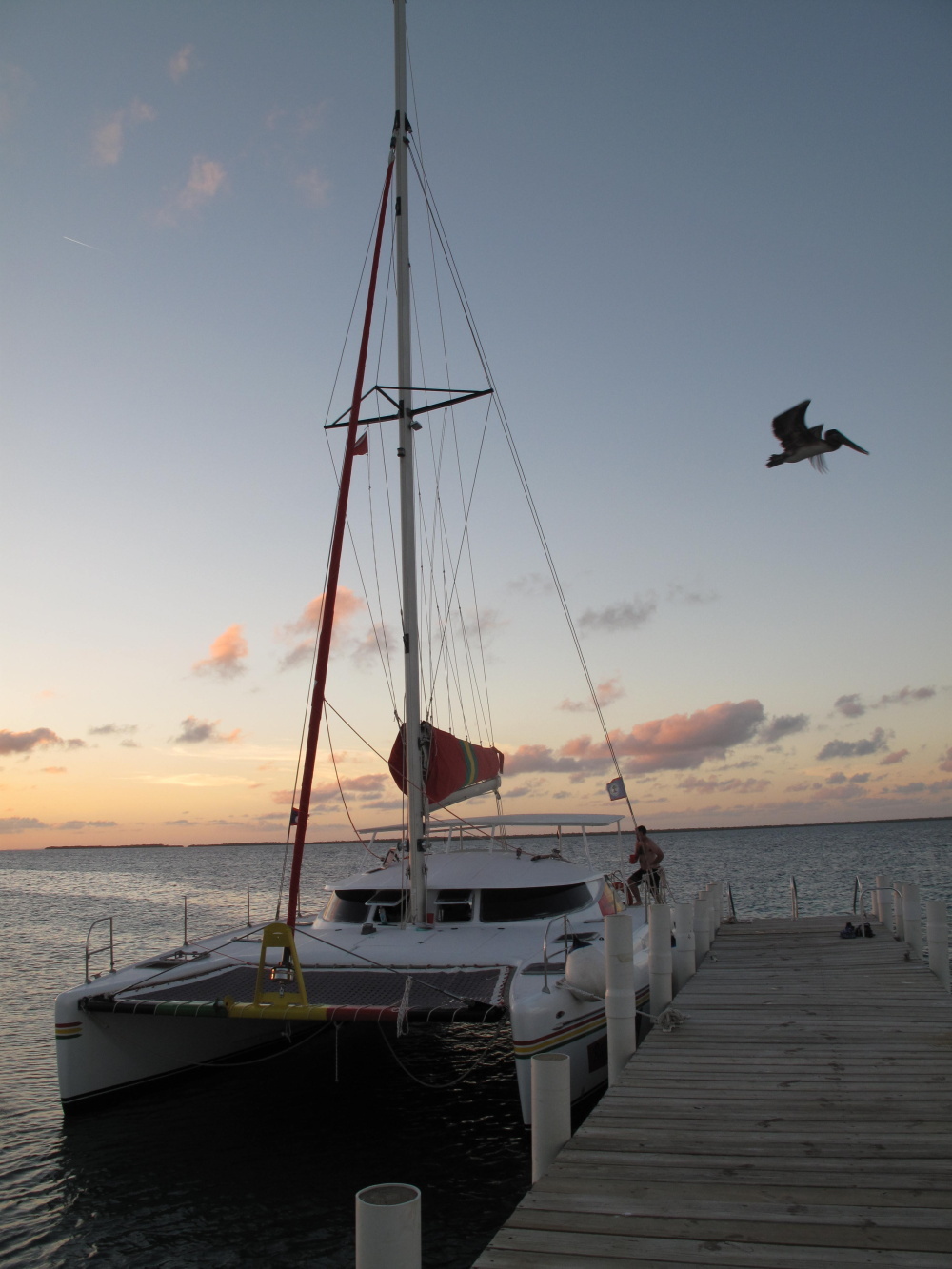 The next morning, coffee was served early and after some more swimming, we set out south for South Water and Tobacoo Cayes just before 9.
We stopped twice for snorkelling and swimming.
We waved to the lobster and conch fisherman who had their laundry fluttering in the wind…we didn't pass many other boats down here…
Spear fishing at a deeper channel (and serious current) through the reef paid off nicely.  Here is the captain Jacob with a pretty hogfish.
Jacob has a cool story…half Belizean and half Californian, his mother came down from the states and fell in love with a Belizean in the 80s.  He lived in California for much of his childhood but realized that Caye Caulker is the place for him.  Great guy.
And then after lunch, we pulled up to our destination, Tobacco Caye.  Nestled right up against the reef, this island was used to load and unload tobacco that used to be grown in the Mayan mountains of Belize way back when.  Our captain, Jerry, was very good at keeping us informed…
As soon as we jumped off, I did a bit of exploring.   There are a few "resorts" on Tobacco Caye.  The best maintained and the only one with a room rented (one room) was the aptly named Paradise.
Very pretty and very basic cabins right over the water.
A bed, a breeze and a hammock that swings right over the water.
They do have a website.  And apparently the trip to the town of Dangriga is only 30 minutes away.  There are a few kids that live on the island and they all go to school in Dangriga.
And this area with cabins…that later I found we were staying in…
There are a few houses and bars…during the busy season, you could probably get a bit of a pub crawl going.  There is the beach bar by the dock…
The Fairweather Place and another bar above it.
And then this intriguing sign…
I passed this boy cleaning his days conch catch.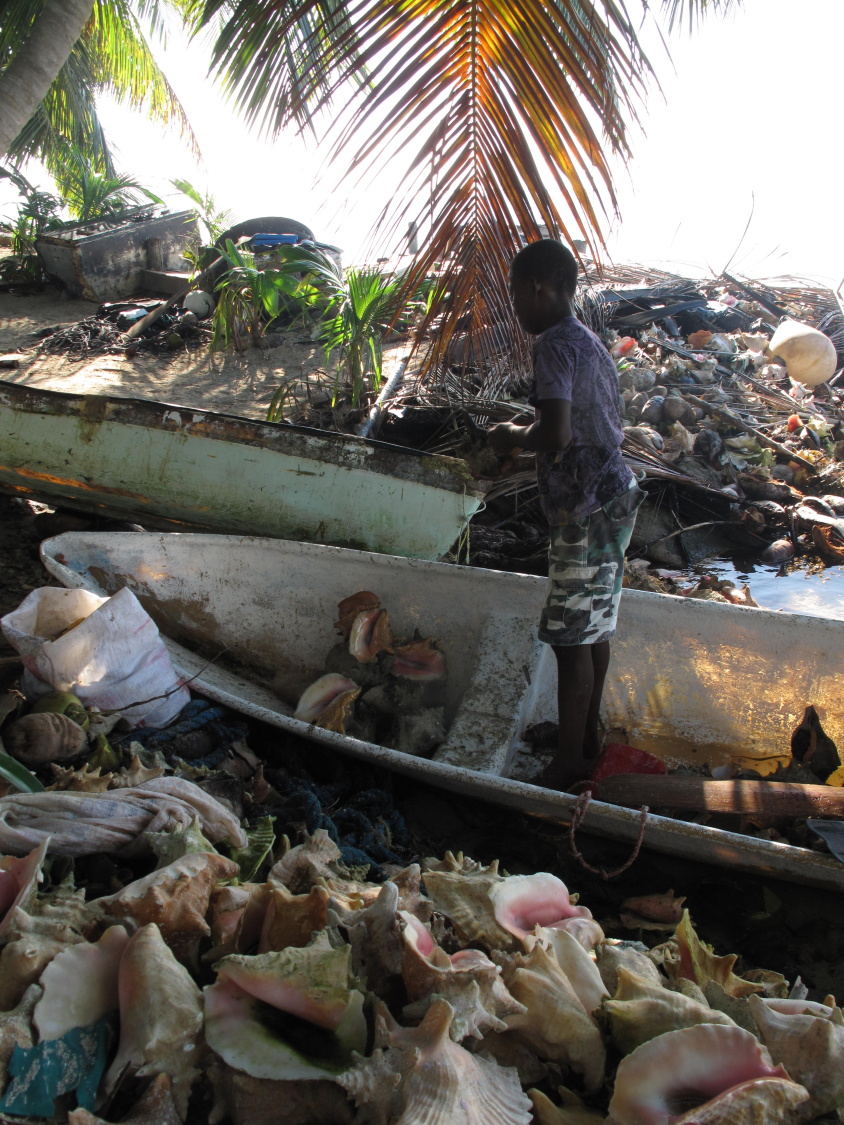 All these seafood scraps attract lots and lots of rays to the caye.  I saw eagle rays flapping and even jumping out of the water quite a few times.
Entire sections of the caye are literally surrounded by conch shells…a barrier reef of sorts.
A few more pictures.
The tiny gift shop.
And the tallest, healthiest most beautiful palm trees that I've seen anywhere in Belize.  Fat with coconuts that you definitely do not want to stand under!
I really like this island.  Super low key and just real.  People working, fishing, living life.  And see how close the reef is?
But I'll admit, much of my love has to do with the world's greatest dog.  Meet Fermin.  He lives on Tobacco Caye and is some sort of massive 8 month old Mastiff-Belizean Jaguar mix with paws the size of a grizzly beer.  I spent a full hour watching this epic battle – Fermin vs. the White Gloved sand crab.  It really could have gone either way.
And Fermin's face when he accidentally killed his opponent was priceless.  He actually howled and cried at it.  And then freaked out when a frigate bird swooped down and stole it from him!
Tee hee.  I'm supposed to be telling you about a sailing adventure and instead you are getting a monologue about a goofy beach dog.  I did promise to return for him but George, his owner, refused.  DANG!  I never should have mentioned that I'd "cut him" (or as we gringos say "fix him").  Fermin got a bit too amorous with some ladies legs.
Okay…just one more.  Look at him being such a good dog when we eat…no begging at all.  FERMIN!  Don't listen to what anyone says…you are regal.
I settled on the dock to watch the sun set.  Smelling our dinner lobsters grilling and watching this?  Bliss.
Double bliss.  The guys on this boat are some SERIOUS chefs.  I haven't eaten so well and so much in a long time.  And Charles' buttery garlic lobster cooked just enough on the grill?  Honestly the best lobster I've had in Belize.
We ate like champions and settled in for the night in our cabins.  There was talk of a dance party on the boat but I'm not sure anyone made it.
This time I was sleeping on the top bunk and rooming with my two new British buddies…but with a bit of electricity and a real shower?  I was one happy camper.
The sun rise was equally stunning as the previous night's thunderstorm moved out…
We set off under sunny skies…
but as the day progressed clouds were filling it.  Many tender sunburns could not have been happier.
Here is Charles…a very cool laid back guy who spent much of his time in the galley chop, chop, chopping to keep us well fed.
We stopped to snorkel around a totally mangrove filled caye and many just hang back to read, sun and relax…
A black cloud was coming and Captain Jacob gathered us onto the boat so we could get to a more sheltered area.  Never shy Jerry got into super hero mode to add to the excitement.  Sexy.  But like he said himself…he can't help it if he's not ugly.
The wind picked up and the rain held off.  It was really beautiful to watch the lightening crackling over the Mayan Mountains and over the reef.   We ran to the back for the maybe 15 minutes of serious drenching rain but the sun was peeking back out for our cruise into Placencia.
And…sniff…sniff…getting off the boat.  We lined up (I am in somebody's pictures) and this one guy was put in charge of 18 cameras.
Good shot.
Goofy shot.
Two ladies from London, a single traveller from Montana, three girls from Norway, an American back from Afghanistan, 2 couples from Germany, a Swede, 2 sets of American honeymooners (including one guy who went by the name "Sanders" after the Ian Ziering character in the TV show "90210"…see if you can pick him out), a crazy crew from Portland, Oregon, these people were easy, laid back and really good times.
These kids were so well travelled and adventurous, I almost felt like a backwoods rube!
And the crew…Jacob, Jerry, Charles and Shane were just the very best.  Pros through and through.  They were incredibly mindful of your comfort.   Tuned in.   If someone wanted the music turned down, if people might be thirsty or didn't drink alcohol, if you hadn't had a chance to spear fish or if you were getting a sunburn.
This entire trip is amazingly beautiful.  Something that you will never forget.  Honestly one of the very best things that I've done in Belize.  I wanted the boat to turn around and take me again.
But a little bit of a caveat…you must be easy going, get along well with others and let those people see you at your 6am worst.  Don't go unless you are willing to rough it a bit (like sleeping in a tent on the beach).
If you are not prepared to replace a few showers with dips in the ocean or get very very very close with your 15 new besties (who luckily are easy going just like you), then it might not be for you.
For all others?  GO ON THIS TRIP!  And quickly, here are a few tips.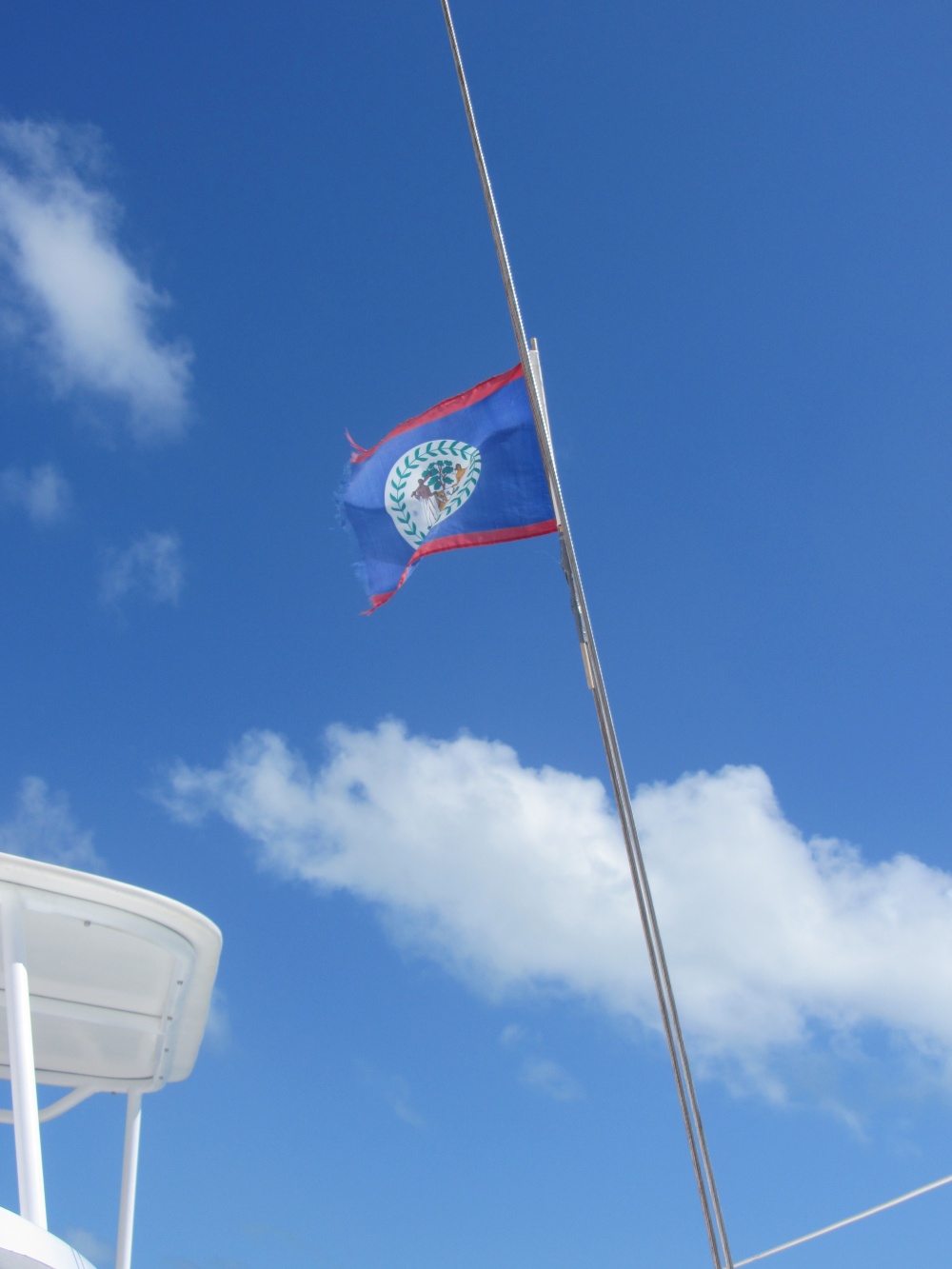 Things I would suggest packing:
A mini-flash light or headlamp (there is really no light at the first stop and if you don't like feeling your way to the bathroom, this is VERY helpful!  If you like reading in your tent, a headlight works great)
A Water Bottle – nice to have to brush your teeth.  A small one that you can refill would be just perfect
SUNBLOCK – Don't mess around with SPF 8 or 10, you want to go 30+ and something that you can spray is always the most convenient.  There is shade on the boat but with the snorkelling and just moving around, you are going to get a TON of intense Caribbean sun.
Your Music – The first day is a Raggamuffin Reggae soundtrack but then day two, you are invited to plug in your IPod for "International Music Day".  If you like to share your tunes, bring them with you!
Beers or Other Alcohol – If, for some crazy reason, you do not like rum…rum punch, rum and cokes, rum and rum.  Raggamuffin doesn't bring beers on the trip, I imagine because they would take up SO much room, but they are glad to pack yours on ice if you want them.  I even brought my beloved.  Sprite Zero.
And that's almost it.  A few shirts, bathing suits and a towel and you are good to go.  I brought lots of bugspray but didn't need it at all.  And for all the details, the evening-before briefing will fill you in and everything you need.
You and your entire family want to book this sail for a family reunion, you and your friends want to enjoy this once-in-a-lifetime sail or…you just want to go alone, like I did.  Just go.
Check out Raggamuffin tours website for ALL the information and follow them.  They have a really fun blog.
I'm still getting down from my Ragga-high.