It's Not Just About the View at Cahal Pech Village Resort
Belize is a relatively flat country…the highest man made structure is the Mayan main temple at the Caracol site.  The highest peak in Belize is called Doyle's Delight and soars to just over 3500 feet.
Much of Belize's population lives at or around sea level – our largest city, Belize City is just a few inches above.
What's my point?  Belize has many many beautiful sights…ocean views, jungle landscapes, mangroves and orchards but when it comes to majestic hilltop vistas?   They are something special.  And I think I found the one of the best views in Cayo, in all of Belize…from the Cahal Pech Village Resort in San Ignacio.
Cahal Pech Resort is just outside San Ignacio town about a 20 minute walk UPHILL or an easy $5bzd taxi.   (It is just up the road from both Sweet Ting Pastries and the popular Cayo Twist soft serve joint – if that's not reason enough to visit.)
The resorts location is great for two reasons.  It is perched on a hill that overlooks the valley and the town.  That equals one amazing view.  (And I'll get to the cigarette smoking pterodactyl in a bit.)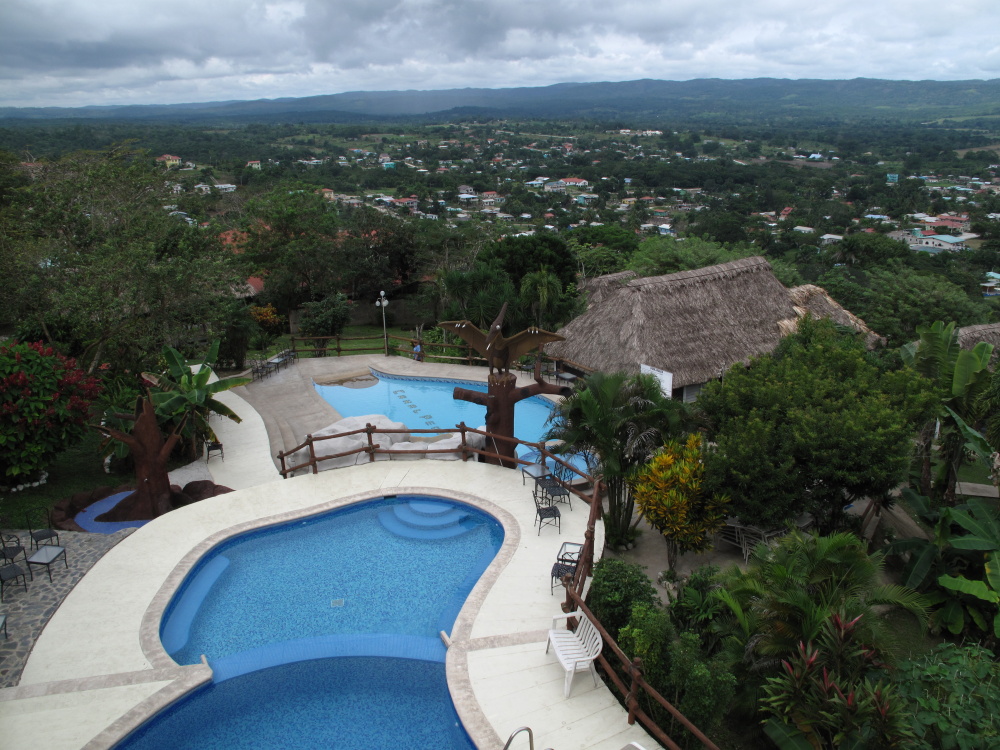 And on the very same small but steep hill is the Cahal Pech Mayan site.  I could have thrown a stone at it from my balcony but who would do such a thing?!?!
Apparently…the Mayan people enjoyed this view as well.
And it's a lovely easy site to visit.
I checked into the Cahal Pech Resort and took a walk around the grounds.  It's so much bigger than I thought with 60 plus rooms.  There is the main building where each room is named after a Mayan site…
I was in the top left hand room.  It is HUGE and has a private balcony on two sides for an amazing wrap around view.
They also have cabanas sloping down the hillside.  Each with a screened in porch and hammock.  All the rooms have AC whether you need it or you don't.
Everything was basic but clean and comfortable.  Here is my bed.  Nice, right?
Who is laying around anyway when there is beautiful San Ignacio, the ruins, the Saturday market and the surrounding area to explore?  Plus, if you have sitting around to do, you can do it in the dining area or bar.  There were a few travellers down there swapping stories about their Cayo adventures.
The view from my northward facing balcony…
The resort recently hired the former business manager of Chaa Creek, Peter Tonti.  He is their new CEO at Cahal Pech and in my mind?  Can only mean great things.  Chaa Creek is the model of a well run beautiful, luxurious, efficient, friendly, as close to flawless lodge I've ever seen (you can read about my visit to Chaa below).  But Chaa Creek is much more expensive as well.  I'm excited to see the changes to come for Cahal Pech.
I ate two meals in the Cahal Pech dining room and both were seriously good.  Apple glazed pork chops in the evening for only $22bzd and in the morning delicious chaya scrambled eggs and homemade corn tortillas.
At night, with candles lit and the pool glowing, it looks even prettier.
My waiter Dodi (yes! he says…like Dodi Al Fayed) was fantastic.  I think he filled up my breakfast coffee 8 times while I was morning blogging.  Now THAT is good service.
I had to ask.  What is the deal with the cigarette smoking dinosaur perched over the beautiful pools?
An employee of the restaurant had me lean in close and he told me this.  While excavating the pool area many years ago on this ancient hill, the workers found strange fossilized bones.  Clearly, they were too old to be from the Mayan era, though it is thought that Cahal Pech was a palace for Mayan elite as early as 1200BC.   The bones were old…WAY older.   They were studied and found to be pteradactyl remains. **  Awesome.
So there you have it.  An extremely reasonably priced hotel with an insane view, comfortable rooms and cabanas, a really good restaurant, great staff and an easy, though steep, walk (and even easier 5 minute taxi ride) to San Ignacio.
And at night.
I loved staying there as it is.  And I'm excited about changes and things to come for Cahal Pech Resort.  I'll be back.
** This story is false.  Total BS.  The flying dinosaur is just a fun (though strange) pool ornaments that spray water from its mouth.  The kids love it.