Caye Coffee, Construction and $1 Cotton Candy in San Pedro, Belize
I'm a giant fan of coffee.  And, after visiting a coffee finca (plantation) in the mountains of Colombia (how very Juan Valdez of me, don't you think?), spending some serious time in the Rum, Cigar and Coffee House in downtown San Pedro and in Starbucks around the world, I fancy myself quite the know-it-all on the subject.  Robusto.  Arabica.  Elevations.  A "coffee nose".  I've got the terminology down pat.   So what if I like my coffee with EXTRA powdered non-dairy creamer and lots of sugar?
I've been meaning to try and visit the newly re-opened coffee "factory" in San Pedro.  Caye Coffee (pronounced "Key" Coffee) for a few months now.  Just last week, I bought a bag of their Medium Roast – the "Middle Street" beans and was impressed.  Yum.  MUCH better than my usual Maxwell House.  I sent a note to Paul and his wife to ask if I could visit.
Caye Coffee is located south of town next to the Sausage Factory.  I love that both places give directions based on the other one.
Here is Caye Coffee.  They are really just a small factory and the final product is sold all over San Pedro.
Inside is big, roomy and super clean.  This place used to also be a coffee cafe but that was mostly just a few guys sitting around sipping one coffee each and playing cards all day.  The money didn't exactly seem to be flowing in.
Marcy and Paul, the new owners from Canada, decided to keep it about production only.
Here they are with the pretty impressive looking roaster.
They buy the beans from a farm outside of Antigua, Guatemala.  Not because they don't want to buy Belizean but really good coffee, the arabica bean, is grown between 2000 and 4000 feet.   And much of Belize is pretty flat.  There is some coffee grown in the Maya Mountains/Mountain Pine Ridge (I tasted a delicious few cups of the beans grown at Hidden Valley Resort) but production is very small…
And Guatemalan coffee is some of the best.  Here is how they receive it and keep it in a temperature controlled room.
Pretty.  The beans are roasted in the machine and need to be seriously watched.  Heat, humidity all can play in the roasting.   Each 30lb batch tends to be different.
Don't you love the bags?  There must be something beautiful that can be done with them.  Though they are VERY rough scratchy material.  Juan's poor burrow must have had a serious case of bag rash.
The different roasts and a decaf is coming!  Decaffinated coffee is a process that is done to the green bean.  And can be done just with water.  They are expecting a shipment soon.
Love the names they came up with:  Front Street (a blond roast), Middle Street and Back Street.  Very San Pedro and it makes perfect sense.
You can find the packs at supermarkets and stores all over town.  I paid $23.50bzd for a pound at Super Buy South and have seen it for as much as $30bzd.  They are also doing individual packs…so you might just see it at your hotel.   Very cool.   And excellent souvenir.
I, of course, had suggestions.  Pair up with a Belizean Spice farm from the south of Belize to make spiced flavored coffees.  Mmmmm….nutmeg and cloves.  Cinnamon.  Or with Kakaw chocolate….mmmmm.  Chocolate covered beans?  Belizean vanilla?   Nothing like an annoying know-it-all giving you suggestions on your business.
To completely switch subjects now…I took a walk up the beach yesterday evening and noticed two construction projects.
One is a sea wall being built right in the middle of town where BC's Bar used to be…
Sigh…I guess the big condo project has officially started.  Here is what we are going to get smack dab in the middle of town.
And here is what we used to have…
I can't deny it.  It makes me sad.
ALSO, Sandbar (formerly bar & restaurant) has been closed for a few months now and is working slowly to remodel as a hostel.  Total change of plans!   Here is what it looks like so far.
On a WAY more upbeat note (and random topic #3), I passed by this oddly named Chinese shop yesterday…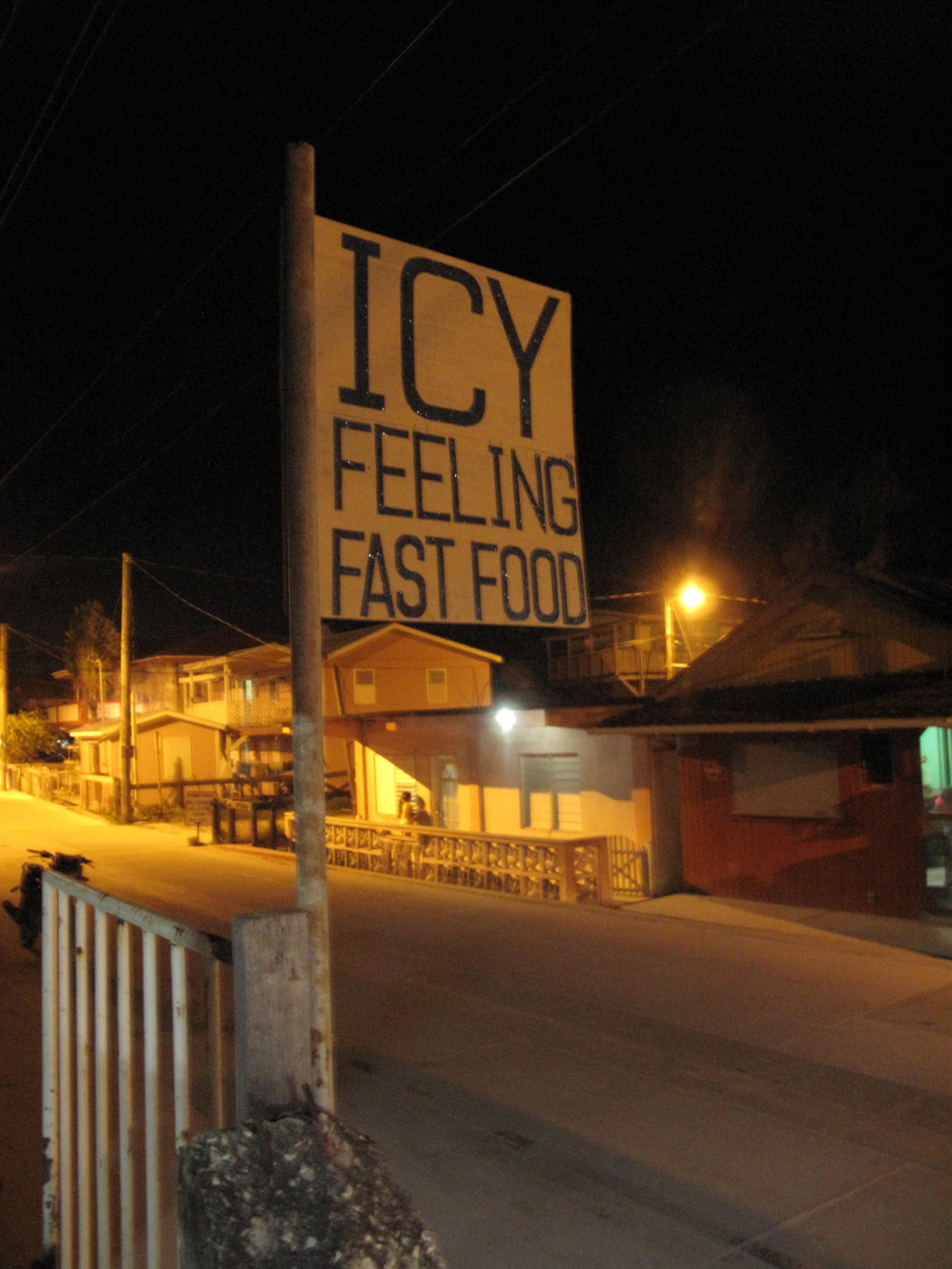 And saw a sign that spoke directly to my heart.  My truest desire…the angels sang.
ONE BELIZE DOLLAR.  Fresh made cotton candy…when the sun went down, production began.   I ordered one.
He lights a butane flame in the center and just keeps spooning in sugar.  And a fan causes the melted sugar to fly up and…voila.  Cotton gin?  Steam engine?  Those guys had nothing on this invention.  GENIUS.
No flash.
Flash.
My tip when you are trying to get that Icy Feeling (which apparently mean insane sugar high that prevents real sleep until about 4 hours later), do not get the candy bagged.  The bag is an extra 25 cents bzd (12 and 1/2 pennies USD) and just packs the stuff down.
Eat it fresh from the SERIOUSLY pointed wooden stick and try not to get it all over you or to puncture your cheek.  Who cares if you look like a 40 year old gringa eating cotton candy from a stick walking down the street?
Good luck and…you are welcome.
Icy Feel Shop is located in the Boca Del Rio area about 2 blocks north of the High School in San Pedro.