Harley-Davidson Bike Rally On the Beach in Belize Brings Hundreds From All Over Central America
Harley-Davidsons?  In Belize?  Black leather?  On the beach?  A friend sent me a message about this rally just yesterday.  The first annual Harley-Davidson Bike Rally in Belize.  Ummmm…seriously?  Bikers, known for leather and boots, riding in the Central American heat to a country where gasoline is over $10bzd a gallon to…park at the beach?
THIS I NEEDED TO SEE.  I was on the island of Caye Caulker when I heard about the rally…I hopped on a water taxi and made it to Belize City in time to see this crazy sight.  And it was well worth it.
The bike rally, sponsored by a number of businesses including Belize's only Harley-Davidson dealership and Belikin beer, was two full days and nights of biker fun.  The first official event was at Hour Bar in Belize City…tents, booths and a rock concert.   Belize City residents were abuzz with stories of revving hogs (I had to call them that just once) late into the night.  Excitement…not anger.
Saturday morning (not too early), the bikers revved their engines to parade through the streets of the city and then Saturday afternoon was the beach party.  A BIKER BEACH PARTY!  at Old Belize…a museum, restaurant and "beach" just outside of Belize City.
I arrived at Old Belize just before the bikers and took a look around.
There is a large marina area…mostly used for the cruise ship tenders.
And then this…well…artificial beach called "Cucumber Beach".
I got a phone call…the bikers are coming!  I made it to the front gate.
Just in time…
Bikes, bikers and more bikes and bikers.  Let me pause for a moment for those that may see something like this every day or even once a year.  Motorcycles, especially Harley Davidsons, are far from everyday vehicles in Belize.  Though they are growing more popular slowly, this is a crazy crazy sight around here.
From Honduras.
My buddy at the front gate trying furiously to write down license plate numbers.
They pulled up onto the beach and I pretending to be part of the Belikin beer crew (they were shooting a commercial for their Stout beer), I snuck up the giant water slide to take a few pictures.
The "shell" where the steel drum band was setting up.
I set out to meet some bikers.  SUPER friendly people, having a great time, they love to talk about biking and then are easy to identify.  Everyone has their name embroidered on their vest.  Love bikers!
Charlie.  Black Pearl and an exec at Belikin.
This guy from Panama with a holster full of rum.
I could not stop taking pictures…
Of course this was part of the Belize crew.  Louis Vuitton and Bob Marley.  Awesome.
An organizer was quite thoughtful.  There were hundreds of these kick-stand wooden happy face blocks everywhere.  There is protocol for parking bikes on the beach!
I met this guy and his bike from Long Island, NY.  He drove down to Florida, had the bike shipped down to Belize and followed on plane.

The only female DRIVER in the Belize Black Pearls.  She gets a special patch for that.  Bad ass!  She and her husband have a farm out by Belmopan.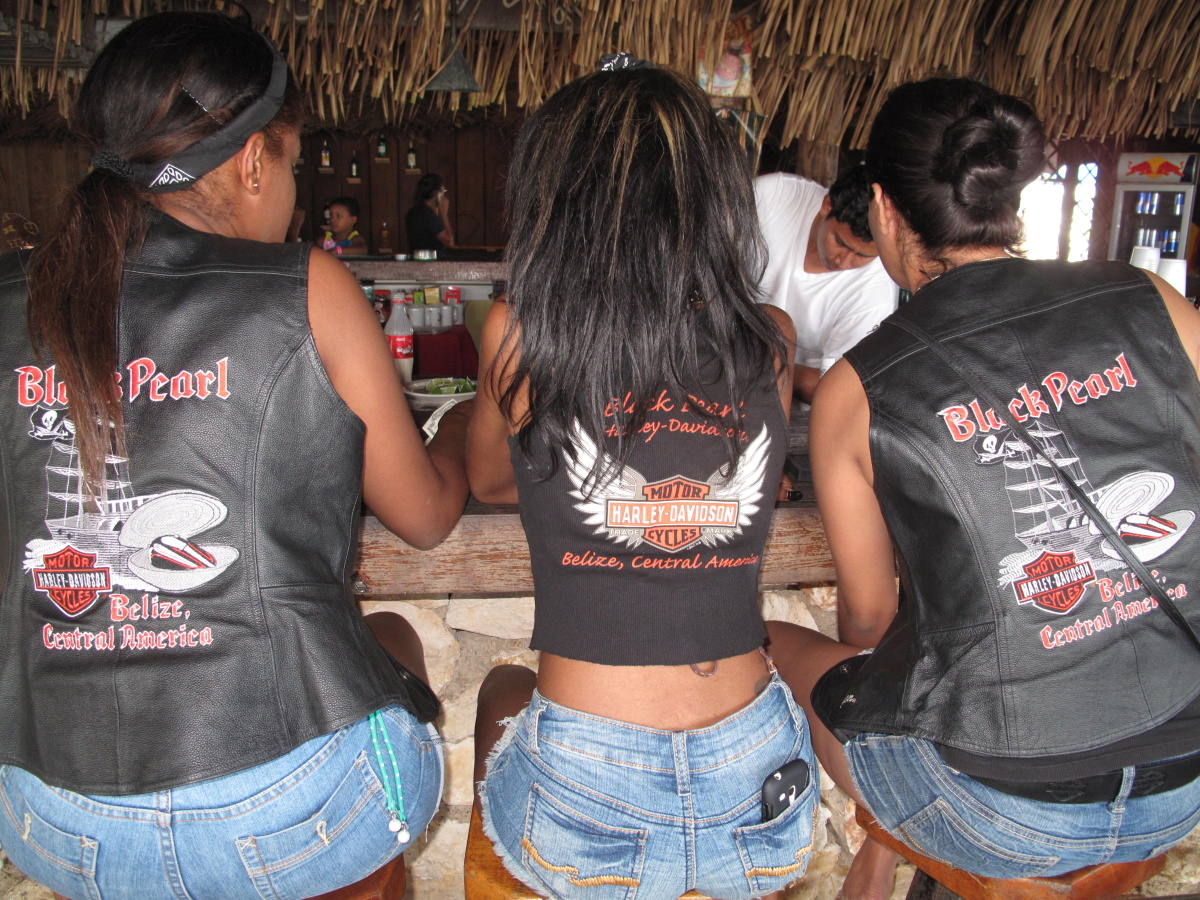 My mouth was hanging open for the first half hour after the bikes rolled in.  An extraordinary sight in Belize.
And what a fantastic event.  From what I hear, the big hotels in town like the Princess and the Radisson were fully booked for the weekend and bikers were spending money all over town.  EXACTLY what we need.  Everyone I met at the rally was having an amazing time, was loving the weather and loving Belize.
So…I will definitely stay tuned for next year's rally.  I can only imagine this is going to get bigger and better.
For more information on the Black Pearl Club and Harley-Davidson in Belize, check out their facebook page (EVERYONE has a facebook page these days!).
Awesome.  I wish I had known sooner!