Sailing and Dining on the Rum Punch 2 Never Disappoints
Yesterday was a GORGEOUS day.  In fact, February has been an absolutely gorgeous month.  And that is just how it should be.  Lots of sun, getting a bit warmer (no blanket needed at night anymore) and breezy.  Perfect for all things.  But especially perfect for sailing.
A bunch of fun friends were headed out on the old Belizean-made ex-fishing boat, the Rum Punch 2.  They even brought their own pirate flag.  These ladies are prepared!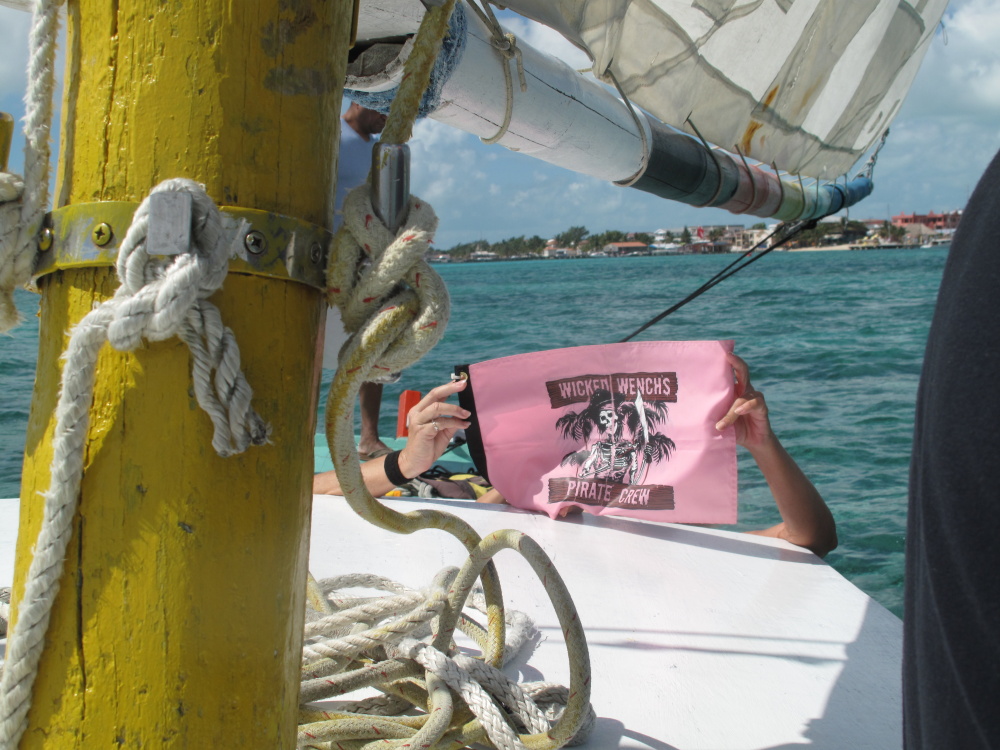 George Eiley (above), the owner, was born and raised in Placencia, Belize but in the 70s fell in love with Ambergris Caye where the tourism and tour guiding businesses were in the beginning stages.
He purchased the Rum Punch from a fisherman, cleaned her up and started tours.
Rustic, simple but beautiful and surprisingly fast, I LOVE sailing up north on the Rum Punch.   When she really gets going, the boat is seriously tipped and you can sit on the edge, dragging your feet in the water and…well…it's just the best.
We met George by Cholo's Bar and 8 of us gracefully loaded aboard the Rum Punch.  We are ladies after all…
We sailed about an hour…maybe a bit more up the coast to Mexico Rocks.  Just off shore Xtan Ha Resort, this patch of ocean and popular snorkelling spot may be the prettiest in Belize.
As we snorkeled and fished, some darker clouds started moving in and the sea glowed like it was lit from below.
We moved a bit to the next spot.
And saw some fisherman coming our way.  Easy to identify with the serious pack of birds trailing them as they cleaned their fish.
Everyone knows "Mr. George" and they stopped to see if we needed any fish.  Or this guy…
We traded a bucket of gasoline and some money for fish.  LUNCH TIME!
By the way, interesting boat name, guys.  Carne Dulce.  Sweet meat?  Sweet flesh?  Hmmmm….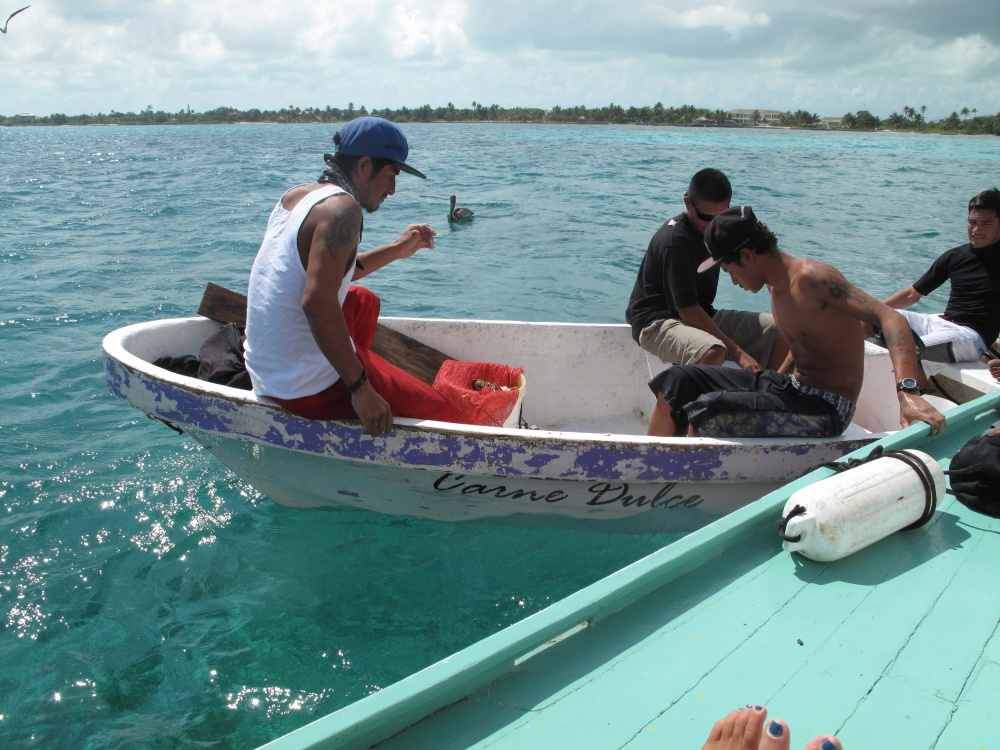 On the Rum Punch, with a small flame, a frying pan, a knife and…that's about it, George and Tony prepared a DELICIOUS lunch.
Ceviche with huge chunks of conch.
And plate after plate of fried snapper and hog fish.
Man…is there anything better than eating the freshest fish with your fingers while bobbing on a sailboat?
We ate massive amounts and headed south to the Palapa Bar.  No, we were not out of rum punch.  George and his crew kept it flowing.  It's just a lovely place to stop for a bit of land time.
Stinky came to greet up.
A long amazing day sailing.  We were out on the water from about 10:30am to 5pm except for that half hour stop.  It's part of the beauty of the Rum Punch.  It's totally flexible.  Your boat completely.  Stop where you want, head in your direction…
I love it for trips where stopping is frequent.  If you are going for a longer haul and looking to move around a large boat, maybe get some shade and use a bathroom?  Then I love a catamaran.
I'll list some posts for both at the end of this blog.  You've got options!
Either way, there really is nothing better than a day of sailing in Belize.  If you've got the time?  It's THE way to get around.