Belize's Biggest Sporting Event: La Ruta Maya River Challenge Ends Yesterday in Belize City
And DANG, yesterday was a hot one in Belize's largest city.
La Ruta Maya is a torturous (my own word) 180 mile, 4 day canoe race across Belize on the Belize Old River – an important trade route for the Maya between cities like Xunantunich, Cahal Pech, Altun Ha and the Caribbean Sea.
Here is the map by the race's big sponsor, Belikin.
Oh and real quick.  SPEAKING of Belikin, I got the scoop on the new beer that is coming out later this year for Barry's youngest daughter's wedding in May.
The brew will be made with Australian (or was it Austrian) hops and be citrus flavored.  It will be called Galaxy.  And I'm praying for PINK bottle caps.
Now back to the race…
Last year I attended the big party at the end of Day 3 in Burrell Boom.  Or as Heinekin called it "The Bram in Boom" – Bram just means party in Kriol.  Yesterday, I went to see the end of the race in Belize City – on the national holiday Baron Bliss Day (now renamed National Heroes and Benefactors Day) across Belize.
The race was being broadcast on the radio so the big crowd gathered about 20 minutes before the first canoe came.
Some small boats circled and tied up under the bridge out of the HOT SUN.
This one had the best name by far.  Do you think he meant to name it "Jah Bless"?
I started standing up on the bridge and facing away from the sea?  HOT.
There was refreshment to be found…
Belikin gave out a round of free beers.  HAPPY BARON BLISS BELIZE CITY!
They even had their cool kegs flowing…
My friend bought a lady a stout or two to stand next to her with her umbrella.  It was that hot.
LOVEFm was broadcasting next to us.
SERIOUSLY impressive the tv and radio folk that were talking for hours and hours doing play by play for a canoe race.  I mean…it has its moments for sure…but man…there is no way I could keep that conversation going.
I decided to test my press credentials/see if I could sweet talk my way into the press area on the side of the river.
The Belize Defense Force was kitted out in half camoflauge/half Belikin t-shirts and not letting many pass into the press zone.  They are in charge of the official times, safety and standings of Ruta Maya.
A flash of my San Pedro Scoop postcard got me a meeting with the Sergeant in charge.  And he let me right in.  EXCELLENT.  My people…
Secret to success in this type of situation?  NEVER use the word "blog" – it's the kiss of death.  News website sounds much more impressive.  And it's not a (total) fabrication!
Just as I was seriously wilting on the side of the river, the first boat came around the bend.  Westrac! (an auto parts supplier in Spanish Lookout, Belize)
Following them?  The Belize Bank Bulldogs…the team that ended up winning the whole race.
It is my small complaint about this race.  It is based on cumulative time over the 4 days which makes perfect sense.  But cheering for the winner of each leg…doesn't mean  you are cheering for the winner.   It takes away from the excitement.
More teams came through the finish line.
The Belikin film/photography team was doing some serious work with this little guy…
Swooping in on the canoes and over the crowd.
Or maybe…just maybe…it was Obama spying on US citizens!  A drone!  Right here in Belize.  Everyone!  Into your bunkers!
Sigh…
I went back to the bridge to take a few more pictures…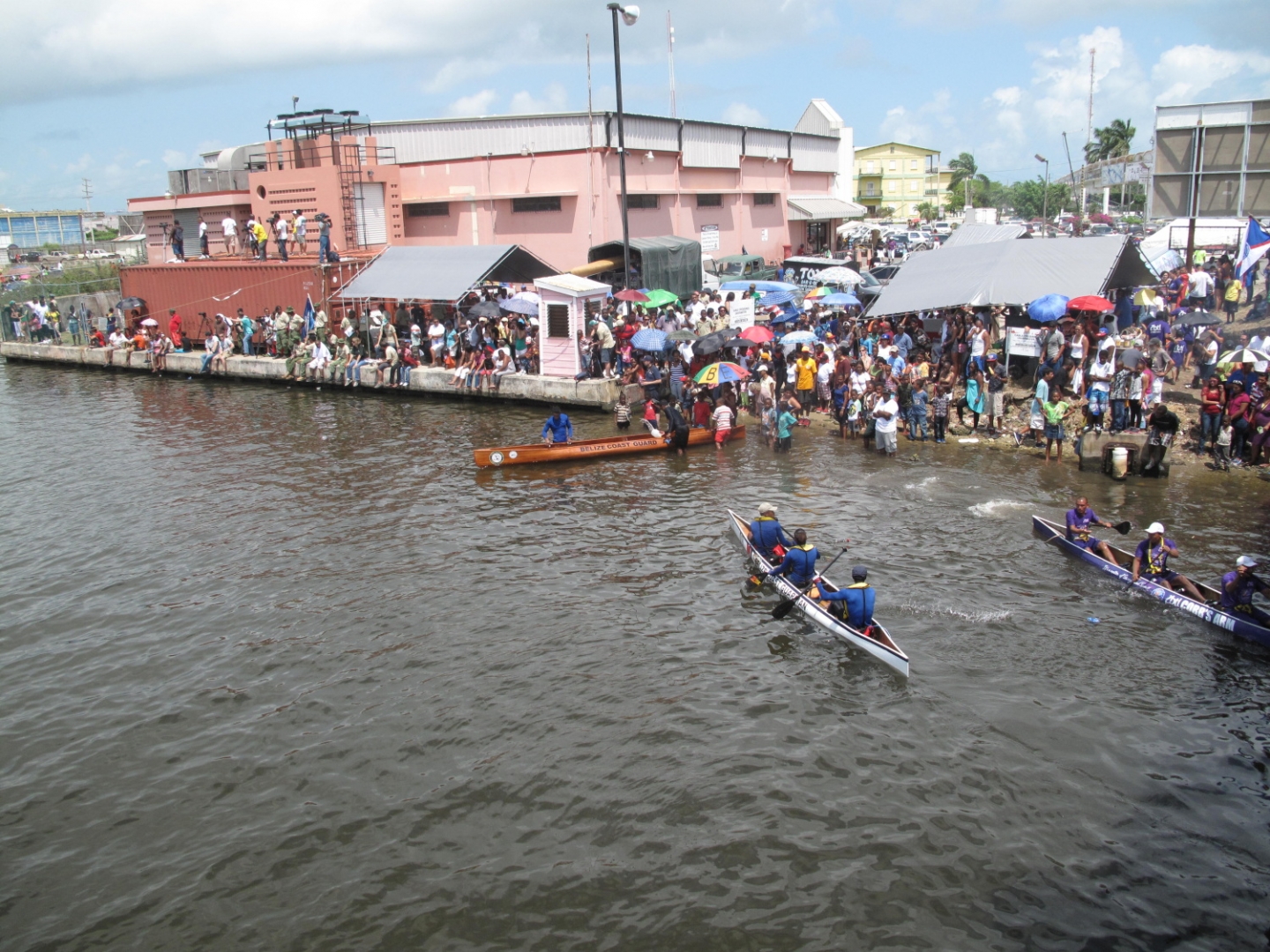 And then the other side of the bridge to catch a little breeze.  The after party, music and awards ceremonies would happen here later.
Time to head out and find some shade, food and a cool drink or 10.  Corn seemed to be the most popular snack for sale at the event.  Lots of people with corn all over their faces…it's not a first date sort of food.  No pretty way to eat it.
But it's not the sweet corn on the cob I am used too.  This is more feed corn…mealy and bland.  It gets slathered with hot sauce and margarine.
We took off to search for a restaurant open on a holiday.  Not an easy thing in Belize City.
Later I got the official results.  Here they are (from the Belize Canoe Association's Facebook page):
1: Belize Bank Bulldogs 17:25:13 (Male)
2: NICH (National Institute of Culture and History) 17:31:42 (Male)
3: BTL (Belize Telecom) Cobb's Arm 17:36:26 (Male)
4: Westrac Stingers 17:36:41 (Male)
5: Wateva Boys 17:40:37 (Intramural)
6: Joseph & Taylor STEELers 17:49:38 (Male)
7: Black Orchid Resort 18:02:48 (Mixed)
8: Belize Coast Guard Ace 18:16:23 (Mixed)
9: Crime Fighters 2. 18:17:54 (Intramural)
10: Belize Coast Guardian 18:20:09 (Mixed)
I took the 8:30am water taxi to Belize City and after lunch, the 3pm water taxi back to San Pedro.  Easy.  And a fun way to spend a holiday in Belize.
Right past the Baron Bliss' tomb and commemorative lighthouse.  Both built with his donated money to the country of Belize.