Belize Chocolate Festival 2014: The Street Festival's Food, Culture, Music & More
After a full night of heavy rain that lulled me in a Hickatee Cottage's coma, I was ready for my first full day in Punta Gorda  – the biggest town in the southern part of Belize.  (Here's the map.)
It RAINS in Punta Gorda…the local joke about the weather forecast (about to rain, is raining or just finished raining) is somewhat true.  But from my experience, much of it is at night and the early morning.  On this Saturday, the rain lasted until about 9:45am…inches and inches of the stuff but it stopped completely just in time for Day 2 of the Belize Chocolate Festival and the downtown street fair.
Oh…and about the rain.  Not only is it a magical way to fall asleep (almost instantly)…hearing the rain rhythmically beating on the metal roof at Hickatee but it keeps this whole area AMAZINGLY green.
My cottage…
Startling, almost, after the white white sand of Ambergris Caye.  Morning coffee delivered to my porch.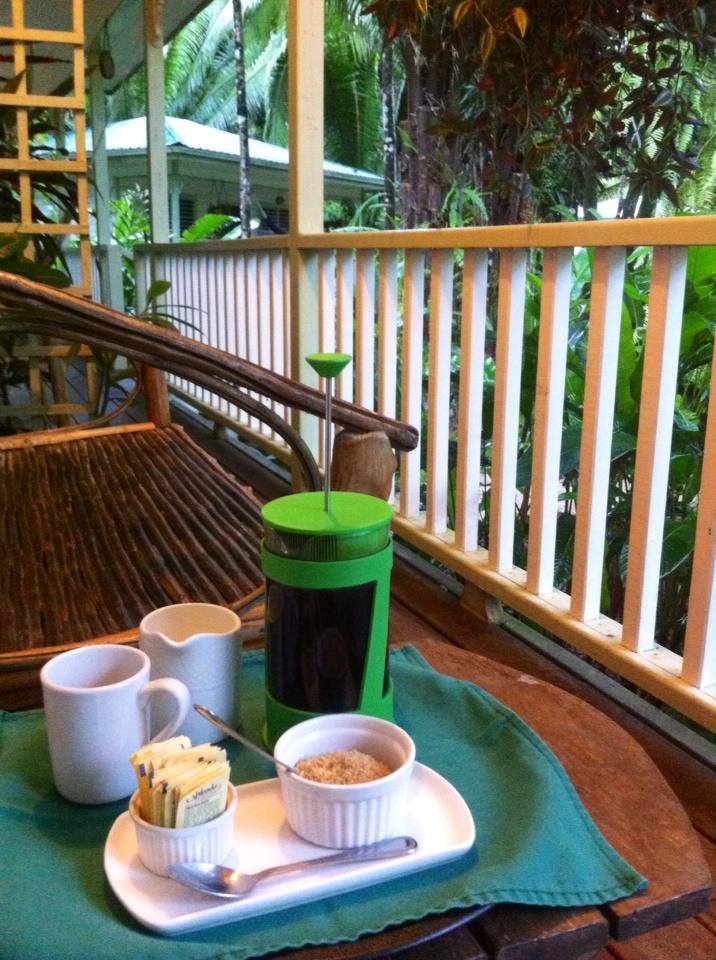 We headed into town for the start of the street festival and kicked the day off with some chocolate seaweed from a guy on a bicycle cart.  A spiced (almost like eggnog with cinnamon and nutmug) drink thickened and healthified with local seaweed.  This one was flavored with cocoa powder for the occasion.  You want to drink these iced cold and quickly.    Delicious.
Very pretty day.  And Joycelyn's was the offical booth #1.
Ray McDonald and his amazing drum group.  Ray, the one standing, is beyond impressive on all of the drums.  He is the one that attempted to teach me how to play at Hickatee Cottage's Wednesday night drum lessons.  If you miss him there, you MUST get a lesson with him at his Warasa Drum School.  He makes it look easy but it is NOT.
Check out his wife, Ruth's scoop called:  Come to Belize, Marry a Garifuna Drummer: An Expat in Punta Gorda.
Or how shockingly fun it was to try the drums at Hickatee.  The Warasa drum school is a MUST DO.
Okay.  On with the festival.
I walked past the "confederate's house" and it resparked my fascination with the confederate migration to Belize during and after the American Civil war.  It's estimated that 3000 to 7000 confederates moved to then British Honduras to attempt to maintain their way of life away from the Yankees.
This home, the house of the descendants of one of those families, is owned by Wallace Young.  He is still called a confederate in town.
Ian at Hickatee knows lots about the subject (and just about every other Belize subject) – the old sugar mills, the graveyards in the area, how they brought East Indians in to work the plantations.  He also has a large library on all things Belize.  This book was in there…
Let's continue!  Outside someone's home.
Everything chocolate.
TIDE, the Toledo Institude for Development and Environment, was serving the lionfish.  Combining the need to rid our area of that evil (well to the reef) fish and chocolate.
Eat Lionfish, save the reef.
I just think this town is so charming.
And everywhere drumming.
Beautiful crafts and lots of food made with chocolate.
Local embroidery.
Colorful baskets.  All hand woven.
Beautiful pottery from Dragonfly Studios.  With cacao pods.  Love it.
Both the whole pod and the crosscut.  I was thinking about buying these…prices were from about $15 to $20bzd but was glad to see my friends from Kakaw Chocolate/the Belize Chocolate Boutique in San Pedro get them.
These guides from the Chocolate Growers Association explaining how chocolate is produced in Belize.
The fermented beans are shipped all over the world.  20% of the production is now used in Belize by Belizean companies making some gorgeous chocolates.
Cacao pods are pretty beautiful.  A bowl of these?  Now THAT's a centerpiece.
Beautiful MayaBags on display and for sale.
One of the best libraries I've seen in Belize…the beautiful Punta Gorda Public LIbrary.
A local wine and bitters stand…lots of cacao wine.
And some more.  No Belizean festival is complete without these home brews.
This lovely lady selling chocolate scrubs and homemade soaps.
The court house.  All on the front street.
Oh…did I forget to mention that it was WARM!  I need a spot to sit down…have a cold drink and just relax for a second.  Driftwood Cafe seemed like the right spot.
There was fantastic drumming going on outside.
And the place just looks very inviting.
Lovely artwork on display…
Good spot.  And tasty food…
Back out there!  Much more to see…
Booths representing many local cultures from East Indian (I had a good amount of curry) to Mestizo, Garifuna to Maya.  It's one of the most amazing things about this part of the country.
Hamanasi Resort had a great booth set up…great idea for gardeners.
Some more drumming from the main stage.  This musician was just so joyous.  Beautiful to me.
A bit more drumming at a very busy local bar.
With the crowd joining in the singing…
Beautiful Punta Gorda.  I just loved this street fair…simple, fun and what felt like the participation of the whole community.  Not just chocolate but culture and music.  All about the diversity of the local people.
And the view along the Front Street of Punta Gorda is so stunning.  Many parts seem unchanged for decades.  Scenes that could be from 100 years ago…
And instead of ticking things off my "Belize Bucket list", I've only made it grow.  There is SO MUCH going on in Belize.
And that's a good thing.  THAT'S what's going to keep me in business.