Running Around the Island Plus San Pedro Lobsterfest Gets Chocolatey
I've just started putting together a daily schedule for myself the night before and, get this, actually writing it down.  This running your own business thing is tricky for me – the die-hard procrastinator and queen of no organization.    I figure that something basic like a schedule can't be THAT difficult to do.
Just like throwing dirty laundry in the hamper is just as easy as throwing it on the floor.  (Pffft….yeah right.)  I give this schedule thing a week but I am sincerely hoping for the best.
Yesterday it was pretty full.   It is still World Cup mania, we are in the midst of San Pedro Lobsterfest and well….I just had quite a few errands to run.  So here are some pictures of some of the things I did yesterday.  I have no profound way to present this subject matter so…here it is.
After a brutal week back at Crossfit San Pedro (after 3 weeks of gluttonous and slothful vacation), I am seriously hurting and needing some yoga and zen.   Best to head to my new "happy place" – the Zen Arcade.
After a good sized BEGINNERS' yoga class, lots of the class went downstairs to the Chaya Cafe.  Some for the surprisingly DELICIOUS green juicy.
Great texture.  Sweet but with a ginger bite.  And what could make you feel more self-righteously healthy than green juice?
I decided to stay for lunch and try the famous kale salad.  Half kale and half avocado and homemade thick cut bacon?  Yes please.
I could only eat half.  Perfect left overs for an afternoon snack.
I headed over to the Belize Chocolate Factory for the scheduled Lobsterfest event.  AND because I adore this spot and its chocolate.
Love the catch of the day.
Of course I want to try tossing cacao beans into a target…I went to the beach garden area.  To find Noah and the Choc Lobster…
he doesn't have a shy bone in his body.  Great kid.
Three bean bags out of four?  Pffft.  I got this.
And I did.  Qualified me for a stamp in a passport.  For each stamp, you win one chance for a pretty fabulous prize.  A fully paid trip for two back for 2015 Lobsterfest – from airfares to hotels to restaurants.  You would be SO VIP.
I was easily talked into getting a passport.  The beautiful (and newly 18 years old) Christine, queen of the crawl crew did my stamping.
Very cute t-shirts too.
My passport with its one stamp posing with chocolates.  You can enter if you are local…why not?  What a GREAT gift for friends or family – give them a trip to Belize!
I saw a gorgeous pile of mangos on my way out…had to snap a picture.
As I rounded the corner, I saw two LARGE coolers of lobster getting ready for the boat.  THE BOAT?  Apparently they were all being shipped to Belize City…
I headed north.  Two things to pick up over the bridge.  And borrowing a golf cart for the afternoon, it was the perfect time to run my errands.
Very pretty day again.
I passed this beautiful house entrance in the Tres Cocos area.  I've never noticed it before but it is hard not to with this beautiful flower archway.
And then to Captain Morgan's to pick up some AMAZING vinyl stickers that a reader made me.  How cool are these?
I had a soda water and watch a bit of Cameroon vs. Croatia.  10 minutes or so a day won't kill me.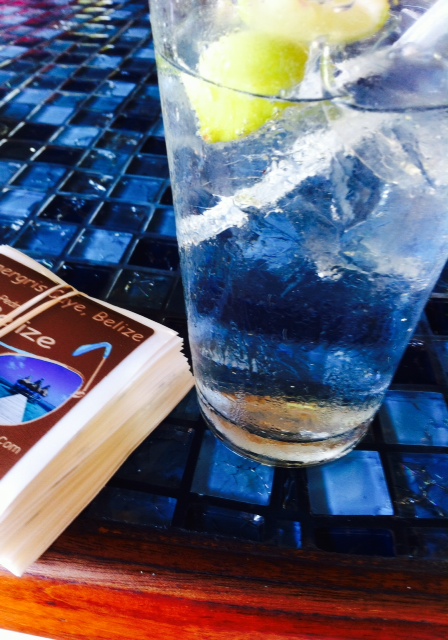 Then to pick up something at Palapa Bar…I ended up staying for a few hours talking to friends.
Hard to walk in and out on a day like yesterday.
Jodie, the owner of Palapa with her husband Scott, showed me a TEN PAGE article in Caribbean Living Magazine all about Palapa Bar.
Looks like the secret is out folks…
For all of you on the island there is PLENTY going on.    For breakfast OR lunch, check out Mesa Cafe for lobster specials and their amazing food and coffees.
The World Cup is on – I'd pick either Cholo's (for more of a crowded drunken local feel) or Lola's for viewing.   But any place is going to be fun.  The England game should get a great crowd.  The Queen is on Belize's coins and there are plenty of Brits in town.
Uruguay vs. England is on at 1pm (Belize time).
Tonight is divine Sushi Night at Blue Water Grill.  OR the yummy tasting menu Thursday at Casa Picasso featuring LOBSTER!  The official stamping party is at Fido's – ALWAYS fun.
FOR INFORMATION ON THESE RESTAURANTS AND MORE, CHECK OUT MY AMBERGRIS CAYE RESTAURANT GUIDE.
Enough shouting for now.  Have a great day.