A One Night Stay in Placencia, At the Beautiful Laru Beya Resort
I considered it WAY advanced planning.  My plan – attend two Lobster Festivals in one weekend – Placencia on Saturday and then with the help of Tropic Air, Caye Caulker on Sunday – was put in place almost 2 weeks in advance.  2 WEEKS!
And I'm very much a last minute person…
But what I didn't realize was the scarcity of rooms for the big event in Placencia Village.   About a week before, after calling and emailing 8 spots, I realized it was going to be much harder than I planned.  People book rooms for the Lobster Festival way in advance.
I contacted a friend, a friend with connections, and got lucky…very lucky.
A beautiful night's stay at Laru Beya (which means "on the beach" in the Garifuna language) – a lovely spot to explore Placencia.  Set just far enough away from the Lobster-bustling village on a beautiful open beach, Laru Beya was a lazy 20 minute bike ride away from all the action (or an even shorter taxi ride or golf cart put away).   A bike ride (from Laru Beya's fleet) where you can stop at lots of gorgeous resorts like like my buddy, Francis Ford Coppola's Turtle Inn for a cocktail…
Might be the only way I ever get in.
And coming back to the pretty pool and my gorgeous balcony was super relaxing after the heat of the festival?  Perfection…
Take a look at where I stayed…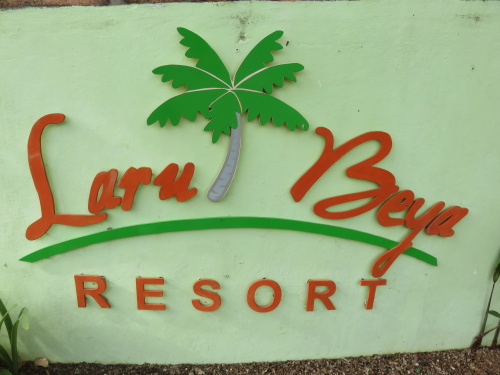 and down a long graveled drive-way…
and the view from my balcony.
From the other direction.
Love the fruit trees of Placencia…this cashew fruit had fallen just outside my door.
Oh yes and my VERY comfortable, very cool huge room with wrap around windows overlooking the beach and the pool.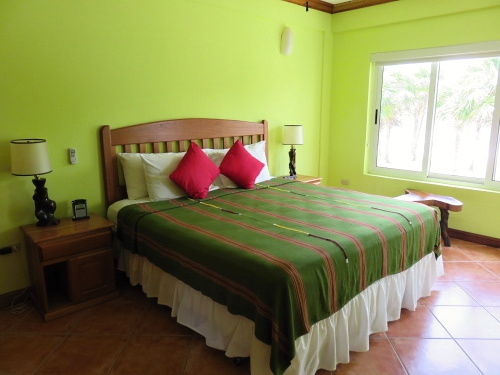 Bedroom view.  With some excellent shades to roll down when it was time for a bit more privacy.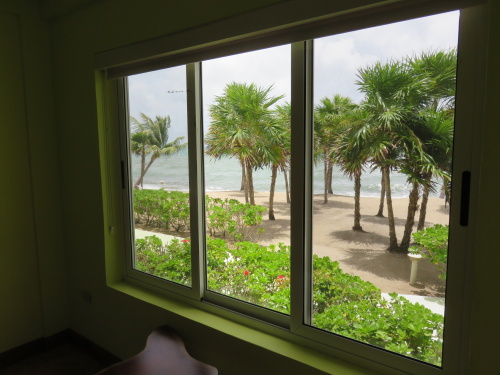 Comfortable sitting area, full kitchen with beautiful appliances, lots of room.  Perfect for a week stay in the area.
A bath room with great products (love), great towels and lots of them and a super plush robe.
One of my favorite things is sitting around in a great thick bath robe.  In air conditioning.  Simple you'd think…but not in Belize.
Rent a golf cart to take you into town and around the area…head one way you are in the village, head in the other direction, you are in Seine Bight and then Maya Beach (and the AMAZING Maya Beach Bistro.)
Laru Beya has a very nice restaurant looking over the pool – the Quarterdeck.
The view of the pool…
Very pretty…almost like a tiered tree house.  At night.
And a great breakfast break from all of the lobster.
Beautiful spot.  For more information on Laru Beya, check out their website.  And definitely get planned for next year's Lobsterfest.   Or just a visit to Placencia.  What a great area…