Day One of the Veterinary Clinic in Sarteneja and A Continued Look at The Village
Yesterday was the first of two days of the Sarteneja Volunteer Veterinary Clinic.  Two vets and two vet students flew in (on their own dollars) from Quebec to Belize to treat the animals of Sarteneja, Hopkins and Redbank.
We arrived early at the community center of Sarteneja with some other volunteers and helpers to get ready for the dogs and cats.  The plan?  To spay and neuter as many as possible…to treat the animals for worms, fleas, ticks and other parasites.  All free of charge.
The community center is a huge space and needed a bit of set-up.
Dogs outside knew something was happening…they just didn't know what.
A really beautiful and hot day in Belize.  The water in Sarteneja is such a cool chalky blue color.
That seems to glow when some dark clouds hovered in the late afternoon.
Oh…but back to the clinic.  This little library is being revived right next door.  Lovely project but lots of work needs to be done.
And back to the community center.
The animals were lining up early.
Carol, my friend from Caye Caulker and I were in charge of shaving and prep.  Here's a sweet little kitty getting ready…
Love seeing the kids tending to their animals in the recovery room.  Or recovery tarp in our hospital.
Do I look like I know what I'm doing?
Curious kids peeping in through doors and windows.  The lovely doctors encouraged the kids to watch and even participate in some of the basics…
There were even 3 or 4 local teenagers helping with the clinic…kids that want to be vets.  How encouraging is that?
The kitten recovery room.  Or recovery hampers.
How sweet!
Awwww…
And recovery.
I used a bit of a slow down in dogs to take another quick look around the immediate area.  I DEFINITELY wanted to check out Chuy's art shop.  I've seen his work in San Pedro and I love the stuff.  Especially the paintings of the local boats.
Love his house.
And inside…beautiful stuff.
These small paintings…about 6 or 8 inches square…on recycled wood.  $10bzd!  I told Chuy he needs to raises his prices.
His home is a piece of art.
Here are a few more signs on my way back to the clinic.
Again, a beautiful day in Sarteneja.
This gentleman, a life long resident of Sarteneja village, enjoying a coke in the shade of the community center.
And this man and his horse and this gorgeous baby rode by…and paused for a picture when I screamed out.
A VERY successful, dirty and EXHAUSTING day.  Almost 30 dogs fixed and just about 35 in total treated.  Phew.  Standing for 7 or 8 hours?  I haven't done that in ages.  I am totally and completely pooped.
We walked back home along the sea and after a long shower and rigorous scrub, I collapsed on my friend's roofdeck swing…it's AMAZING up here…
put one pillow under my head and one under my ankles and watched the sun set over the ocean.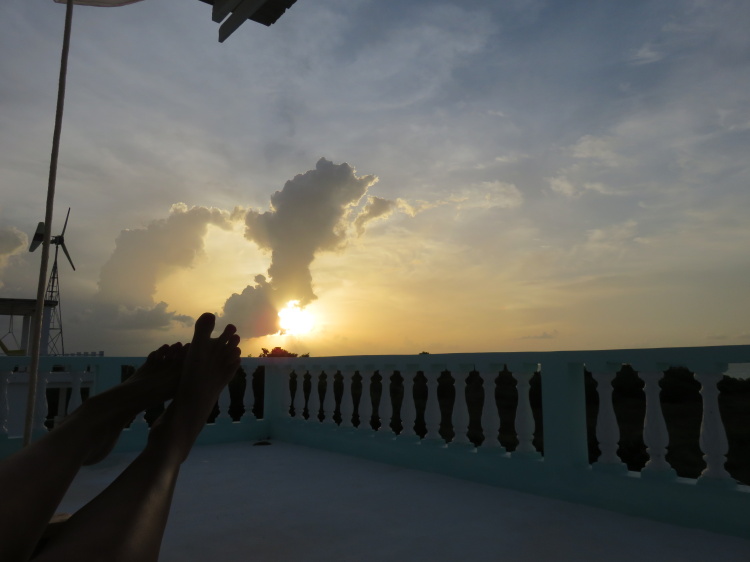 Phew.
The Sarteneja clinic continues today, Sunday, July 6th from about 8am to 3pm.  We hope to pack up a bit early tomorrow and head over to WILDTRACKS!  To see the amazing work they are doing to rehabilitate hurt and orphaned monkeys and manatees.
Yes, I am crazy excited.