South Ambergris Caye, New Digs & A New Neighborhood For A Few Days: A Look Around
Ambergris is a 26 mile long caye lying just along the hemisphere's largest barrier reef.  The largest island in Belize.  (For the difference between a caye and an island, check out this post by Raggamuffin Tours.  We are a caye!)
And this caye is loosely broken up into subdivisions (or neighborhoods) – from the far south's Boca Ciega and Holiday Lands to the west with Grand Belizean Estates to the north end's Bacalar Chico and Palmero Point.  Here is the best map I've found but what I've REALLY learned, is that it take years to get these all straight.
Sometimes the name is used all the time to refer to the area.  Like Tres Cocos or Boca Del Rio and sometimes never.
If you asked me an hour ago (after 7 years of living here) where the El Tesoro Area of San Pedro was?  I could tell you that I had never heard of it.  I'm guessing even YOU need to look at the map.
The only real experts on this break down are the real estate people.
For the past day or so, I've been exploring a new area…one I've walked through but where I've never overnighted.  Until now.  The Mosquito Coast.   I've been staying at a gorgeous home on the beach…
…and I'll tell you more about that tomorrow but here is a look around my temporary neighborhood.
I did a loop, along the beach and on the road, to show both sides.  Here's a bit of The Mosquito Coast. (Oh…and if you are wondering?  I have not noticed any difference in the Mosquito population here as compared to where I live.  Nor have I seen a crazy white man building a giant ice machine for the "natives".)
Starting at about 2.5 Miles south and Caribe Island Resort.  Bubble gum pink.  You are on an island…and on the beach.  Go bright or go home I say.
A beautiful day to be on the beach.
And a wildy HOT one to be on the street side.
Next south, Sunset Beach Resort.  From the road.
And the beach.
And out on the next dock…
Back to the road, still heading south, past the Suya Tours Office and the Police Station for South Ambergris Caye.
I passed Lone Star Grill…the Tex-Mex Restaurant that is actually closed yesterday for the slow season.
And then cut back through to the beach (SWEATY!) through Athens Gate Resort.  Seeing Greek style columns always seems odd to me…
And to the pool.  Quite striking.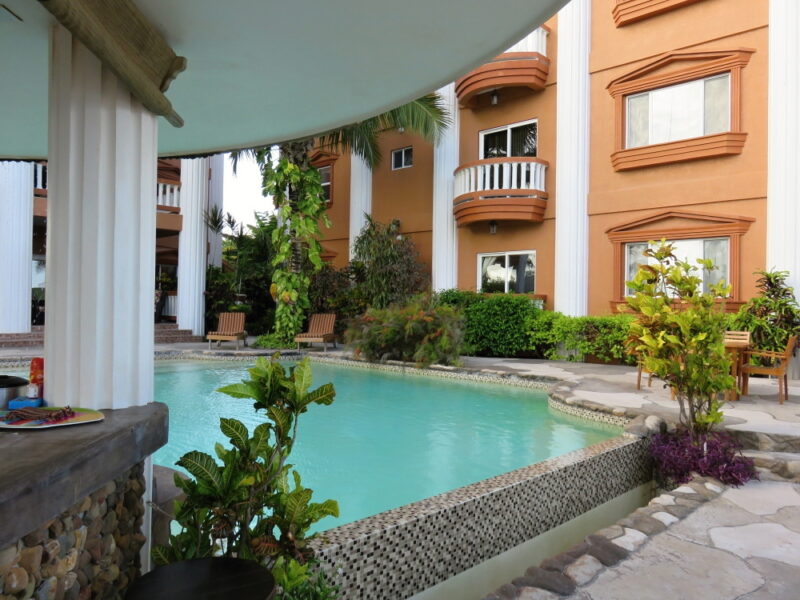 And then the beach.
Next up is the gorgeous gorgeous HUGE house Wataview.
From the road…
And then the beach.
And then the last resort (in the area) moving south – Pelican Reef.
At this point, you can continue along the beach…and in fact, you will reach a beach garden of coconut palm dragons and animals before you hit a mangrove "road block".  (You can take a look at that walk here:  Gorgeous Mile Walk On Ambergris Caye…)
But I needed to head down the road for a few minutes walk…
An easy choice to make.
And then 2 minutes?  I'm back "home"…
Have I thoroughly confused you?
My point, I think, is that Mosquito Coast is one beautiful, quiet, beach vacation-y subdivision of Ambergris Caye.  A beautiful area to stay or just for a walk.
I'm loving it.