El Gran Mestizo Hotel, Orange Walk & Heading Back Home
I JUST got back from Belize's North-Westernist district, Orange Walk.  The 4th largest town in Belize (can you name the first three?) is getting ready for their biggest event of the year – the September 21st, Belize's 33rd birthday celebrations.
Since I can't be there for that day – the very IDEA of missing San Pedro's parade breaks my heart – I headed in early to check out some of the set up and to visit a new-ish hotel just outside of town.
My last post show some pictures and how I got there.   Here's a bit more on Orange Walk.   I did NOT take the town's most popular tour this time…the trip out to the BEAUTIFUL Lamanai site.  Here is my last trip out there, earlier this year, if you haven't been.
Orange Walk really doesn't grown oranges anymore – the wetter climate in the south was found much more conducive to the citrus industry, it's all about sugar.
And with sugar comes rum.  Cuello's and Old Master's are both located in da OW.  Cuello's makes, most famously, Caribbean Dark and Light Rum.
Huh…a turkey.  Must find out more about that…
But the website only led me to more questions with information like this:  "A new logo was formed with the emblem "Rums of Belize", a staggering and outstanding turkey as its symbol. A slogan was also established, "Caribbean Rums, the rum for all Seasons!"  The reigns of the company had fully been ascended to the late Mr. Froylan Atilano Cuello, known to many by his charisma as "Hil" or "Cheezy"."
Like many towns in Belize, Orange Walk has a town clock.  Theirs is quite fetching.
I love Orange Walk's but here might be my favorite.  Know where it is?
Local schools are decked out.
So is one of Belize's largest poutry company's – Quality Chicken.  Love their motto.  Dis da fi wi chikin.  This is the chicken for we.
I ran into a marching band practicing for the big weekend.
And here are just some random pictures around town.  Lovely sign for powder buns.  I made a mental note to bike down here early the next morning.  I did and the place was locked up tight at 7:30am.  Sign gone and not a soul or a 50 cent powder bun in sight.  Just my luck.
Never set your heart on a tastilicious powder bun.
This home had a high concrete wall around it and this painting.  Wonder who this guy is…
I would LOVE to know.
Sherwin Williams logo – cover the earth in paint.  Huh.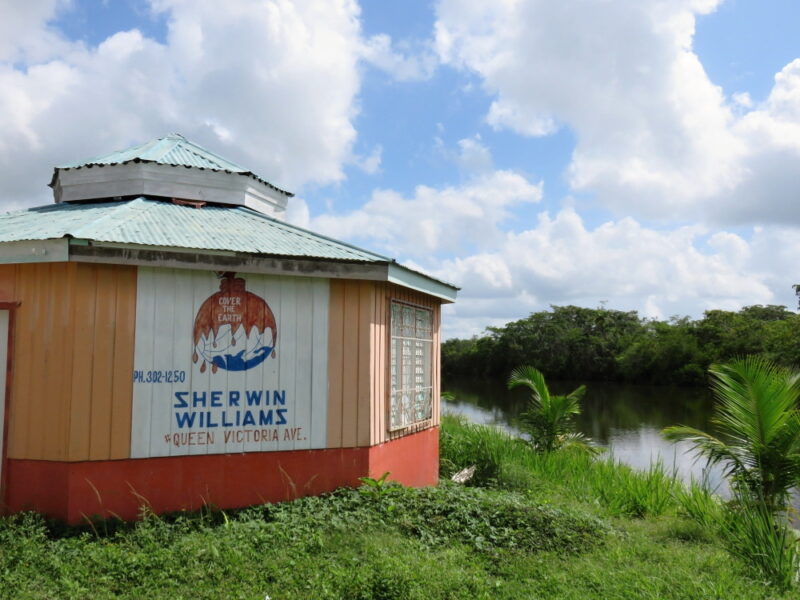 I stopped for tacos in the town market.  Absolutely delicious.  And it is well known that Orange Walk has the BEST tacos.  Just ask anyone from Orange Walk…
$3bzd worth of tacos at 9pm keeps you WELL stuffed until mid-afternoon.  And watch out for that habaneros sauce on the left.  I watched the man in his Belikin uniform next to me dump 3 or 4 spoonfuls on one taco.  I tried one…and was drenched in sweat for the next hour.
Not attactive.
I walked back to where I was staying – La Gran Mestizo Resort.  About a 15 minute walk from the town center…just 5 minutes if you have a vehicle.  I followed this man and his horse cart.
Down along the gorgeous river.  The very one that takes you out to Lamanai.
The restaurant and bar along the river.
Good view…and especially pretty when flocks of green parrots are flying overhead.
And super cute cabins.  That in my photo appear to be tilting but I promise you…they are not.
Comfortable COOL clean, a refrige, coffee maker, microwave.
Oh yes and my friends out on the rocks.  Unlike my wish willy neighbors in San Pedro, who don't move out of your path until the VERY last minute, these green iguanas want nothing to do with me.
But they are still very pretty to look at.
Staying just on the edge of town…it's beautiful and quiet…this place really is lovely.
For more information on Gran Mestizo Resort and its sister hotel right in town, the Hotel De La Fuente, check out the website.
Orange Walk is a great budget town  to see Northern Belize.  Lamanai is a must but you can also go to the Belize Baboon Sanctuary, Al Tun Ha Maya Site, the Belize zoo (THE BEST!) and the bird watching in the area both Orange Walk and nearby Crooked Tree Wildlife sanctuary is well known.
Check out my other posts below about things to do and places to eat in this area.  And if you make it there for the biggest parade of all, September 21st?  Please send me pictures!
Yesterday morning, I headed out on the 9am bus…passing fields and fields of bright green sugar cane.
Very early for my noon boat back to San Pedro.
Here's the view of Belize City from the back patio at Spoonaz Cafe.
See here for more information on the "Northern Districts" – Orange Walk and Corozal including very pretty Sarteneja.