Finn Kardashian Does Central America: Episode Two, Guatemala
So once again it is time to check in our intrepid backpacker, Finn.  (Learn more about him in Episode One).  Here he is in San Pedro living life Finn Style – "working" at Rojo Beach Bar.
We've following him sailing along the coast of Belize and down to Livingston Guatemala.  I'm going to post a map of that country now.  Though my Central American geography is improving, it is by no means flawless.
I mean…did you know that the second largest city in Guatemala is Quetzaltenango?  Yeah…me neither.
So…I'll use this tiring joke once again.  Guat's Up, Finn?
Guat Ever Rebecca.  Got into Rio Dulce and finally off the boat….Have had multiple anxiety attacks just thinking of going in a LUXURY bus!
No chicken bus for me since am the biggest chicken in the world…I should be recognized by UNESCO for that! LMAO.  Rio Dulce, just so you know, is full of boat people, OLD folks and yatchs.  Now the anxiety even gets me more since I forgot my Itinerary. Do backpackers even travel with them or just a guide book or nothing at all…still trying to figure it out.
Finally at the bus stop looks comfie.  Hopefully they play Patrick Swayze's GHOST movie with Demi Moore since I'm about to die and be a ghost. Maybe they serve Mimosas, who knows! Dani still the mental calmer says again its going to be ok….RELAX FINN!
Last night got into Guatemala City now am in Antigua!  No one said it was COLD… Brrrr.   So decided to stay in a dorm. Walked into our Dorm and there was a guy that looks just like JESUS rolling a JOINT like WTF….scary just FUCKING scary…walked to the bar and trust me had to drink lots of tequila to sleep.
And I did sleep like a OWL with my eyes wide open thinking this guys would sell my liver if he only knew my party life style!  But when I woke up it was not that bad!  Go morning Antigua!
Dani.
Me.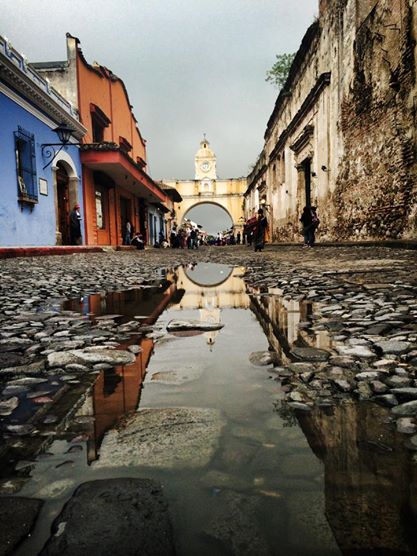 Antigua is a OLD Spanish town with rich people  with a lot of history protected by UNESCO just like me…TEJEJE.   Got to see some cool places, Castles, Cathedrals and had good food and wine.
By the way whats up with that one dirty look on a backpackers face when you are dressed nice? AS IF and BY THE WAY, there is no iron in the Hostel.  The desk girl laughed at me when I asked for one! What's her PROBLEM maybe they just Jealous.
Saw a Comic Cabaret show at this swanky Arab bar….hits the spot. The next day we left to for a Lake Atilan Backpack Party town…Staying at hostel with (we heard) lots of weed and VODKA and more VODKA….this is all for now.
Just a preview.
Finn is now well into Nicaragua and I will scramble to keep up.  Party on Finn & Dani.