A Fish Eye in My Soup on A Stormy Day In San Pedro, Belize
Late summer and fall are the rainy or hurricane season in Belize – and for much of the tropics.   Tropical waves move in from the west and leave the weather map aswirl.
So while it's been a DRY summer and thankfully dry for September celebrations, we are now getting a bit of rain.  Over an inch fell early Wednesday morning, last night about half an inch and it's been sprinkling and overcast during the day.
Wondering what EXACTLY that looks like on Ambergris Caye?  Oh good.  Were you wondering what docks look like in this weather?  PERFECT.  I took a few pictures yesterday while walking to town for lunch.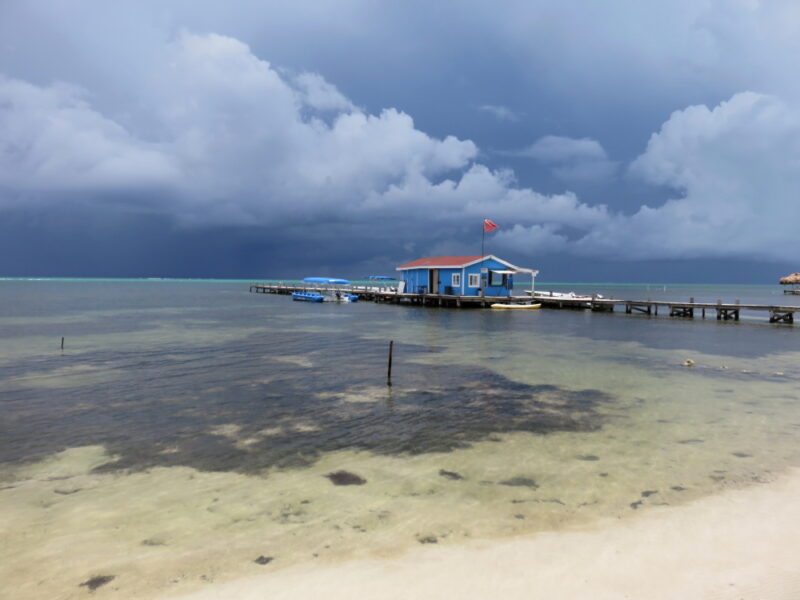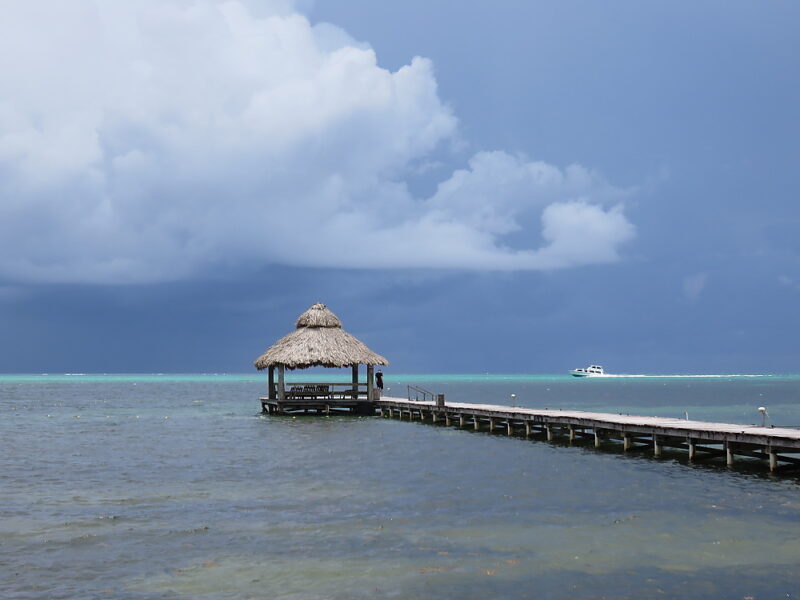 Some businesses are closed for the slow season…some are being renovated or revived.  The huge Island Supermarket has new ownership and they are doing lots of work.
Caribbean Connections in town is also under construction.  New owners and new name…and I think it will just be a straight coffee shop.  No internet.
I made it to town just as the rain started coming down and had my stomach set on Briana's Deli, a local restaurant on the Back Street.  A friend just reminded me yesterday of how reliably tasty the food is there.  But my eye was caught by another sign on my way around the corner…
At this relatively new spot – Boogie's Belly.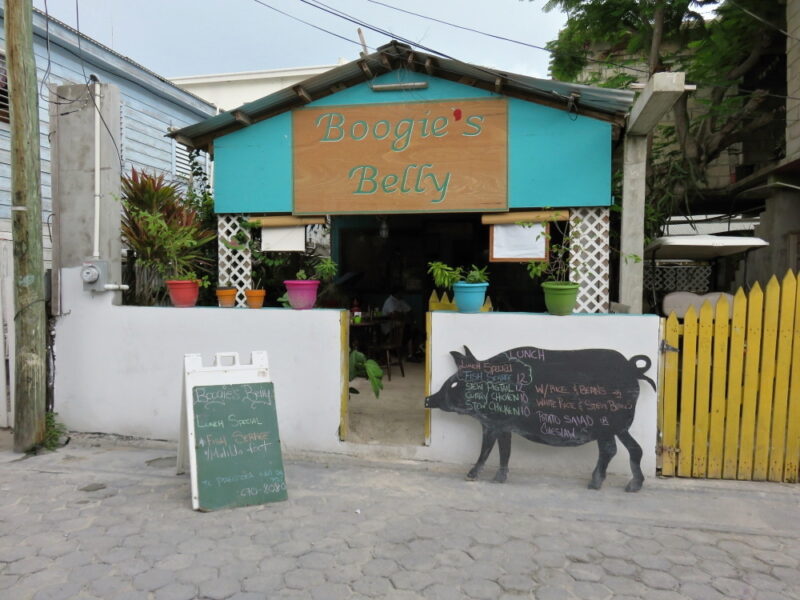 Owned by a Belizean-American couple, this spot is super cute and has a very local menu.  It was this item that caught my eye.
I LOVE sere – and it really was the perfect day for a soup.  So I went in…they have a lovely sitting area.
I order the sere and took a seat.  The best way to find out what a matilda foot is…is to eat it.  I was secretly praying it was not an actual foot.  While I adore most Belizean dishes, the very popular, supposed hang-over cure of "Cowfoot Soup" is not a favorite.
A hoof with a jelly consistency is just not my cup of tea.
My dish was served.
And delicious.  It's the only way I like mucous-y okra.  You can see the FOOT just below the fish.   It's more of a matzoh ball (Happy Rosh Hashashana, by the way)…a mix of, I'm guessing flour and green plaintain.  Nice non-jelly texture.
I even came up with an eye…and found another texture I do not enjoy.  The thing is hard!  Who knew?
Super cute place, friendly staff and good food.  I'll be back.  Another customer and I chatted about Boogie Belly – he raved about the morning stuffed fry jacks AND the real espresso machine for great, cheap coffee.
The rain was starting again, time to grab a taxi back home.  My driver and I chatted about local food.  He says that Sere is a San Pedrano favorite but it's done a bit different than the traditional Garifuna method.  A bit of flour or roux is added for thickening as opposed to just coconut milk.  And lots of cilantro is often added.  It's a flavor that I can't get enough of.
Makes sense.  The entire coast of Belize has abundant fish, coconut and plaintain.  Why wouldn't there be different variations on this soup.
It all got me reminiscing about my first sere on my very first trip to Dangriga when I asked a stranger where I could find a restaurant and he invited me to his grandmother's house for lunch.
His younger brother was pounding the plantain and grinding the coconut milk.
And they served me this huge bowl.  Conch and pigtail.
Have I told you recently that I love this country?
Even on a rainy day.