Road Trip with Chef Sean Kuylen: Buying Belize
I am a giant fan of Chef Sean Kuylen.  Born and raised in Dangriga, Belize, trained informally, first by his family and then formally, at cooking school in the states, he returned to Belize to work at beautiful resorts like Hamanasi in Hopkins and Ka'ana in Cayo.  He has BOUNDLESS enthusiasm for Belize and local food.
Just this summer, Sean opened his own place at The Curve Bar at the Sittee River Marina.  Just a few minutes from Hopkins Village, the spot is casual-gorgeous, the food is Belizean but elevated and the view of the sunset over the river may be the best in the country.
(Here is my visit in August – "Chef Sean Kuylen Makes Old Belizean Favorites Fresh, New & Sophisticated…)
For the last few days, I've been down South helping the super-human workers and volunteers at the Hopkins Belize Humane Society while staying in a gorgeous suite at Hamanasi and eating great food.
We went to the Curve Bar on night two and I ran into Chef Sean.
Love this bar.  By the end of the evening, restau
We ate some GORGEOUS food.   Balsamic-y beet gazpacho with fresh conch ceviche, conch & lobster soup, cheese and chaya dip served in a tiny black frying pan, delicious coconut flan with spicy, pumpkin pie-y green papaya and syrup on top (a "must-order") and confit of GIBNUT with braised red cabbage…
Whole gibnut.  Sexy, right?  With crackling skin.  Here is Sean mooning over it.  (I was too.)  It tastes delicious.  Mild, tender pork.  NOT like chicken.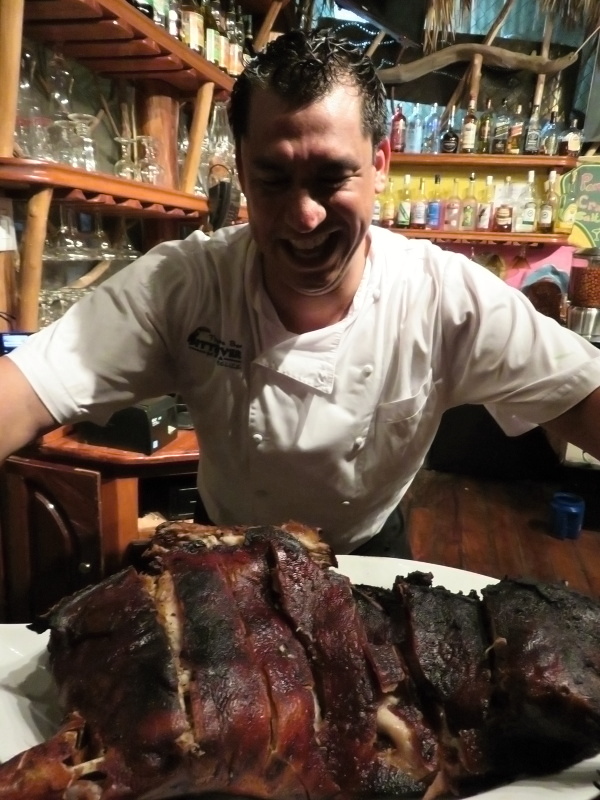 Scroll to the bottom for a picture of a live gibnut.  I don't want to put it too close to the finished product.  Some people are squeamish about delicious rodents.
I am not.  I got all excited and started asking one million questions.  And got myself invited to a party in Placencia where Sean was cooking…and then a ride back to Belize City (from Hopkins) with food provisioning along the way.
Bingo.  Time to go on a road trip with Chef Sean Kuylen.
First stop, Wednesday night.  A supplier presentation/wine & food party at the Inn at Robert's Grove on the Placencia Peninsula.
Two things I learned.  Frozen avocado (FROZEN AVOCADO!) makes very tasty guacamole.  And Madisco sells some very tasty frozen tuna.  Good in the tartar that Sean prepared.
I also was able to set a goal.  Take a picture in the next day of Sean NOT smiling.  This guy has a sixth sense when it comes to cameras.  It's probably why he is so good on TV in the "Flavours of Belize" cooking series.
An hour back to Hopkins and I was at home by…a bit after midnight.  Ready for an early pick-up by Sean and his boys and a ride back to Belize City.
The Kuylen crew would be provisioning along the way for a wedding – both rehearsal dinner and reception – held over the weekend on Ambergris Caye.
By 8am, we were headed out of Hopkins Village and over the mountains to Belmopan with hot Johnny Cakes in hand.  A gas station outside of Dangriga where a lady next store makes them each morning.  Delicious.  But I'll never remember where it is…
I was sandwiched in the front seat enjoying the view.
And the route.  Hopkins (just south of Dangriga) out to Belmopan and then to Belize City.  Stopping along the way.
First stop, the nation's capital of Belmopan.  Known for the market and the fresh, cheap veggies.
People enjoying the breakfast stalls.
Sean with his clip board and shopping list.  When buying food for 50, it probably pays to be prepared.  One of his helpers – Albert aka Bubbles taking the goods.
Veg packed for the trip.
A quick stop at Formosa in Belmopan for a much needed latte…
Our next stop was Mile 32, between Belmopan and Belize City at a place that I never knew existed.  HRI.  A hydroponic farm for greens and herbs.  GORGEOUS.
Would it be strange to make lettuce my Facebook profile picture?
How BEAUTIFUL would these be down a long narrow table at a party…a wedding?  Screw flowers.  Butter lettuces!
Sean and Bubbles – a fantastic, super enthsiastic kid from Cayo.  (Note:  Sean is grinning.)
Rabbit paradise.le
And Sean and Antonio, the owner of HRI, in the refrigerated area where the lettuces are mixed, washed and packed.  He says anyone can stop in any time…to check out his set-up and buy what they need.  Really lovely guy.
We stopped on the way out so Sean could try to give heartworm meds to a sickly dog.  HIs fiancee Dr. Mia, is a vet working with the Hopkins Humane Society.  And her love of animals has rubbed off on Sean.
Awwww.  What a guy.
This dog was having none of it.
To Belize City!  And the fish market.
We circled round to see the fish on the boat.  I didn't want to know why the water in this canal is black like tar.  No matter really…the fish is NOT caught here.
He decided on a 31lb jewfish.  $6bzd a pound.  The fisherman would clean it and fillet it and we'd be back later.
Bubbles with the fish.
My attention was caught by this…
This gentleman explained that he was mashing shark liver…to extract the oil for medicine.
Best not to ask many questions.  Back into Belize City to search for plantain leaves…
A public service announcement along the route.
A stop at Southside Meats before they close for lunch.  Our vehicle is filling fast.  Tons of boxes and three HUGE coolers.
I like this place.  And the chalk board.  On a budget?  Beef kidneys are for you.  Going all out?  Rib eye for sure.
We stopped for homemade wanton skins here…
Beef ligament meat balls are going to have to wait until there is more cooler space.
Sean dropped me, the guys and a truckload of food off at the San Pedro Belize Express Water Taxi just as it started POURING.
Just before.
The water taxi was great about allowing about 4 tons of cargo.  But the boat was packed…and Kenton and Bubble sat in the back, in the drizzle.  Mainland guys, apparently, get a bit seasick.
Now THAT is a fun morning.  And Sean and I planned my return.  To visit a cassava plant in Dangriga.  And a spice farm in the Toledo district.  To pick oranges where he lives.  To visit a Jamaican-Belizean canning ackee for export.   I love this stuff!
Oh and I haven't forgotten the cute gibnut picture.
And then the not so cute one.
I'm back in San Pedro with lots of blogging to catch up on.  Have a great day.