A Day About Town Collecting Donations For SAGA's Big Halloween Fundraiser
Yesterday, Eileen (the owner of D&E's Frozen Custard, the former editor of the San Pedro Sun newspaper, one of the founders of the SAGA Humane Society AND one of my favorite people) and I hit the town to gather donations for Sunday's Spooktacular.
We've done it before.  This is the BIG party and fundraiser for San Pedro's animal clinic and we want to raise as much as we possibly can.  They volunteers have organized raffles and auctions (information coming on that!), games and contests and lots of food to sell.
To spread the word and the flyers around town, to invite EVERYONE to the party and to make them feel like they have a bit of ownership in our town's non-profit veterninary clinic – Eileen and I spent over 5 hours yesterday talking to everyone!  Hitting every grocery store – large and small – soliciting food donations.  So that the food prepared (stew chicken, rice & beans, chili and cheese dip) is prepared free and all the money made goes right to SAGA.
No these turtles are not food donations, they were costume prize winners at the 2012 party!
We have an excellent good cop – not quite as good/pushy cop routine.  And we ended up collecting almost all the food we needed from the GENEROUS business owners around town.
I wasn't able to take pictures of everyone.  But here are some of the stores that helped us.  Thank you EVERYONE.  All names will appear in the newspaper after the party.
Our very first stop was to chat with one of my very favorite ladies – Susanna from La Divinia Providencia Store.  20lbs of rice!  You are the best!
We stopped by Wine De Vine to pick up a donation of a bottle of wine for the raffle.  The flyer was on display.
I took a little extra time to eyeball the cheese and ask about when the cheesecakes are going to start coming in.  In the busy season, they air lift in weekly cheesecakes from Sweet Ting in Cayo and just a slice will change your entire day.
We stopped in what used to be Seven-Eleven store.  Now CostLess.
Laughing, the owner told us he got a cease & desist letter from the REAL 7-11 chain.  Oh well…the jig is up.
Let me show you #13 – one sweet golf cart ride.  Sean of Island Depot donated the cart for the afternoon to us.  And what a beautiful afternoon.
He has these carts for rent.  2014.  They even have direction signals!  And a real steering wheel!  Nicest cart I've driven ever.  For rental information, contact Sean at [email protected].  Thanks for the cart.
Caye Supplies has THE selection of Halloween costumes and gear for all of you who do things last minute.  The big parties are in just a few days…
And if you look closely you'll see that Christmas ornaments are going up too.  Ay dios mio.
A very pretty day.
Wissam at Rock's Store on Middle Street giving us some cream cheeses.  And trying to stay out of my photo.
Abel at Dorado Market on Middle Street was SO generous that we had to secretly put some things back!  If you can, please support these smaller markets that support charities in San Pedro.  Or just stop in and say Thanks.
We asked all the little fruit shops on the Back Street.  Just a pound or two of beans.  Everyone EVERYONE was so generous and friendly.  Thank you Back Street Fruiterias.  You guys rock.
Up in the Boca Del Rio area, we stopped by GoFish Belize to pick up a gift certificate.  They are very generous each year.  I fixated on this gorgeous cat sitting on the front railing.
Her name is Kitty.
Beautiful day.
We headed back to chat with the lovely guys at Quality Poultry.  When I managed a bar that sold a ridiculous amount of chicken wings, these guys were fantastic.   We scored some chickens for the party.
And I scored something I've been wanting for a while…the promise of a Quality Poultry beach towel.  This may not sound like much but they are COLLECTORS items.
My friend Nicolai got one last Xmas and basically, I've been silently stewing in jealousy ever since.
Dis da beach towel fi ME!
The San Pedro Town Council and our mayor also donated whole chickens for us.  Make sure you come eat some.
We hit the gas station on the back side of town, by the lagoon, and headed back to drop off the golf cart.  Success!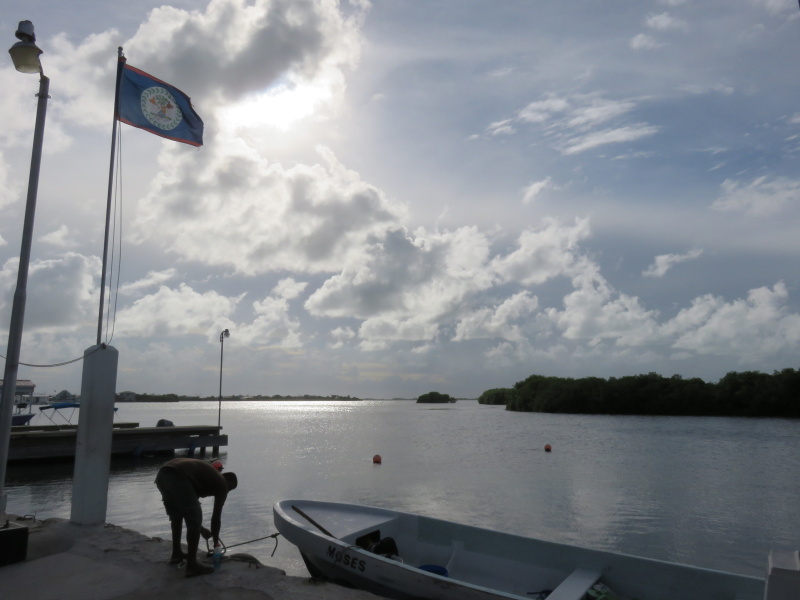 THANK YOU SAN PEDRO!
For all updated information about SAGA and about the party and how you can help, please check their facebook page.  And I hope to see you at the party?  If I do, warning.  I will try to sell you 1000 raffle tickets!
And you'll be glad I did.  There are some great prizes.