A Walk Up North From Sapphire Beach to El Secreto: Ambergris Caye Miles 10 & 11
For the past two nights, I have been staying on North Ambergris Caye, mile 10 to be exact, at the lovely Sapphire Beach Resort.    The weather has been absolute perfection.  Sunny and hot but breezy.
Check out this map of the island and…as look northward from town, you will see the Las Habaneros area (roughly translated "the Habanero") – that's where I am.  Yesterday, I took a walk from Sapphire (at mile 10) up to El Secreto – which is currently closed for upkeep.
The reef here is close.  Rocky Point, just a few miles north, is where the reef actually touches land.   So, the farther north you get, the closer you are to the barrier reef.
The Habaneros area is a BEAUTIFUL stretch of land.  Seriously beautiful.  And from what I can tell, sparsely populated.  Here is what I saw along my walk.
For other walks along the coast on North Ambergris, check out the listing at the bottom of this post.
The view from my balcony at Sapphire.
The view when I started walking.  I mean…come on!  Paradise.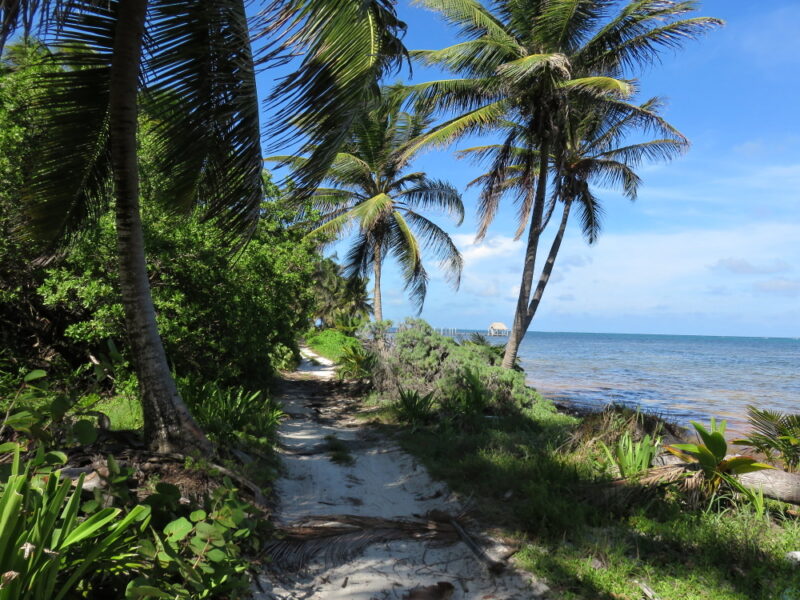 The very first lot north of Sapphire is for sale so – to get a sense of prices in these parts – I checked with my friend Josh, the real estate agent. 100′ x 400′ beachfront.  $299,000 USD.
The next lot is staked out by the Bournes of Texas.
And a few minutes later, a home.  Currently boarded up in spots.   Huge.
Two guys with water and food walking north too…
And then a half finished condo complex?  Resort?  With real estate banners fluttering in the wind.  How many people see these?  While I was walking for over an hour, I only saw a handful of local workers and one boat went by…
A few people sitting on the balcony of one of these units…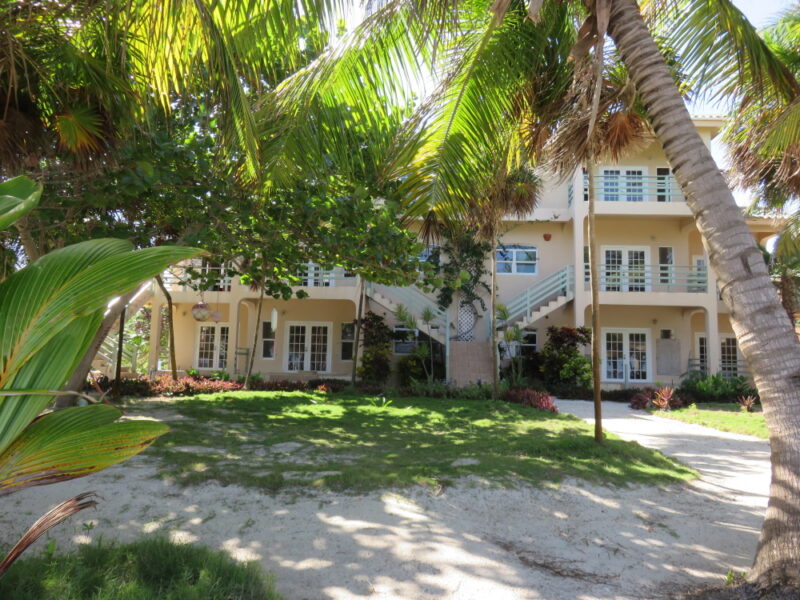 And then the other half was boarded up…or just a shell.
I passed a few docks with no structures on the land.  Some new, some buckling a bit…
But much of my walk was down this path that is clearly not used all that often.  Littered with palm fronds and coconuts, I think it's beautiful.
This area is known for the wildlife…wild pigs, deer, maybe cats.  MAYBE.  I was hoping…and a bit nervous whenever I heard an iguana make a sudden move.
And then I saw what was CLEARLY a jaguar paw print.  I mean…no human prints around it?  What else could it be!
A huge piece of land for sale.  And the website.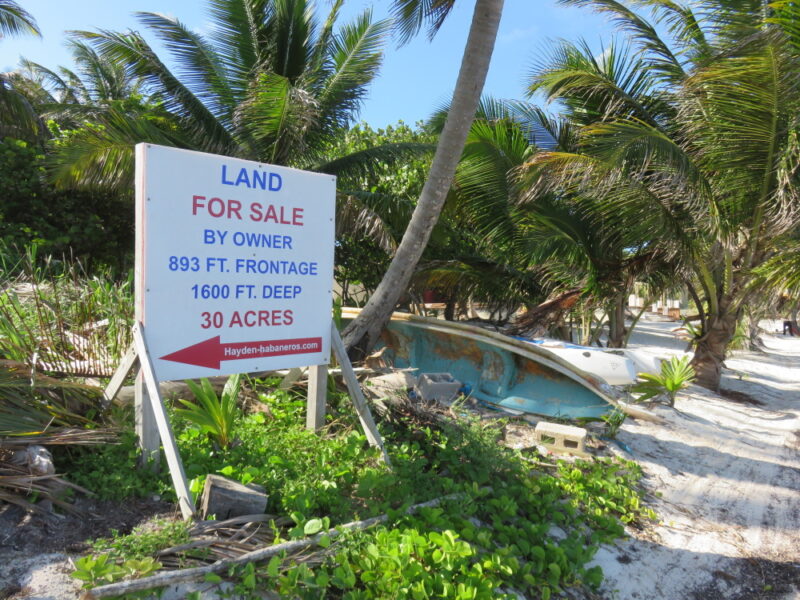 My final destination – the uber-posh El Secreto.  I need to get up here and visit when they are open…
They sure grow big coconuts in these parts.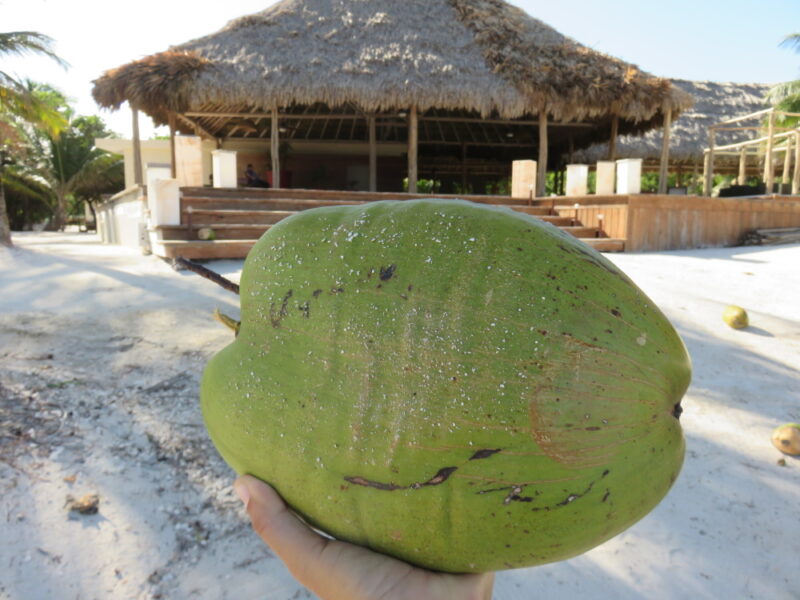 I wandered around.  Workers were power-washing and raking…getting ready for re-opening.
After a long walk, this hammock was practically screaming my name.  Scoop!
I actually fell asleep for a few minutes.
Time to head back home.  I discovered a new species of bird…
A piece of garbage art.
A mangrove tree that's a roost for all sorts of spoonbills.
The area is beautiful and high!  As you get away from the shoreline, the land actually rises up…maybe 5 to 10 feet.  A good thing if you are building…and what I would call a mountain in these parts.
Beautiful.  Oh!  And I know what some of you want to ask.  How were the bugs?  It is, after all, September.
I covered myself with DeepWoods Off! and was totally fine.  The breeze was stiff on the beach.  But as soon as I ventured back a few hundred feet?  They were FIERCE and plentiful.
Stick to the beach.
Here are some other walks that I've taken in the great north of Ambergris Caye.  Let me start with the northern most.
A trip to beautiful Bacalar Chico, perhaps 16 miles north to a private house and a bit of bocce ball.
The walk north from Tranquility Bay Resort (mile 14) right passed Turtleman's House (pictured below).
And then south from Tranquility to Sueno del Mar.
Walking from the old Costa Maya Resort (now re-named and re-opening as Costa Blue) at about Mile 7 down to Grand Caribe (mile 2).
PHEW!  Part One – Costa Maya to beautiful Portofino Resort.  And then Part Two took me to Rojo and Indigo.  Part Three down to Grand Caribe.
And NO, this guy lounging at Grand Caribe is not naked.  I just amused myself by taking the photo that way.
Walking.  It's one of the best ways to see the island.