Two Lovely Nights North on Ambergris Caye: Sapphire Beach Resort
Earlier this week I took a 20 minute boat ride to the north part of Ambergris Caye to explore and to check out Sapphire Beach Resort at mile 10.  I took a bunch of pictures of the GORGEOUS stretches of comparatively untouched beach at and around Sapphire…
I keep showing this picture but, to me, it looks like paradise.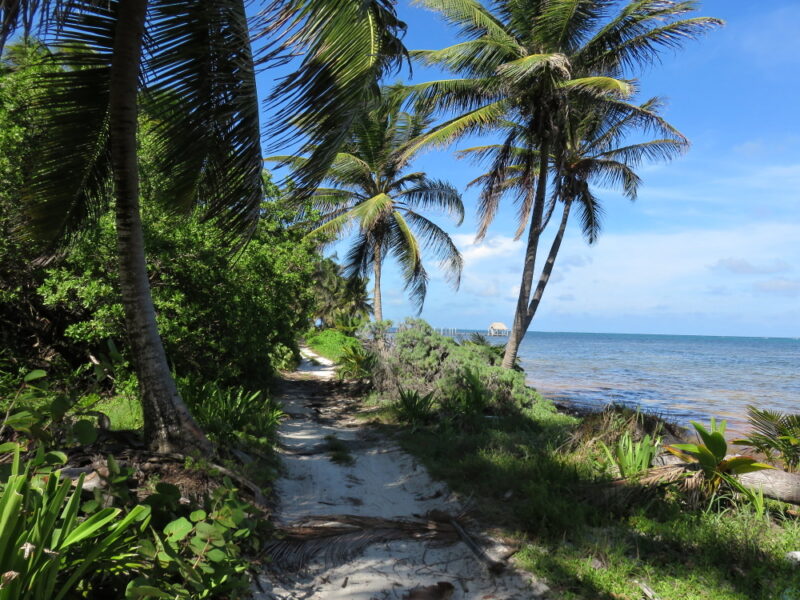 I met the Sapphire boat at noon at Fido's Dock in downtown San Pedro.  Really a gorgeous day – and I do feel like a broken record – or an IPod stuck on replay – or whatever the kids are using these days – this week .  It's been perfection.
My view downtown as I boarded Sapphire's boat.  They conveniently go to town at least once a day and you can hop aboard.
I was met at the resort dock with an ice cold watermelon juice and a COLD towel.  Love that.
I went right up to my suite.  Two bedrooms, full kitchen…very very comfortable including good sheets and great towels.  This should suit me perfectly.
My balcony that stretched across the main living area and bedroom.  They've been keeping this beautiful beach miraculously free of sargasso seaweed.
I was also given a Smart phone and a Smart Mi-Fi so I would have reliable internet both in the room and if I popped it in my pocket, pretty much anywhere.
Even some of the nicest resorts in Belize can have unreliable internet service – and sometimes none at all in the room – this was perfect.
Time to check out the pools and the beach.  Pretty, right?
Two small pools with a little tiki bar in between.
And this has nothing to do with Sapphire, but this book is surprisingly good…
I wouldn't have thought, in a million years, that Rob Lowe was insightful and funny.  I guess I can finally accept that book/cover adage as complete fact.
I saw a ton of these beautiful woodpeckers – ones that I almost never see in town.
I woke up early the next morning for the sunrise…
The only sounds up here are the birds and the palms rustling in the breeze.
My home.
Sapphire Beach is only partially done at this point – they are completing "Phase One" of three phases.
Later this morning, I went up to a neighbor's penthouse unit – third and fourth floors and saw the INCREDIBLE views of this part of the island.  High ground, dense jungle back to the lagoon…almost nothing in sight, outside of the resort, but just beautiful Ambergris Caye.
And then over the completed area of the resort.
Sapphire also has a very good restaurant.  Small now but growing as the resort grows.  It's called the Sapphire – in Spanish.  El Zafiro.
I had delicious pork chops with maple glaze & pesto potatoes, lobster tail with lime butter, I had one of the better fish and chips I've tasted on the island with some yummy herby dipping sauce.
Let's just say that i ate EXTREMELY well.  And none of my photos did the food justice.
The super friendly staff even made me a delicious virgin cocktail with hibiscus flowers, cucumber and lime.  Yum.
Here's my snapshot
Please just keep these coming…
I had a great time.  Quiet, gorgeous and the miles north and to the south, are absolutely gorgeous.  Some of the best beach walks I've been on here.  Beautiful wildlife, plants, the sea is crystal clear…a whole different feel from downtown San Pedro.
For more information on Sapphire Beach, check out their website.  I know they are doing some crazy deals for stays this fall.
Information on the different phases and condo purchases is also there.  If you do some other research, you may find that Sapphire Beach does have a history.  One not so great.  Of the previous developers and…well…fraud.
But there is completely new management…new ownership.  And things are now running smoothly with homeowners keeping a careful watch.
It's really an AMAZING part of the island.
And my view from the pool seat?  Not bad either.