Meet Me on The Dock: Some of the Docks of San Pedro on ONE GORGEOUS DAY
Yesterday was one of the most beautiful days ever.  I'm sure it was a combination of many factors – the low humidity, the bright sunshine, the perfect temperature and the fact that it has been grey and cool for the last couple.  It all came together to equal gorgeous, San Pedro perfection.
About mid-day, after I stuffed myself with a serious plate of rice & beans, I took a walk.  And, as usual, ended up taking 1000 pictures of the water and the docks.
Docks that I think make San Pedro unique and beautiful.  In fact, I now prefer sunning and swimming on a dock than just about anywhere.  Sure you can lay on a white sandy beach – we've got those two – but the sounds of the water, the boat traffic going by, the smell of the wood, usually a heron or two…I'm telling you.  Docks are where it's at.  And almost every resort has one.
Here are a bunch of pictures, taken yesterday, of the the docks in town.
Many of those working docks, this one perfect for swimming and sunning.
And a little kid flying a kite.
And from the third floor of the Spindrift Hotel, a view of the reef too.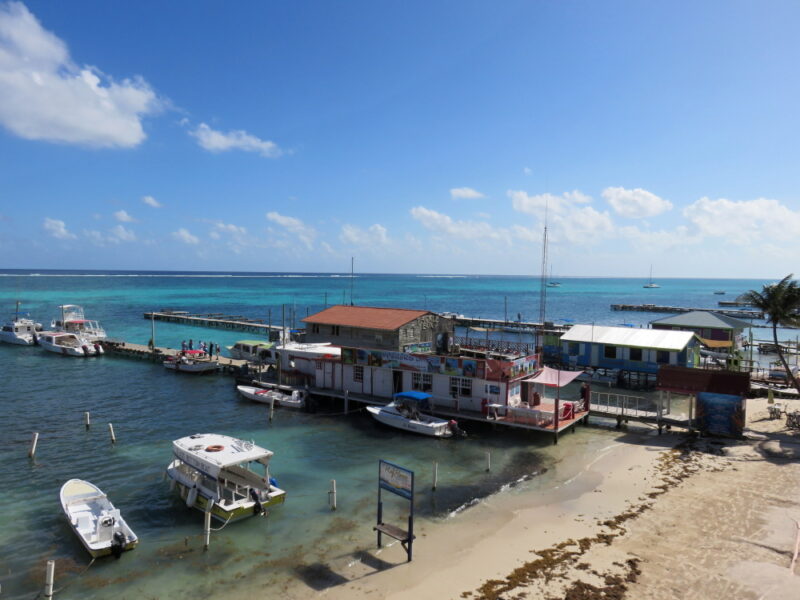 We had a good heavy rain last night…so let's see what today brings.