You MUST Overnight at the Belize Zoo – But Only If You Like Giving Jaguars Treats
I absolutely love the Belize Zoo – the staff, the carefully hand-painted signs that are a mixture of funny, informative and stop-and-think beautiful…
and of course the animals.  In small but lush enclosures filled with local flora and AMAZING local animals.  Where else can you see a pile of slumbering jaguars?
or ocelot kitten, Rhaburn, playing with his toys?
We spent half of the morning and some of the afternoon at the harpy eagle's birthday party, we ate lunch (affordable and filling at the zoo's cafeteria) and it was time to see our zoo housing for the night.  We had the Belize Zoo Night Tour in our future and we were staying across the street at the Tropical Education Center (TEC).
No offense Belize Zoo, my love, but that name does nothing to describe how beautiful this place is…and this area.
As you move inland, away from the sea, the landscape of Belize changes to gorgeous savanna.  I have been blown away by the savanna of the south.  Outside of Hopkins, the flowering grasses and the water birds..the land is just tear-inducing gorgeous.
But here, outside of Belize City, the area is just as pretty.
These fairy flowers are everywhere.
Ponds and marsh grasses and spindly pines…the air smells divine.
Jamal, our host from the zoo and all around great guy, drove us across the street to the TEC and our casita in the woods.
Super comfortable and COOL at night.  The porch was my absolute favorite part.
If I ever write a novel, I am doing it here.
With frequent naps in this hammock.
Outside is this…
And this silly vulture preening outside of our casita…
The pond house – there are two for lodging.
The dormitories.
And the main building where breakfast and dinner are served as part of your room & board.  Good food.
And the tallest royal palm you ever did see.
We were ready for the night tour of the zoo.  Jamal met us at dinner with a bucket of fruit and a small container of meat tidbits.
Do I have one thousand pictures of the night tour?  No!  It was pitch black!  And that made it particularly awesome.  The four of us alone at the zoo…with all the animals.  But they knew the routine…the tapirs lumbered over to take carrots and peanuts so gently from our fingers…leaving them covered with a bit of tapir slime.
The jaguars wanted chicken!  We fed Lucky Boy soft chicken hearts since this poor baby has just a few teeth from his AWFUL experience of almost being starved to death down south.    You would never know it.  He is HUGE…and hungry.  And those claws look scary enough!
Here he is asking for chicken.
We fed gorgeous spotted Junior Buddy and then my boyfriend (picture from my last visit to the zoo, Carlos the puma.)
His purring for food…it's just amazing.  You want to nuzzle your head right into his chest.  Or…well…maybe it's just me that wants to do that.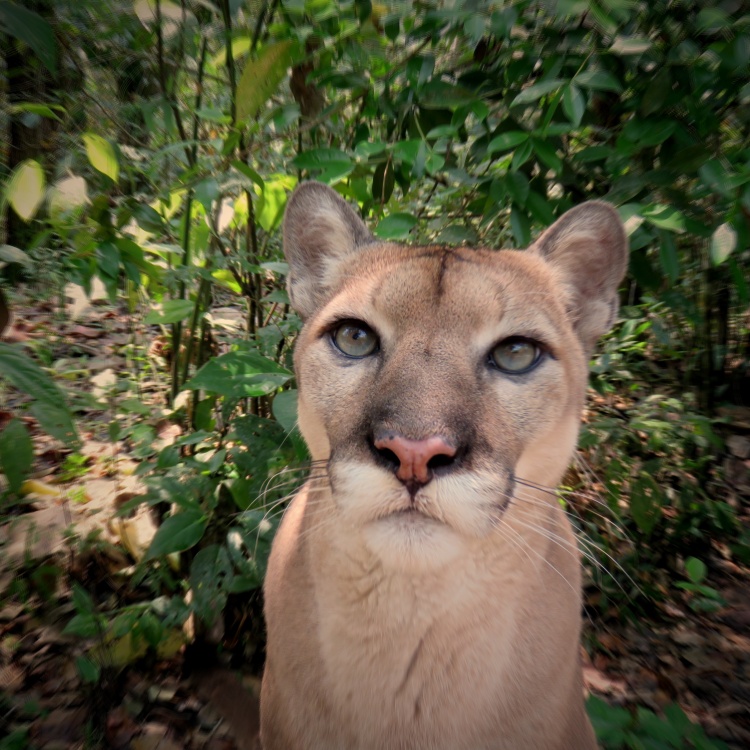 Back at our casita, I slept wrapped in a blanket and woke to parrots squawking in the trees.  What a LOVELY place to stay and the night tour is a once in a life time experience that I plan to do…oh about once a year 🙂
I promise you…and your kids will LOVE it.