Placencia, Belize's 3rd "End of the World" Marathon Just Gets Bigger and Better
Just a few days ago, Belize's largest/only marathon took place in gorgeous (and I imagine blissfully flat for the runners) Placencia in Southern Belize.  About 170 runners (and 120 volunteers!) took the the streets (I mean one road) of Maya Beach, Seine Beight and Placencia for the Third Annual END OF THE WORLD Marathon.
Here is a map from last year's race.
"Run like it's the end".  Love the drama, though for this blogger, running would be the last thing I'd be doing at the end.
The marathon was originally named "End of the World" for the end of the Maya Calendar on, supposedly, December 21, 2012.  Although the world did not explode, the name has been kept –  I mean come on!  It's a great t-shirt.
This year's event was held on Sunday, December 7th – and it was a gorgeous day.
Here's the marathon's creator, Chip Lowell, at last weekend's award ceremony.  A part time Maya Beach resident and New Englander, Chip has run a bunch of marathons in the states.  He has a passion for running and sports and for education.  He is a professor at prestigious Williams College in Massachusetts and his ultimate dream is to have free education for all Belizeans.
A good one for sure.
He started this marathon to raise money for high school scholarships for students in need on the Placencia Peninsula.  And over the last 3 years has raised 10s of thousands of dollars for that amazing cause.
Okay.  Let me get to the pictures.  For ALL the information on this marathon, generous sponsors, prizes and how you can enter for next year (is it too early to start training?), check out the RunBelize.org website.    The plan is to do the 4th annual EOTW marathon on Dec 6, 2015
Over $10,000 in prizes are awarded.  There is a full marathon starting at 5am, a half at 5:30am and a 2 mile fun run later in the morning.  There was a bar at the end…2 masseuses…a huge after party at the Tipsy Tuna…this event is the real deal.  Amazing organizing…
All registered runners receive a tote bag containing their race bib, safety pins, a T shirt, and goo packets. In addition, there will be a course map and an info. sheet with race details.
And here is a picture of TEAM SAN PEDRO!  Nice work gentlemen – and FANTASTIC job Bob (on the right, back row) who came in 2nd in the marathon!  (Photo by Doran Yount)
Most these beautiful photographs taken by Marion & Ed Carr (unless otherwise mentioned). Copyright Muzamanzie Photographs. All rights reserved.  Thank you guys!
OH!  And, the part I actually hope to participate in one day, the super fun water stations.  All along the route hotels and businesses set up water stations – and compete for best theme.
Maya Beach Bistro and Hotel won for the THIRD YEAR IN A ROW! with their super hero theme. VERY impressive Ellen, John and team!
I'm not a runner but would be pretty funny to run into this in the road.  And this was just one of many water/orange/banana stations along the route.   (70lbs donated by Bunches of Bananas tours – love those guys.)
Last year, they did a circus themed water station that was…pretty awesome.  Pictures are the end – let's get back to the runners!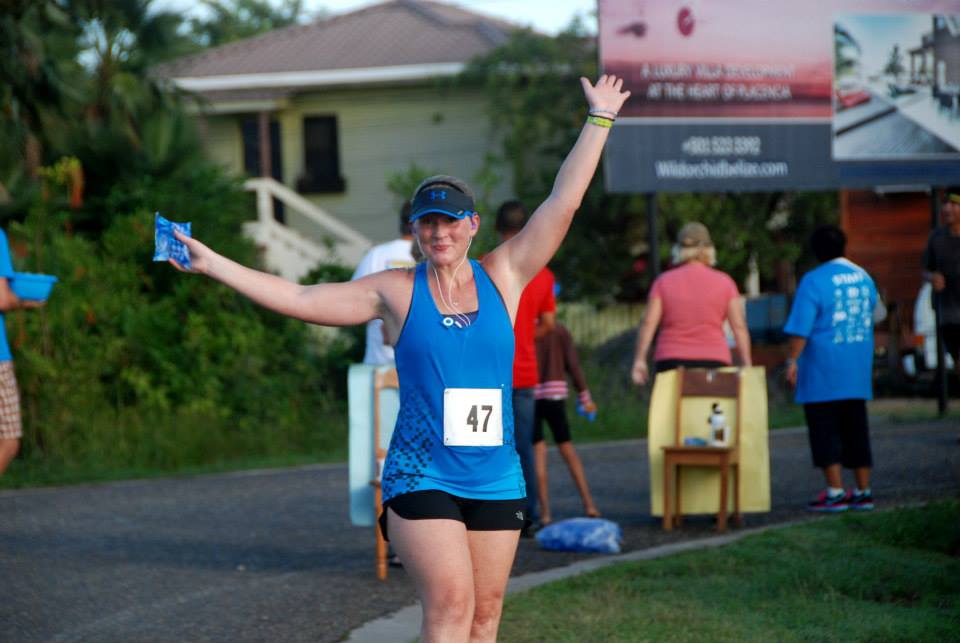 Here are the winners of the FULL marathon.  26.2 miles.  Yikes.
First place  Wojciech Kopec (Poland)  age 28  2:50:30  course record
2nd place.   Kent Gabourel (San Pedro!) age 34 3:17:15
3rd place.       Tim Cristoni (California)  age 46 3:21:43
Tim had just completed the Ironman in Arizona 3 weeks before this race, and he loved our little marathon for how it pushed him.  His quote – "This one was right up there with the most challenging endurance races I've ever done."
The winner wrote on his fan page (translated from Polish) this:  Today I ran a marathon in a beautiful country that is Belize. Starting time was 5:30am sharp, it was still dawn and it was quite dark, but everybody had excellent mood and so did I. As I already mentioned the route was as flat as a table, I think I hadn't run on such a flat route in my whole life, no hills, no descents, just a simple, straight road along the coastline and the Placencia peninsula. The problem was the weather, it rained all night so the humidity reached its zenith, and just on the day of the marathon it cleared up so towards the end of the marathon the sun burned mercilessly and the temperature reached over 30 degrees Celsius which did impress me a lot. In these circumstances, I ran the marathon at my training time (2:50:30), which meant the first place in the Open category:) I am very happy with this ranking and the fact that I decided to come here and take part in this marathon. Otherwise, I would not even know that there is such a beautiful place on the map. I recommend Placencia/Belize to everyone for a vacation trip because it is amazingly stunning!!! But at the same time I have to warn you that this place is very expensive so be prepared to bring thick wallets with you.
From beautiful Belize and after winning the next marathon, this time in Central America, I am greeting you warmly
Wojtek
P.S. I would like to congratulate all my runners today, the results are impressive, I will report soon
🙂   Good stuff.
Okay…Ladies Full Marathon.
First place:   Robin Dodge (Texas)  age 31  3:45:42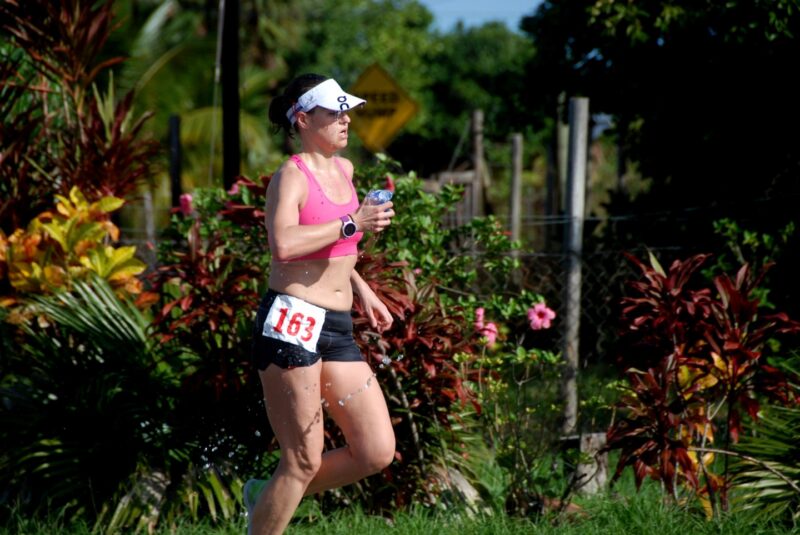 Second Place:  Suzanne Krediet (France) age 44  3:51:42
Third Place: Kerah Eiley (from PLACENCIA!  but moved to Belmopan last year) age 32  4:15:53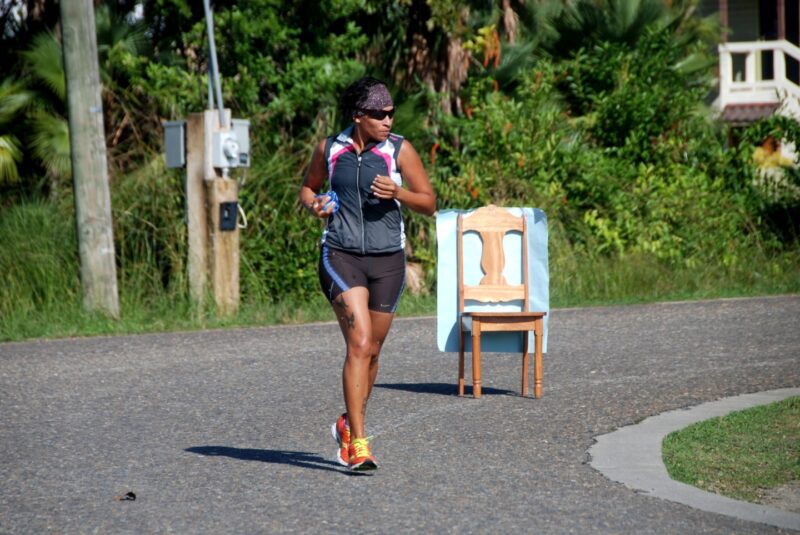 And the men's and womens' half marathon.
Men's Half:  Leon O'Brien (Belize City) age 28  1:16:11, Kenrick Duncan (Belize City) age 30 1:20:28 and 3rd:   Amed Figueroa (Belmopan) age 23 1:35:46
Women's Half:   Silvana Rasch Chincilla (Guatemala) age 39 1:37:24,  Wendy Sealy (Great Britain) age 50 1:40:40 and 3rd:  Jamie Usher (Belize City) age 36 1:49:45
Love it.  And as running IS become more popular in Belize, I know another marathon in another part of the country is just around the corner.  Or at least I'm hoping…
CONGRATULATIONS TO ALL OF THE ORGANIZERS, VOLUNTEERS AND THE RUNNERS.   Absolutely awesome.
Let me leave you with some of Maya Beach's photos of the 2013 Water Station.  Awesome.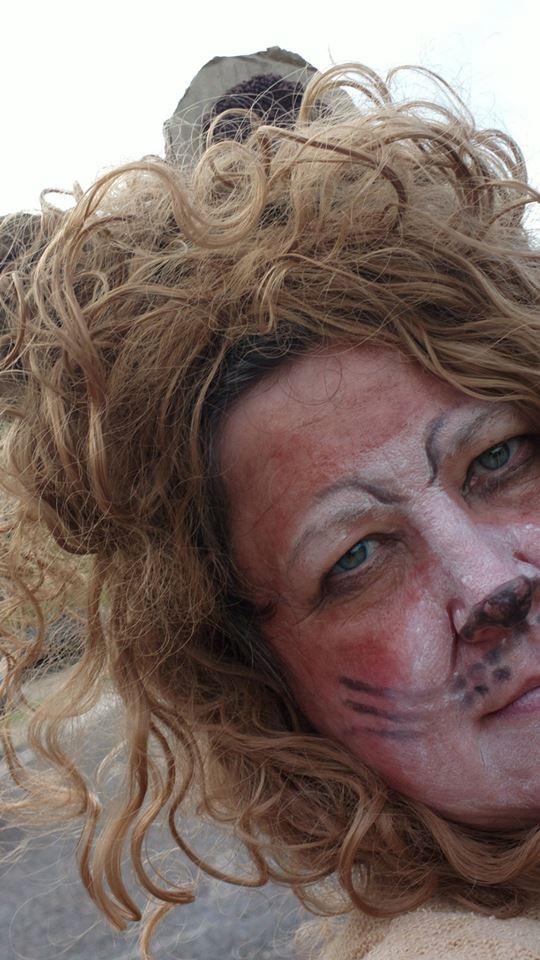 Thanks SO much to my friend Wende Bryan for helping me (aka doing all the work) compile all the photos and information for this post.  You rock 🙂