Belize Can Make You Crazy? Perhaps. The New John McAfee Retreat & Amazon's New Series: "Mad Dogs"
The common links between two seemingly unrelated topics in this post – Colonel Kurtz & Belize.   Stick with me on this one.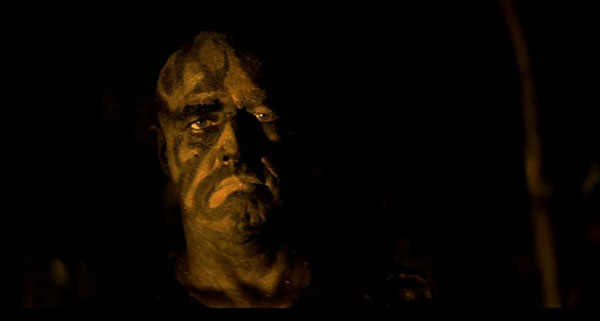 Colonel Kurtz was the archetypal evil genius portrayed by Marlon Brando in the 1979 movie classic Apocalypse Now.  In short, Kurtz is a larger than life delusional character who "goes rogue"/bat-shit crazy and allows the darkness of his situation (jungle warfare during Vietnam War) to turn him into a monster.
Apocalypse Now was co-written and directed by Francis Ford Coppola who has been coming to Belize for years and owns two hotels down here – Blanceneaux Lodge in Cayo and Turtle Inn in Placencia.  The famous fan prop from the movie spins above the bar at the first lodge.
Now on to my two actual topics:
A New McAfee Themed Resort on Ambergris Caye
You don't need to read much about John McAfee to liken him to Colonel Kurtz.  Comes down to Belize, greases a few palms, tries to start all sorts of businesses,  make friends and/or enemies with the police, builds a laboratory in the jungle,  maybe manufacturers a few hallucinogenic bath salts and goes a bit nuts.  And then quite possibly has a neighbor murdered.
He makes the comparison SO much easier with some of the ridiculous gun toting, shirtless photos that he posed for.  See below – Cuckoo for coconuts.
Photo from Wired Magazine's article series about McAfee.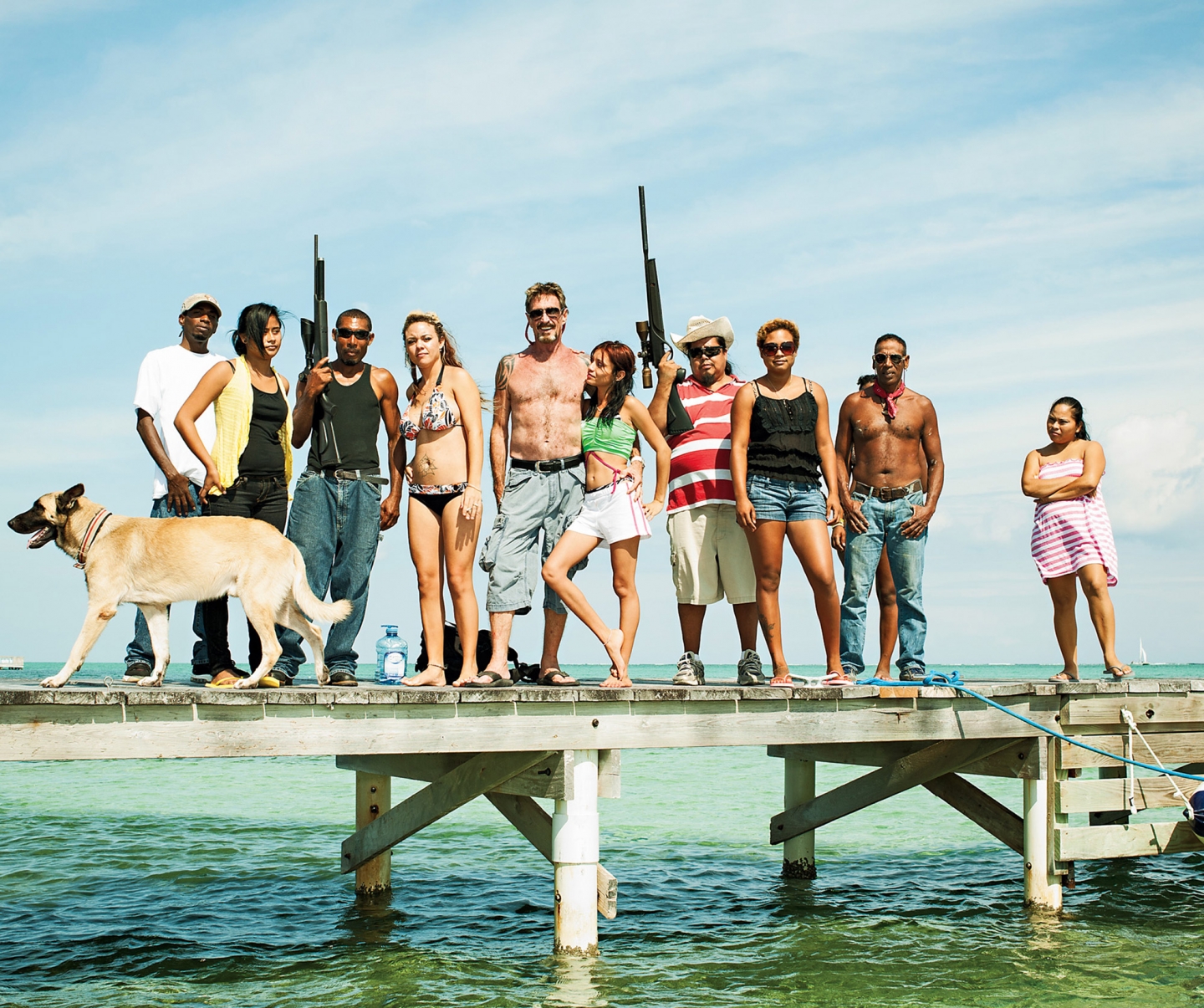 Anyway…a new resort/villa is just opening on a property that McAfee owned on North Ambergris Caye.   Right next door to the home where he lived…
Just south…it was an empty lot when McAfee purchased it – along with the main house.  And then he built a few palapas.  After JM was wanted for questioning in relation to a murder, hid out in a flurry of drama and paranoia in Belize…
…my re-enactment of him hiding in the sand…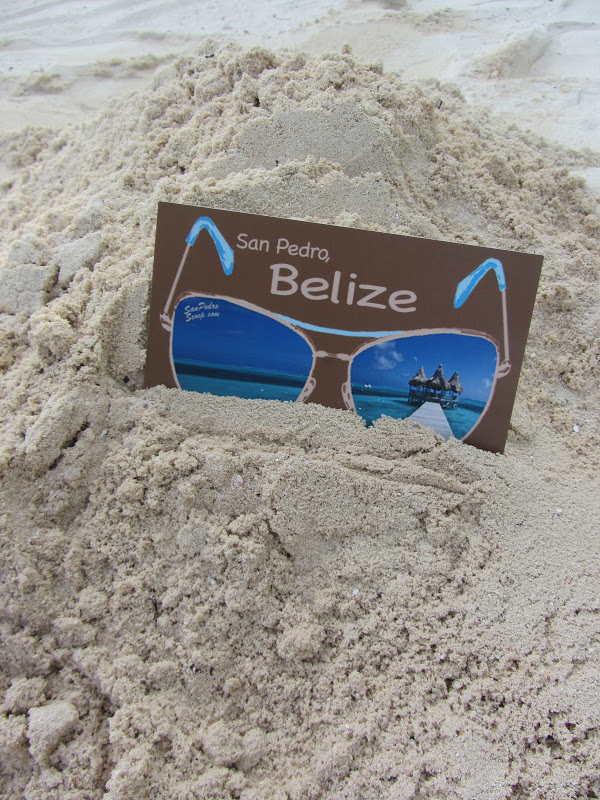 and then crawled over the border to Guatemala for extradition to the US, the property was sold.
And is now re-opening as Turtle Cove Boutique Resort.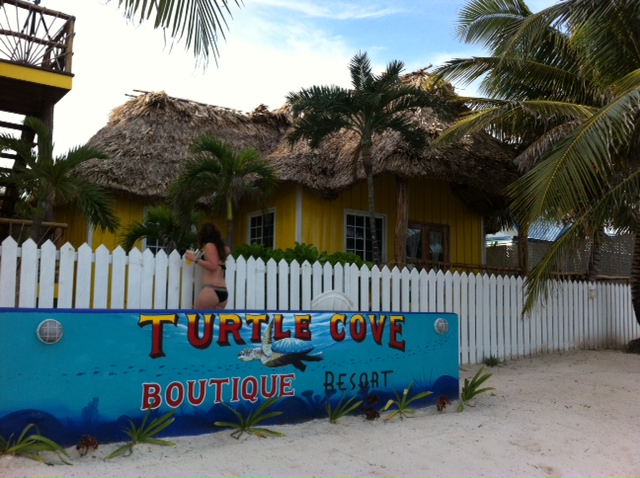 It's been re-painted and there is plenty of building going on in the back.  The marketing materials are interesting…or in slightly bad taste…depending on how you look at it.   Is he a kooky ex-Ambergris resident that we can all chuckle about now?  Or a crazy crazy-ass crazy who might have murdered one of our neighbors?
I guess it's all how you look at it.
Above is the bar name and here is the advert on FlipKey.   Here is the first paragraph:  "Come stay in the luxury villas formerly owned by the legendary John McAfee and live like a multi-millionaire! The famous multi-millionaire creator of McAfee Antivirus designed, built and owned the property that you will be staying in. John has led a very interesting life both in the USA and here in Belize and is a very interesting character to say the least, so come and become part of his story by staying in his former home."
The horror…the horror.
On to topic two:
Amazon's New Pilot Series "Mad Dogs"
Just a few days ago, Amazon.com released their potential new "TV series" for 2015.  One in particular caught my eye – Mad Dogs.  The description?
When a group of underachieving 40-something friends gather in Belize to celebrate the early retirement of an old friend, a series of wild events unfold, exposing dark secrets, deception and even murder.
Based on a successful British TV show with the same plot but a different location – the Mediterranean island of Majorca, I totally needed to watch this.
And I did last night.  The very first episode is free for streaming on Amazon.
Not only is it great cast…hey!  it's that guy from the "Sopranos"…and that other guy from "Twin Peaks" but it's a pretty entertaining show.  More of the first half of a action thriller than a tv show actually.
Billy Zane's character moves to Belize to do some sort of business and goes all Colonel Kurtz.  And his visitors go into full panic mode.   And things get ugly…
Good stuff.  And though clearly not filmed in Belize (YET?), they feature Travellers' Rum and plenty of Belikins and a pretty funny scene in which the characters test out phrases from a Kriol translation manual.  If you haven't been here, it could totally pass for Belize.
Watch it.  And let me know what you think.