GORGEOUS WEATHER, A Look at the Renamed Wet Willy's Bar and a Very Strange Sighting on Ambergris Caye, Belize
Yesterday was a pretty perfect "first full day back" in Belize – from morning to the GORGEOUS sunset I enjoyed during my sunset cruise.  But I'll tell you about that later…
My day officially started with a walk to town.  The sargasso seaweed has been coming in like crazy…but yesterday, with the wind from the back side of the island, beach rakers had a tiny break.
Still and flat…
Love it when the water is crystal clear like this.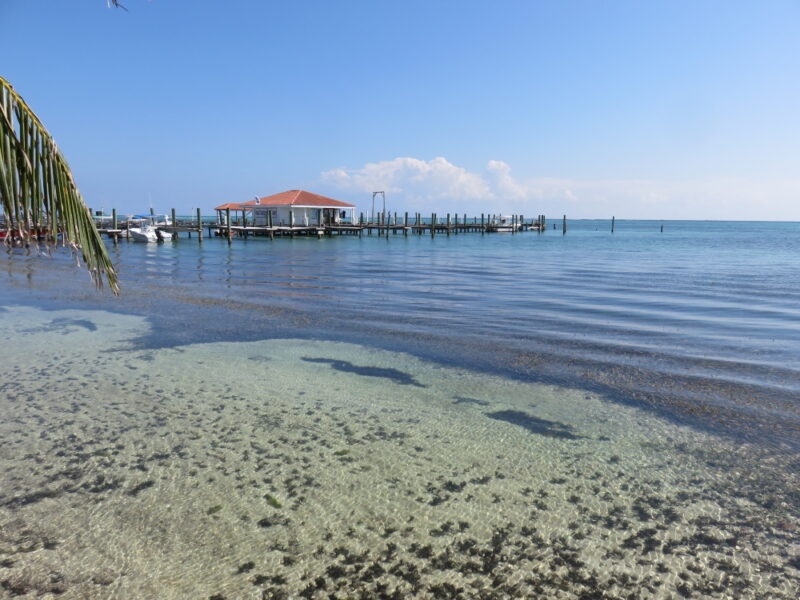 I had a bit of breakfast at Estel's Dine By The Sea.  My usual…
And the view was gorgeous – both from my seat.
Front Street ablaze with UDP political banners.  This is not an old picture.  The Christmas tree is still up.
Colorful walking sticks for sale in the park…
I walked by the FORMER Wet Willy's Bar & Restaurant – now Di Vu.
And then…on a COMPLETELY unrelated and slightly bizarre note (by slightly I mean TOTALLY)…some odd photos.
I received an email from a resident saying this:
A resident of South Ambergris Caye has been very concerned with something
going on around his home on the island.  He has installed security
cameras to try and figure it out but it has only led to additional
questions. He gave me two images from his security camera and I am
attaching them hereto.
Apparently this is terrifying the dogs so that they don't want to go outside and these were the best shots they got.
The images are taken at night so they aren't clear AT ALL.  But described as a "Furry Beast"…
Ummmm…okay.  If you have any information, let me know!  As you can imagine, this is MOST intriguing and I'm willing to camp out…
I think.
Island Sasquatch?  Swamp monster?
Bigfoot spotters!  Think of the new tourists we could attract to the island…
The mind spins.