Saturday in San Pedro, Belize: Deli Specials, Departures, Waruguma's New Location and Sigh…Sargasso
I can't stop eating rice & beans.  After a few years off – I thought I was tired of them!  I couldn't understand how lots of Belizeans eat them every single day (if not a few times a day) – I have made a full turn around.
Here's the thing.  THEY ARE DELICIOUS.  They are crazy filling.   For $8 to $12bzd, you can eat a HUGE lunch meal at any one of the local delis and you won't even want to look at food again until maybe 7pm that night?
SO what if you feel like you've been shot with a tranquilizer dart by about 2pm…this stuff is good.
Yesterday, I walked to town and to Briana's Deli on the back street to find one of my favorite plates of food.  There were many tempting specials along the way.
Mr Deli, across from the air strip, makes great food – it's a perfect stop for a johnny cake right before you board your flight.
Definitely no escabeche for me.  I'm not a fan of the vinegar-y onion soup.  Perhaps the only local food I don't like.
I saw about 30 people sitting outside Tropic Air – and wandered in to see what was going on.  The place was PACKED.  More so than I've ever seen it.  People leaving after the holiday vacation.
Upstairs…downstairs…packed.
Almost all the delis are on the side streets or the back street.  If you are going to sell cheaper, accessible food, you need low rent.
I passed this spot on Middle Street and made a mental note to go back.  I've never eaten here!  AND I LOVE beef soup.
Love Boogie's Belly…but I was on a mission…
To the Back Street.  Hmmmm…why have I never noticed this sign?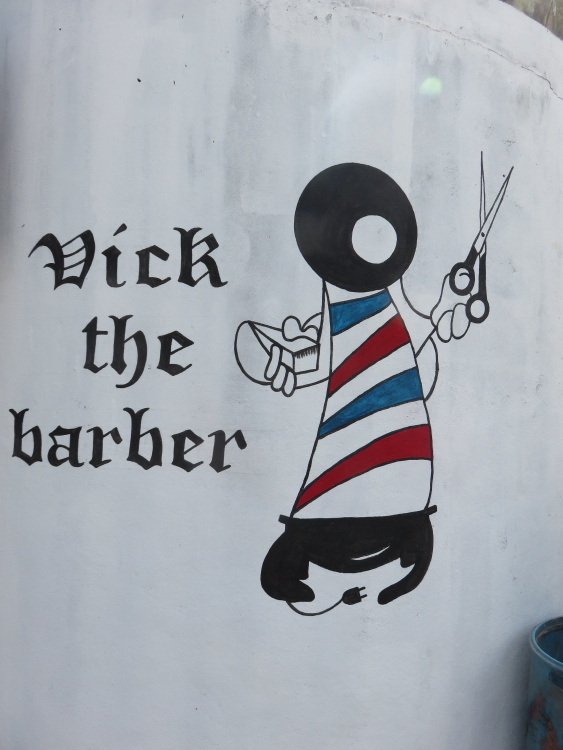 And I passed this stand and made another mental note.  1/4 chicken roasted, corn tortillas and salsa for $5bzd.  FIVE BELIZE!
Waruguma, the famous home of the giant lobster burritos and pupusas, is now located on Middle Street.  They are moving to this new location when it's finished…
You MUST eat pupusas while you are here.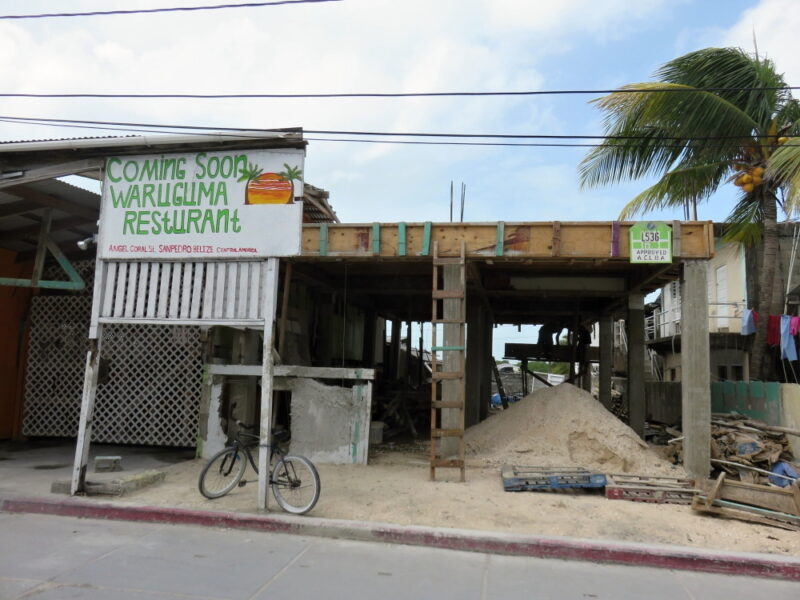 A block down and I was at Briana's.  The special – Chicken Soup.  And it's delicious…comes with cho cho and corn and lots of fresh corn tortillas and coconut rice but I was sticking with the classic…
Stew chicken, rice and beans, extra coleslaw, a slice of fried plantain, extra gravy.  $9bzd.
Just delicious.  BUT WAIT!  A tip on deli eating.  Standard lunch is Noon to 1pm in Belize – if you arrive later than..say 1:30pm…often the special is SOLD OUT.  If you arrive after 2pm, everything might be sold out.  If you arrive at 3pm…the place is just closed.
I took a walk over to the beach to see how much seaweed was coming in on the very windy day.
Ugh…so hoping the tides shift and this MESS moves out.  I know all the gentlemen that clean the beach are hoping for the same thing…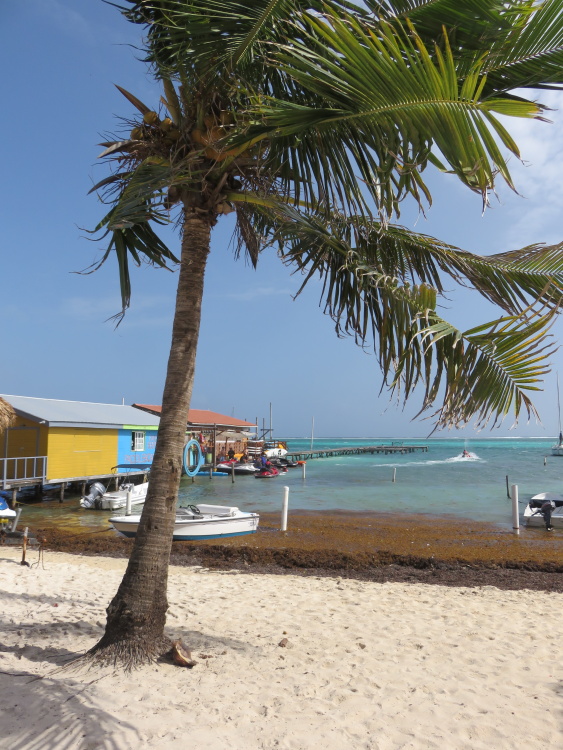 Wondering about Sunday eats?  Almost ALL of the delis are closed on Sunday.  Street BBQ.  Delicious.