San Pedro's Wonderful House of Culture Celebrates Rastafarianism & World Icon Bob Marley
When most people think of Rastafarians, they think of the hair, the dreadlocks, Bob Marley and probably smoking marijuana.  And though the Rastafari movement does contain those things, it is so much more.
Yesterday I stopped by San Pedro's relatively new House of Culture – to me the highlight of the new Sacas Chispas/Old Football field/Boardwalk project on the back side of town – to check out a display about Bob Marley and the Rastafari culture.  Mito Paz has been doing a wonderful job putting together interesting exhibitions.
All around Belize, you meet Rastas but this was a great chance to see and learn a bit more…and to send me home to get googlin'…to find out about the movement and the culture.
Here are just a few of the rastas I've met over the years.  The culture (to varying degrees of strictness) is alive and well in Belize.
Rasta Trevor in San Pedro.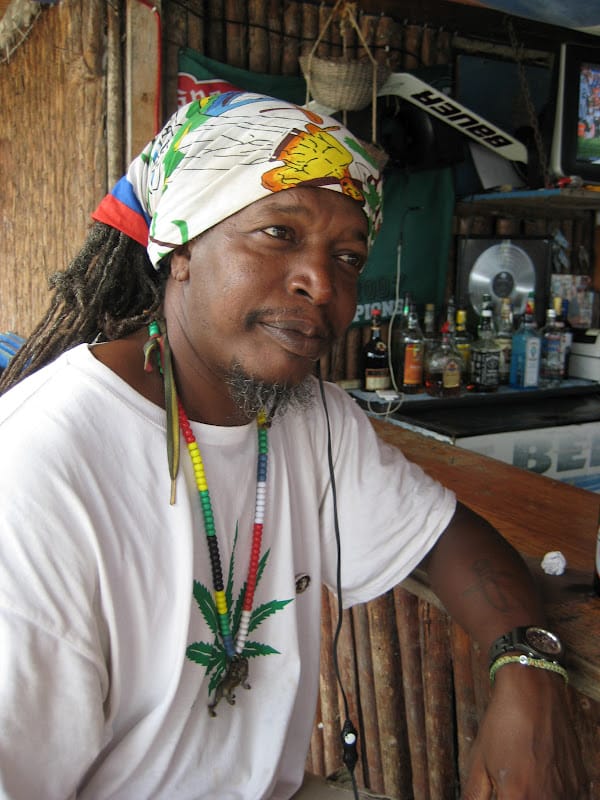 Walter and his kids in San Pedro (though he was born and raised in the Toledo district in Barranco.)
Lovely Shane of Raggamuffin Tours in Caye Caulker.
My friend Leo of Leonardo Melendez Photography took this picture of Lyrical King just last weekend.  Who has lived in San Pedro, Hopkins and now Placencia.
Here he is at dawn in Hopkins in 2011.
And Gomier down in Punta Gorda.  A St. Lucian/Belizean Rasta running a great vegetarian restaurant and soy/tofu center called Gomier's Restaurant.  You must try it when you are down south.
The San Pedro House of Culture is celebrating Rastfari culture.  And there are no bigger icon of Rastafarianism than Bob Marley.  His music and image is recognized world wide.
Bob Marley's birthday is February 6th and tomorrow, he would have been 70 years old.
Here is some of what you can see UNTIL FRIDAY when you stop by the House of Culture.
Beautifully done.  And the exhibition only lasts two more days…to give time to set up for the next one.  All about Carnaval in Belize.
I still have lots more reading to do after Rastafarianism.  And the over 1 million faithful world wide.
Super interesting…
Stop by the House of Culture and see if it piques your interest.  To follow their updates and new exhibitions of facebook, LIKE THEM.
AND there is a big Bob Marley Tribute show this weekend in Central Park featuring Ras Indio and lots of other Belizean artists.  Feb 6th and 7th.
I'll share more details when I get them.  One love.
OH!  One more thing.  TWO of Bob Marley's sons are performing in Belize over the next months or so.
Kymani, the first Marley ever in Belize.  He is the only child of Bob Marley with Anita Belnavis, a Jamaican table tennis champion.
And hot on his tail.  Damien JR GONG Marley!   The youngest son of Bob.