Things that Made Me VERY Happy To Live in Belize This Week
Aside from the holiday season, February may be the most popular time of year for visitors coming to Belize.  Who can blame them?  It's RIDICULOUSLY cold in much of the US and Canada, the weather here is gorgeous and there is a ton going on.
I focused on some negatives this week – like that one hideous resort plan in my last post – and there was a brief but messy shut down at the air port on Saturday morning when the air traffic controllers called "in sick".  OH!  And I won't even MENTION our local representative's remarks on off-shore oil drilling this week (see end of this post for more on that!)…DRILLING NEAR THE INCREDIBLY FRAGILE REEF!…he wants a charity to prove to him that it's a bad idea!
There is so much positive that I can almost forget all of that.   Almost.
Here's some of what made me happy this week.
Sunday brunch at Estel's Dine By the Sea with Charles at the BBQ, friends all over the place and my favorite breakfast in San Pedro.  Best fry jacks in the world.  Whether you go savory and dip them in your egg yolk or sweet with some Marie Sharp's Jam, they are just divine.
I also took a photo of the funny-to-me sign in the mens' room.  I am a dedicated reporter!
And the photo on display in the ladies.  On the vanity counter.  So odd to me!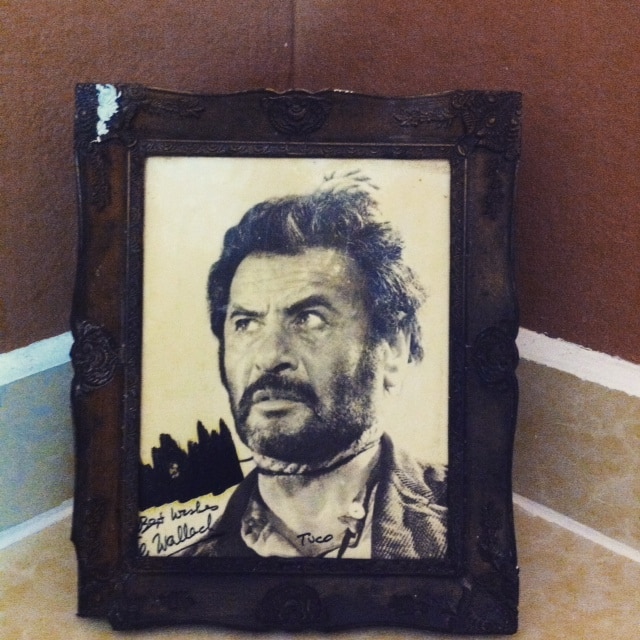 Eli Wallach as Tuco (with a noose around his neck) in the "Good, the Bad and The Ugly".  An prolific actor who died just last year at the age of 98.
For Carnaval continuing as a HUGE super fun tradition in San Pedro.  Though I did not get painted, I liked besting 2 little kids on their challenge that they wouldn't smile.
"Dog Poop" was all it took.
Pfffft.  Amateurs.
And for correspondent Kardashian…who is willing to do all the dirty work while I sit home, paint free.
For beautiful cool weather most of the week…we did have a day with some clouds when the "cold front" first moved in.
For the wide selection of patches available for my torn "jorts" (jean shorts)  – that made me very happy.  Shorts are bound to wear thin after about 1 and a half years of continual wear.  But favorites are favorites and can be mended.
I ended up buying three patches and, fear not, this was just the first layer in a bit of a collage.
I'm pretty sure everyone is going to want a pair.  This might be my next business venture. "Just Jorts"
For another tasty CHEAP breakfast is perfect just after crossfit.  A crustless quiche at the new breakfast place at Wayo's in Boca Del Rio.  $4bzd.
They are doing delicious breakfast sandwiches that I must return for…that include this quiche on a bagel…or BETWEEN PANCAKES!
For the opportunity to attend a real jaguar's party and dress up for the kids at the Belize Zoo.  It will SO be a highlight of my year.
For attending a party with people I love and eating BETTER THAN SEX cake.
Whipped topping, fruit cocktail, yellow cake and lots of vanilla pudding in the middle.  It may be my favorite kind…
And for my Belizean cat Pupusa who wakes his favorite can-opener up each morning…shoes on and ready to go.
Sigh…
OFFSHORE OIL DRILLING:  Check out this good article in the San Pedro Sun titled "Where Does Manuel Heredia Stand On Off-Shore Oil Drilling"
He actually says:  For his part, Heredia said his government has not taken a position and they are not considering offshore oil drilling at this time. "I have not said yes or no to offshore oil drilling. Anything that will cause damage to our reef, I will oppose," stated the Minister. Heredia said that for Oceana to say that offshore oil drilling is catastrophic to the sea, that argument cannot be supported by any evidence. "At this point there is no one from Oceana that can show proof, if anything is done as it relates to offshore oil drilling, that it will damage our reef – there is no evidence of that. They will have to substantiate that if offshore oil drilling is allowed, that it will in fact affect our ocean," stated the Heredia, who was a fisherman for 30 years.
Double sigh…