Palapa Bar's New Ownership Issues a Press Release About Upcoming Changes
Yesterday I posted about drama at the iconic Palapa Bar on Ambergris Caye.   I tried to stay neutral since, as I stated, only those directly involved know the truth.  I did have a little advice though…for what it's worth…
And a bit about the proposed changes to the Palapa Bar property – the small condo unit just south of the dock bar.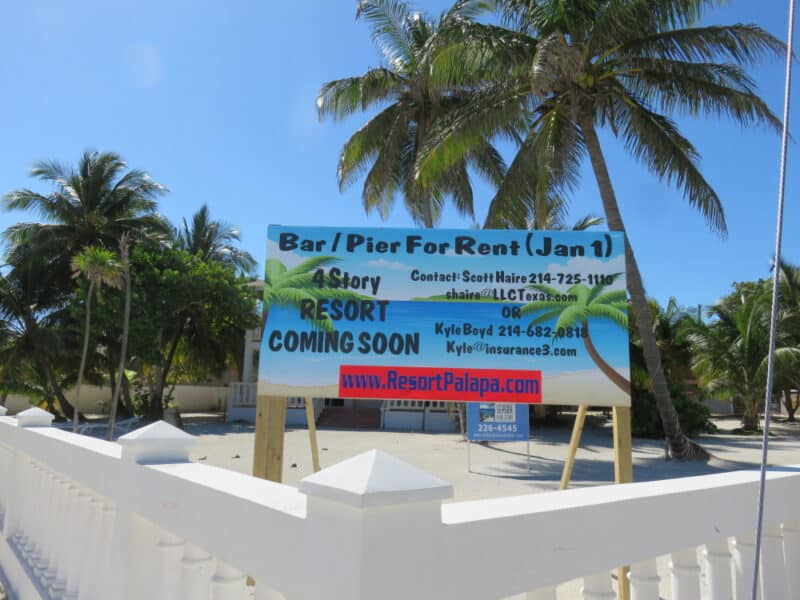 This morning, I received an email, a press release from Niall Gillett – whose website identifies him as a Leadership, Crisis and Reputation consultant located in Texas and Belize.
Here is what I received.
Good morning Media members,
After the elections, I believe this could be a great story idea concerning San Pedro – Sun and Sea – going into Easter.
I can arrange visits to the site or provide more details and great photos for an interesting holiday story.
>>>>>>>>>>>>>>>>>>>>>>>>>>>>>>>>>>>>>>>>>>>>>>>>>>>>>>>>>>>>>>>>>>>>>>>>>>>>>>>>>>>>>>>>>>>>>>>>>>>>>>
PRESS RELEASE
For Immediate Release
March 2nd, 2015
THE PALAPA BAR AND GRILL PROPERTY – "BELIZE'S PREEMINENT BEACH HANGOUT" – GETS NEW OWNERSHIP.
San Pedro, Ambergris Caye, Belize. An iconic San Pedro landmark – the Palapa Bar and Grill property – is now under new ownership. The well-known, over the water tourist destination and its picturesque frontage property on the northern part of the island was purchased in January, 2015 by the "Palapa Palms Resort".
The Palapa Bar and Grill property is well known, with extensive positive reviews (over 1,340 on Trip Advisor alone) in the international media such as Lonely Planet and Caribbean Living Magazine to name a few. Located at the end of a pier in the Tres Cocos area of San Pedro, the bar features a magnificent view of the Belize Barrier Reef from its upper deck, and cool inner tube seating right in the sea!
The new owners plan to re-develop the famous Palapa property, maintaining its character and charm while increasing the overall quality of the product. They are also in the design phase for the Palapa Palms Resort – a new, family friendly resort that will leverage green building and efficient energy management. The Resort owners say that "Our vision for the development of the property is to build on the great reputation of the Palapa Bar and Grill and create a unique boutique resort that will both compliment the Tres Cocos area and be a sought after destination location."
They stress that no jobs will be lost under the purchase and the ten staff members currently employed by the Palapa Bar and Grill have already been informed that their professional services are valuable and will be retained should new operators take over. The current lessors of the bar are also secure under their existing contract until the end of 2015. The new owner is currently accepting new lease offers; and is currently in negotiations with several new entities.
The Palapa Palms Resort promises to be an exciting tourism addition to San Pedro's spectacular North side, complementing the already successful Palapa Bar and Grill!
END
Contact:
Niall Gillett
Gillett & Associates Ltd.
Cell: 610-5700
Office: 652-5700
USA : 832-447-3772
>>>>>>>>>>>>>>>>>>>>>>>>>>>>>>>>>>>>>>>>>>>>>>>>>>>>>>>>>>>>>>>>>>>>>>>>>>>>>>>>>>>>>>>>>>>>>>>>>>>>>>>>>>>>
Best Regards,
Niall L. Gillett, J.P.
Public Relations, Reputation & Leadership Strategist
Gillett & Associates Ltd.
Corporate – Crisis – Conflict
www.gillettandassociates.com