So…You Wanna Ship A Boat To Belize?
From Lisa and Ronnie of the very good blog:  First World Refugee.  Super information about the planning and the first year of living on Ambergris Caye at Grand Caribe.  From selling almost everything you own to getting boat captain licenses.  They are on the accelerated Belize program.  Thank you SO much for guest blogging while I'm in Michigan.  Current temp?  About 63 degrees.  Brrrr….
After living in Belize for 10 months we decided it was time to buy a boat- we've always owned boats and it was just too hard living on such gorgeous water without having one.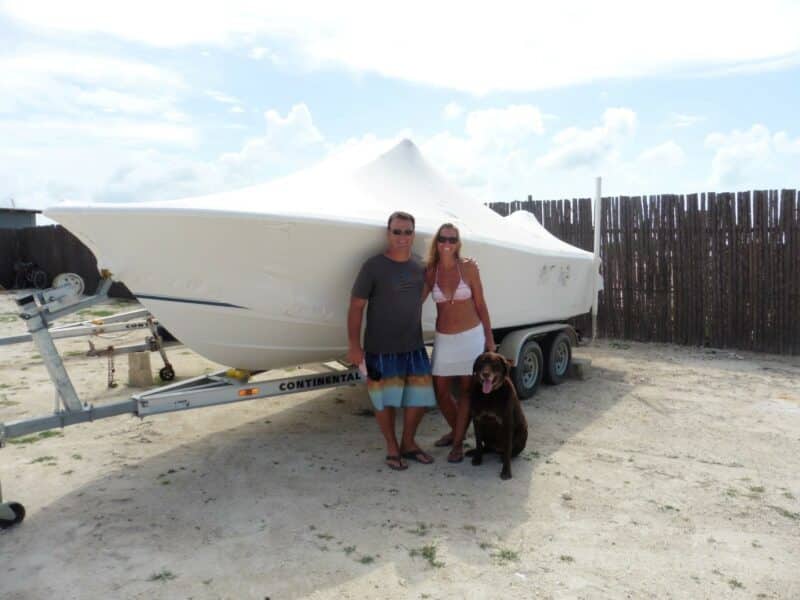 We searched and searched and found the perfect boat for us….a 2014 Sea Hunt Triton 202. The only problem? We found it in Sarasota, Florida at Ingman Marine.
It's a lot harder buying a boat and shipping a boat here than would seem…..deciding to buy the boat was the easy part….next it was getting all of the information we needed before sending the money…..get the engine checked out, get more pictures and information about the boat's history since we couldn't see it in person (are we crazy for buying a boat sight unseen? Probably…..well hey, you only live once).
Once we got all of the information that the boat was indeed in great condition it was time to do all of the paperwork….thank god for scanners, email, electronic signatures! The boat was ours!
Ok – so, now what? How do we get our "new" boat to San Pedro, Belize?
After talking to friends it turns out Hyde Shipping out of Port Everglades, Florida is the shipper of choice for boats and containers. Lisa called them to set up the shipment and get all of the information….Benny was her contact at Hyde Shipping and he was great. He recommended that we have the boat shrink-wrapped before we ship it….but Hyde didn't provide that service.
Lisa called Ingman Marine to see if they had a contact for a shrink-wrap guy….luckily they did! Cost to shrinkwrap a boat? $23.00 per foot.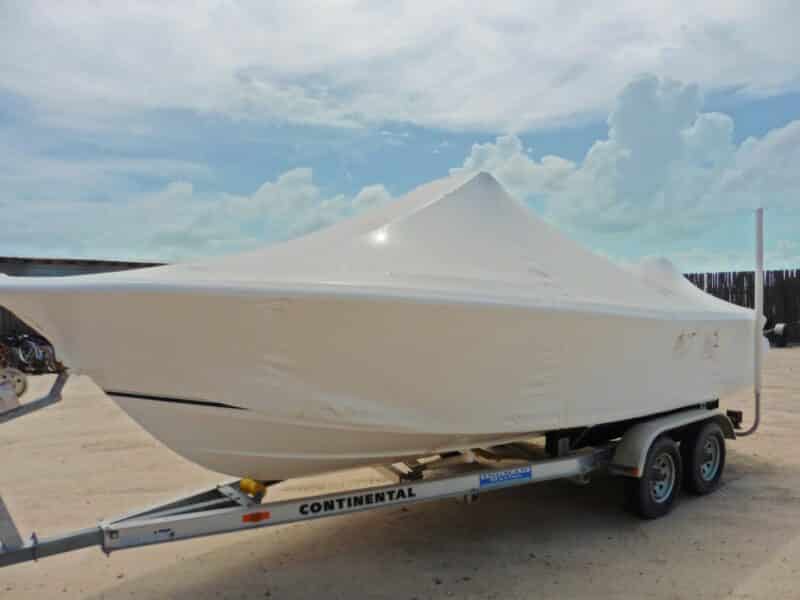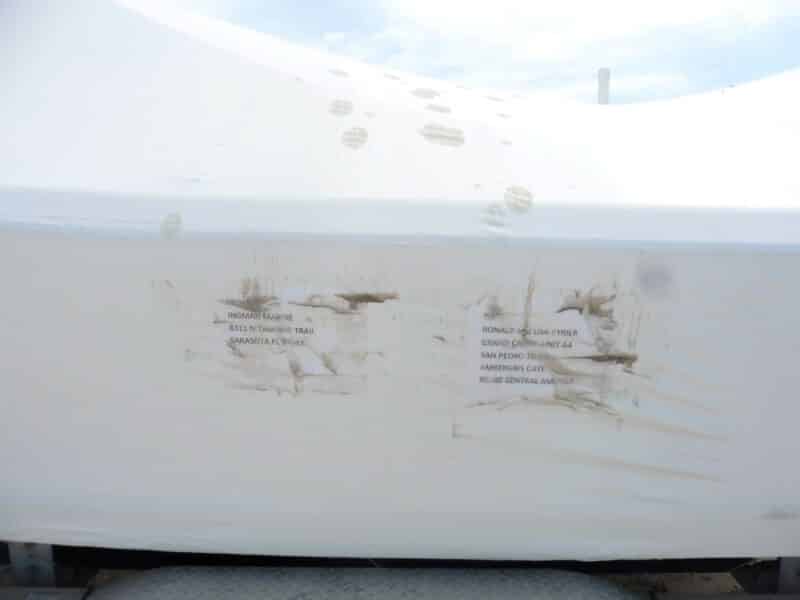 Great – the boat is shrinkwrapped and ready to be shipped….but it's still in Sarasota and needs to get to Port Everglades….Ingman Marine to the rescue again!
They found a delivery guy who took our shrinkwrapped boat to Hyde Shipping at the rate of $3.00 per mile.
It took 17 days from when we found the boat to buy it, prepare it and ship it to the port for export to Belize. Our boat was placed on the vessel and left Florida on Monday July 27….it arrived in Belize City on Friday, July 31.
Cost to ship our new toy from Port Everglades to Belize City? About $135.00 per foot.
Wow….these costs just keep adding up, don't they?
Our boat was shipped to us on a vessel named "Corona"….pretty cool.
We were so excited when our boat safely arrived in Belize City!….but wait…..we live on Ambergris Caye….how do we get it to us?
Luckily we have a guy named Delroy who helped us get our first shipment through customs and delivered to our home….so Lisa called up Delory (who she has now renamed "The King of Logistics")…told him the story and asked all of the questions and Delroy said. "no problem, I have it under control….logistics is what I do."
When the boat arrived in Belize City on July 31 it sat in customs until Delory came over to "break it out"….since we are part of the Qualified Retired Person's (QRP) residency plan here we can import a boat without any duty….which is pretty cool.
Once the boat was released from customs in Belize city, which took about 5 days, it was time to arrange for another barge to bring it over to our island…..we left this up to Delory who arranged it to be delivered right to our condo at Grand Caribe.
Once the boat was unloaded from the barge at the south end of the island it was time to have it delivered to our condo…how was this done? With a pickup truck….they towed our boat through town traffic (during Costa Maya weekend!) and over the toll bridge….who would have thought that'd even be possible?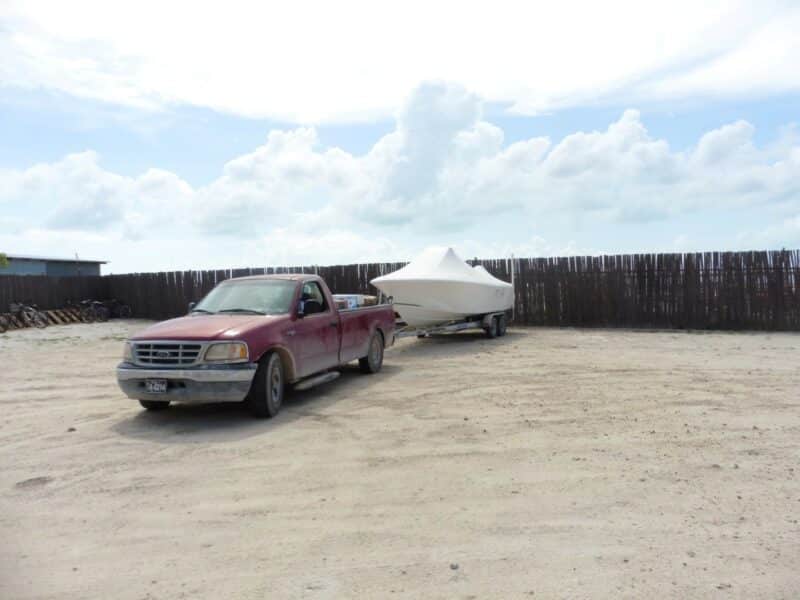 Dooley Bear immediately claimed the boat as his…
Cost for the barge from Belize City and the delivery to Grand Caribe? $350.00.
The day the boat arrived at Grand Caribe we were just sitting by the pool when security guards came looking for Mr. Ron….we were like "what's wrong?"….they said, "Mr. Ron's boat is out front!"…what?!? What a great surprise!
Now that the boat is here, how do we get it in the water? Click here  to find out how we launched our boat! (not as easy of a task as one might think! But it was definitely tons of fun!!!)
Spoiler alert:  It looks like a Belikin tractor is involved.  And the boat is NOT named after Dooley Bear 🙁