Just One Recipe for Three Perfect Days on Ambergris Caye!
I met Laura and her husband in Placencia last November…they were just opening up Caribbean Beach Cabanas – a super cute (I MEAN CUTE) resort they bought on a gorgeous stretch of beach in Placencia Village.
She also writes an amazing blog about her Ohio to Placencia experience.  Pure Placencia.  And now she is guest posting for me about the Placencia to Ambergris Caye experience.  Eeek!  I hope she likes it.
Oh yes…everyone does.  Thanks Laura!
I live in Placencia, where I am told people come from other parts of Belize to vacation, because it is on par with Caye Caulker for laid-back slowness. Sometimes, I just crave a little action and busy-ness, and crowds! It was time to come up to Ambergris for a fun filled weekend 🙂
We took Tropic Air from Placencia to Belize City, which if you get Taco Girl's code, you can get 10% off–it is under $100us. We decided to save some money and take the water taxi from Belize City, and we learned that you should fly into the Municipal airport as it saves money and time.
Only a 5 minute cab from the Municipal Airport to the water taxi dock. The dock is a total hoot–coming from Placencia, the noise, high pressure sales, and action are unheard of here. We ate some great stewed chicken in the dock area for $4us. The water taxi is about $17.50us one way if you buy a round trip, takes about 90 minutes with a stop in Caye Caulker. We thought it was a fun experience, worth doing! Here's a gratuitous picture of Placencia from our flight out 🙂
We stayed at Oasis Del Caribe, a nice condo complex with a pool, walking distance to everything in San Pedro. The first night, we ate at Wild Mango's, where I highly recommend the appetizers–we shared a bunch of them and they were all fantastic.
Because it is slow season, there wasn't a whole lot of action, but we found some fun at Palapa Bar.
On the way back, we must have looked sad and lost as we got picked up on a golf cart by a lovely expat, who then joined us for drinks at Fidos. (this is one of the joys of Belize–the warmth and friendliness of the people!) We learned there, one difference between San Pedro and Placencia….Placencia is a happy hour place, everyone is usually in bed by 10 :)…..we were told in San Pedro, action doesn't start happening until 10!
(Quick note from the Scoop:  That be true on weekends if you are looking to dance – the night clubs open late and close late!)
The next day after a stellar breakfast at Estel's (I think everyone knows this place by now!) …
We enjoyed the pool–the sargassum was still pretty bad on the beaches, but I have heard that it is better now. We were treated to an adorable street parade of local kids, another thing to love about Belize…random things like this happen far more often than they should!
We had a GREAT dinner recommended by locals, at El Fogon. (Try the salbutes and the watermelon vodka drinks!)
We had a golf cart and tried to drive to the casino in Captain Morgan's, but found that they were closed for renovations. Loved the new paved road north of the bridge! We stopped at Coco Loco's pool bar instead and had a great time.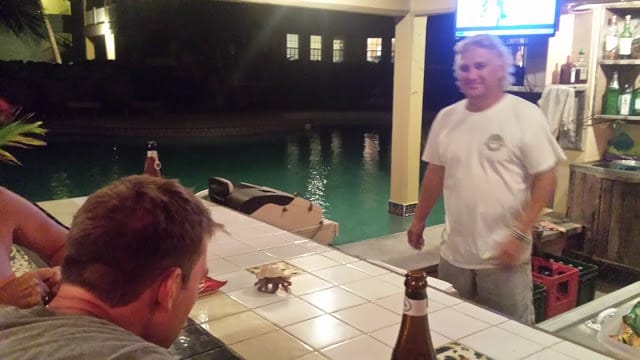 The next day, we took our golf cart as far as we could go, and found that the road up North goes and goes…and goes….! We were blown away by all the hidden gems up there, and we found the (not-so-secret) beach on the way back. It is a bit of a drive to get there, but it is so stunning…and you can walk wayyyyy far out into the water as it stays very shallow. Definitely recommend this for a fun afternoon (pack a cooler!)
Follow these signs!
Our friends also went out snorkeling, and one huge benefit of Ambergris is that you can take a couple hour snorkel for around $40us, and get back and have the rest of your day. In Placencia the excursions are usually full day as it is a longer trip. We went with Ecologic Divers and they were great.
We decided to spend our last afternoon back at Palapa Bar, because it consistently gets rated as one of the most fun bars in San Pedro. It did not disappoint. 🙂 We spent far too many hours playing jumbo Jenga with truth or dares written on them…..highly recommended way to spend an afternoon 🙂
Push-ups with a stranger dare
This dare speaks for itself.
Our last dinner we went to Blue Water Grill…..Yum! I highly recommend the sushi…all of it….amazing! Great views of the lovely property and the ocean too.
Not a bad dining view!
We had such a great time that we are already planning another trip in November!!
THANKS SO MUCH LAURA.  Your trip inspires me to head back to Placencia SOON!  I love your town too…and have been gone for much too long.