Some of the Beauties of Fall on Ambergris Caye
For some parts of the world, there is a nip in the air and leaves are changing colors – here in Belize, October can mean rains (though we haven't had any this October – a solid few days DUMPING in September still lingers), dying winds and flat seas.  Warm water, warm days.
NONE of these are steadfast rules but this October so far has been quite beautiful.  With flat seas perfect for diving…
…and certain lawns have been turning into marshes of fresh water filled with frogs…and some really gorgeous birds.  Yesterday, once again, we came to a screaming halt when we spotted a lone roseate spoonbill perched on top of a telephone pole.
Osprey, yes.  But spoonbill?  Not your every day sighting.  He allowed me to take a photo or two…
and then at just the right time, decided to take flight to join his flock.
The flock eating frogs and tadpoles.  It IS the circle of life after all…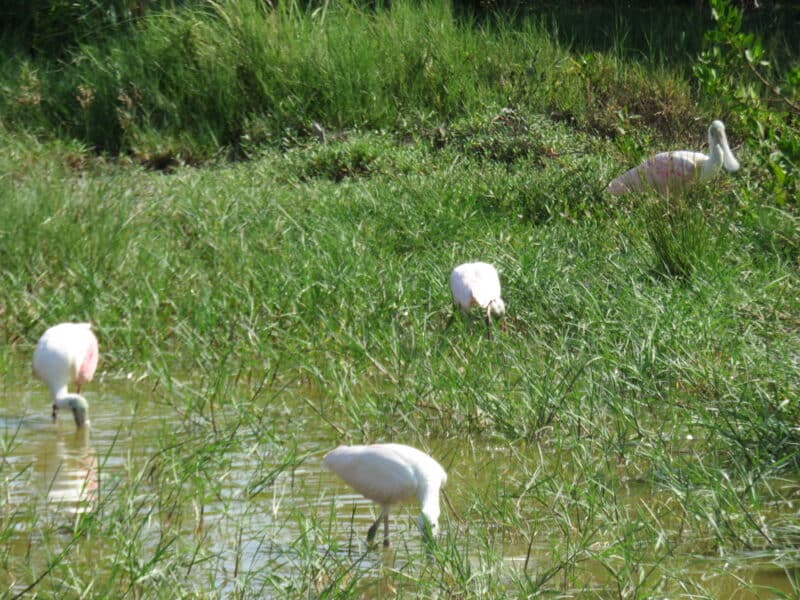 I THINK this is a younger bird…my friend Roni from the Belize Audubon would have to help me on that.  All I know, is that if they want to keep that rosy color, frogs ain't gonna do it.  SHRIMP!
I'm just glad they are hanging around here right now.
SPEAKING OF THE AUDUBON SOCIETY, there is an urban birdwatch coming to town on November 15.
It's pretty cool…here is my experience last year.
What else does fall bring to San Pedro?  Halloween madness for sure…$40bzd pumpkins…and pumpkin spice chocolates!
At last, my oasis in town has re-opened – the Belize Chocolate Company.  And despite the (lame) facebook communities that exist PUMPKIN SPICE LATTE IS GROSS or John Oliver DESTROYING Pumpkin Spice Latte fans (it is quite funny- the coffee that tastes like a candle) or the fake products that are touted on social media…
I'd totally buy this one…
I LOVE PUMPKIN ANYTHING!  And fully support this American obsession.
I mean what is more American than pumpkin pie – and I REALLY hoping you are not thinking guns.  Let me segue to the chocolate company.
The Pumpkin Spice Caramel is delicious but the ginger one even tastier…with a bit of a kick.
And with that?  Happy Fall from Belize.