Finn Kardashian Takes SE Asia, Episode 4.0: LAOS's First Belizean, the World's Most Dangerous Bar Hop and Much More
Hello,
See right across the river there, that is LAOS our destination. Time for different culture, writing, food and even the party scene….
WELCOME TO LAOS!
For those who had a sub-par 6th grade Social Studies geography primer, here is a map ( – SanPedroScoop)
We are making a border run – need to get our passport stamped-  you got to do what you have to do, the only thing I know about Laos is that the Flag looks just like the Belize's flag.  Though they haven't quite finished…
GUESS WHAT! I am Officially the first Belizean in the whole country of Laos, That's right this might as well go on my eulogy when I die. They thought my passport was a Joke but you know what?  They went to the computer and saw that it was original and then they said welcome to LAOS – you are the first Belizean in our computer systems.
Our route is to Louang Prabgan – lovely day ahead am about to go on 8 hr boat rides for the next 2 days. CAN'T WAIT…The rivers and the mountains look cool. Feels like I am in the set of a old hollywood war movie. So away we go. Its all going to be worth it. I really do know so. Lots of cuties on the boat & even beer. Time for a BEER LAO!
After 2 days in a boat, we finally got into Louang Prabgan…Change money into Lao Kip 150.00$ makes you a Millionaire here.
About Louang Prabang – waterfalls and the night markets are among its top attractions, other than that you just want to get the hell out of here.  The night scene consisted of a reggae bar that closes at 11 and everyone goes to the bowling alley.  That's right the only late night entertainment in the whole city.
Day 2 here we decided to rent a taxi to take us to the waterfalls, Loaded our water bottles with Vodka diet coke and off we go – Melissa is still with us but now we have a dude dude his name is Jacob. Laos is turning out to be great after all. Before you got to the water fall there was a Bear sanctuary ( no grizzly, no black bear) just a slow bear lol . Pretty cool – they don't even bother looking at you and they yawn in slow-mo. YYyyyAaaawwwNnnnn
SUPER dangerous selfie next to the BEARS…ooooooooH
BEER AND BEAR beats the heat…
Time for some cold waterfall water.
According to google people have died for taking risky selfies, not me – my Kardashian scoops can't be boring. Have to make mother blogger proud.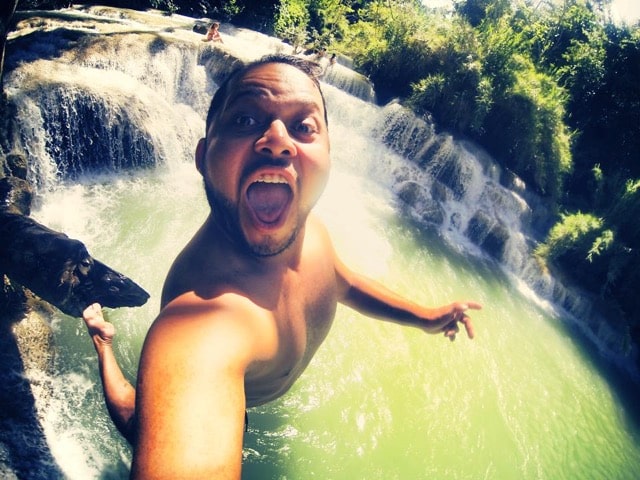 Day 3 we left to Vang Vieng – this town is known for its Sakura Night club and bar hopping on tubes. 27 deaths so far, what the hell never tell your kids don't do it…they will still end up doing it. Well that's me, it was pouring rain and we decided to go for our tubes why not grab a couple of liquid spirit on our walk there in the pouring rain. It rained so much the crowd decided to just party under the rain. FUNNNNNNNN
Looks so pretty for VODKA!
lost my shirt, flip flops and Melissa has my wallet – left to walk around town in Zara pum pum pants.
To end this story just want to say that this same night i lost my tube in the middle of the party while crossing the river. GOD knows my heart felt as if i touched heaven.
That night i got punched in the back by a lady boy because i won at "Crazy in Love" by BEYONCE as i twerked , 3 ladyboys – 1 Finn K dance off.  Asians won't ever win me in my cha cha….Route is to back to Bangkok again and then to the islands.
As always Be Cute and Be Merry.
Finn Kardashian