Perhaps the "Secret Beach" Is Still Secret on Wednesdays? My Search for the Breeze
Up early, I was in town for Crossfit.  It was already 85 degrees and there was no breeze to be found…none.  Zero.  Even as I was forced to run back and forth with only this view to sustain me.
I stopped home to shower and…breezeless.  The sky melting into the sea.  PERFECT for diving and fly fishing, swimming and snorkeling.
The view at Royal Palms (where I live) – thanks for the picture Margie.  As she said:  The colors of fall in Belize.
And then I drove north…and pulled over at Palapa Bar to see if the wind had picked up.  It was about noon and…nada.  Nothing.  Like glass.
When I got north, I checked SanPedroWeather.com – 88 degrees, 88% humidity and winds from the south at 2 miles per hour.
I decided to head west.  Drive across to Grand Belizean Estates.  The "Secret Beach" – that maybe be quiet on a Wednesday?  Because on the weekends?  The Secret Beach is packed.
But why change the name?
At about 4 miles north of the bridge, one must turn left onto the only road that leads west.  Crossing the caye.
There is one bridge on this road – actually put there for the yearly Eco-Challenge Kayak Race.   The yearly 2 day kayak race around the island.
Much of this area used to be lagoon and mangroves…this road has been filled so that you can reach the development area called Grand Belizean Estates.  Here is a diagram/photo/map from their website.
The road has become a bit ragged in spots but the view is lovely.
I got a little practice done on taking selfies without driving into the lagoon.
I'm making it look easy.
The telephone poles stand…though there is no water or current running out here.  One day…maybe.
There is work being done out…3 huge dump trucks passed me as I was driving in…
And some burning is going on at a few lots.  I always like this sign.  Residents.  I think they can be counted on one hand.  Maybe two now?
There is a house for sale, one I visited a while back.  I believe the price now is $159,000US.
The construction is going on in this area…just a bit past this sign.  Land being made where none existed before…
Land that right now is water.
The lovely view of the construction as I continued forward to the beach.
There were a few people on the first dock, none on the second and two snorkelers….
Not secret but not bad.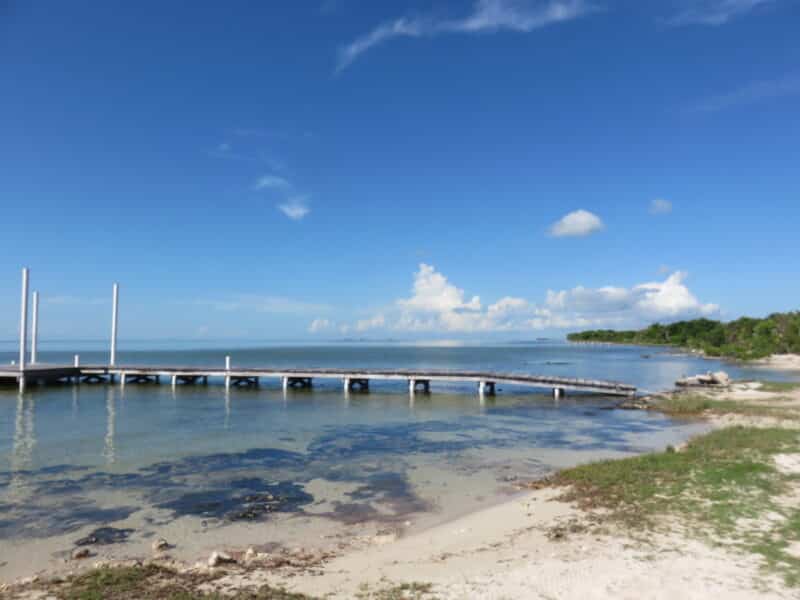 The water, usually a light aqua, was more green.  Perhaps the recent rains?
Sandy bottomed and warm, it felt fantastic to jump in.  A look around…off towards Blackadore Caye – way in the distance behind that centered caye.  I may have heard it moaning for Leonardo's help.
Throw your towel down and get some sun.  Roll into water.  Repeat.
The food cart was opening and selling a few beers to the few people here.
The MUCH MORE POPULAR DOCK (because of the shade) was empty by the time I left.
I didn't last all that long.  My search for the breeze didn't find me much.  The wind was picking up as the afternoon went on but…man.  IT WAS HOT.
I headed out a different way.
Passing this work station/house that has about 45% of a Jeep in the front yard.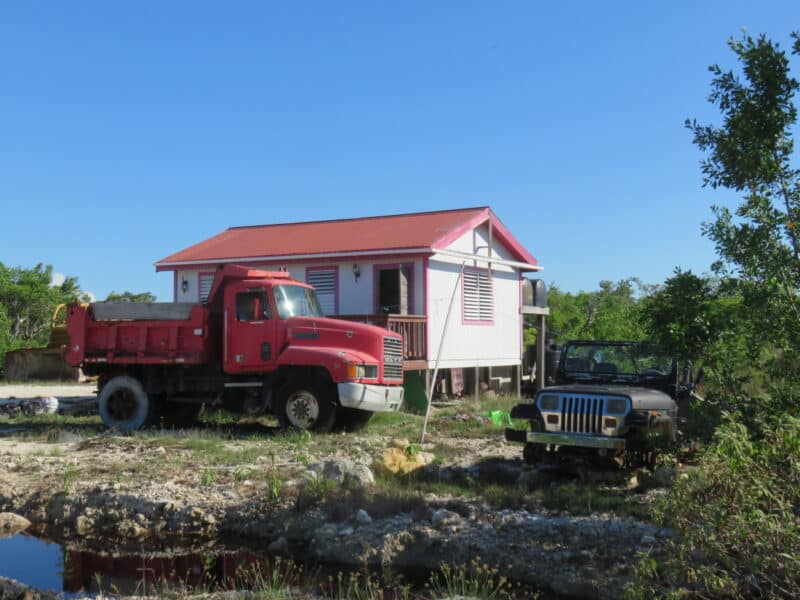 A lot that had been partially cleared and filled and marked with…a goal post?
Some more filling going on in this direction…
And then one of the actual residents of GBE.
And just there, across the street, two men came out of the bush, with machetes and a red dog and asked for a ride.
What the heck…hop in.