Ambergris Caye Vs. Placencia, Belize: Buying A Beach Home in Belize…How Do You Make This Choice?
Ambergris Caye and Placencia, Belize.  Both beach towns.  Both have ever growing expat communities, both have restaurants, bars, shopping…both have lots to offer.  And let me tell you before I start any of this – I have no definitive answer.
Some people visit Belize once or repeatedly…falling in love with one spot…and the choice is easy.
Here's a map…San Pedro/Ambergris Caye is the red arrow in the north – Belize's largest caye. Placencia Peninsula, is 14 miles long and juts off the mainland.  It's the red arrow in the south.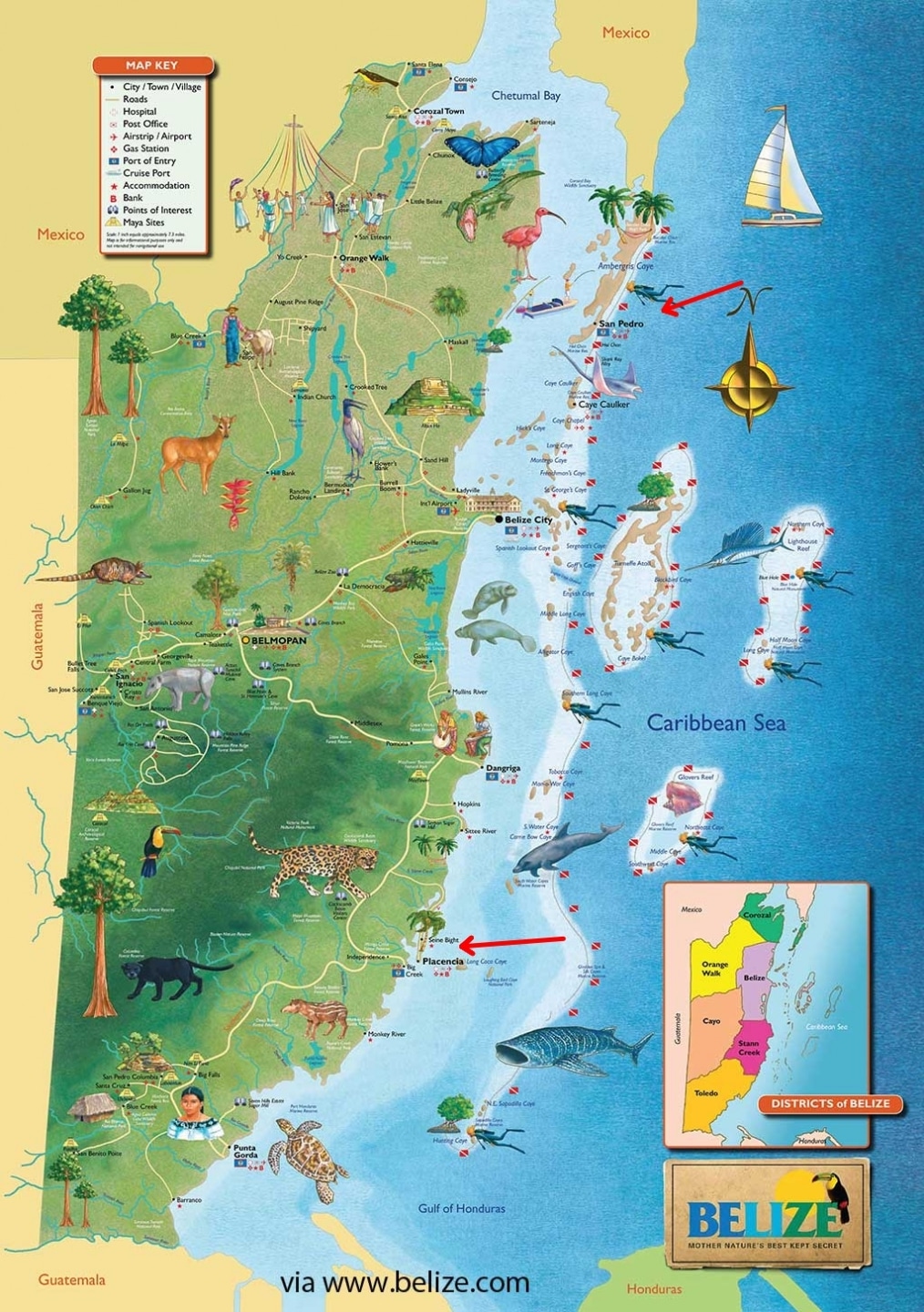 You can see where the barrier reef runs along the coast – sometimes closer, sometimes farther from the land.
Keep in mind that Belize is relatively tiny – about the size of the state of Massachusetts.   It's just about 170 miles from North to South.
Others visit both popular resort areas and weigh the pros and cons of each spot.  But without moving there and really diving into the waters (rather than just testing them)…it's a tough call.  Both spots are gorgeous.
So here are what I think the differences and similarities are…and then I'll show you a few real estate options in both.
Hopefully it will help you get an overview.
AMBERGRIS CAYE:  is the larger community and growing by leaps and bounds – as the road has been paved on the north part of the island (partially for now) and larger resorts are in the works.  The population, both expat and local, is larger than that of Placencia.  The most recent census in 2012 says 13,381.  During the winter months (the "high season"), we could be close to 20,000.
There are more restaurants, bars, hotels and events.  There is a movie theatre, lots of shops and a bustling (some might used the word crowded) downtown.
The main mode of transport is golf carts though cars are coming more and more to the island.
The barrier reef is visible from the beach which is generally lined with boat docks, scuba shops and a few over the water bars.
For those who want to dive or snorkel every day…or many times a week, who love the idea of owning a boat and just getting in the clear blue waters, Ambergris Caye is a great choice.
PLACENCIA PENINSULA:  I love it also.  And while I have never lived there, let me do my best to tell you what I love about this area.  Placencia, is a small SUPER CHARMING village at the tip of the peninsula with an estimated population around 1000 people…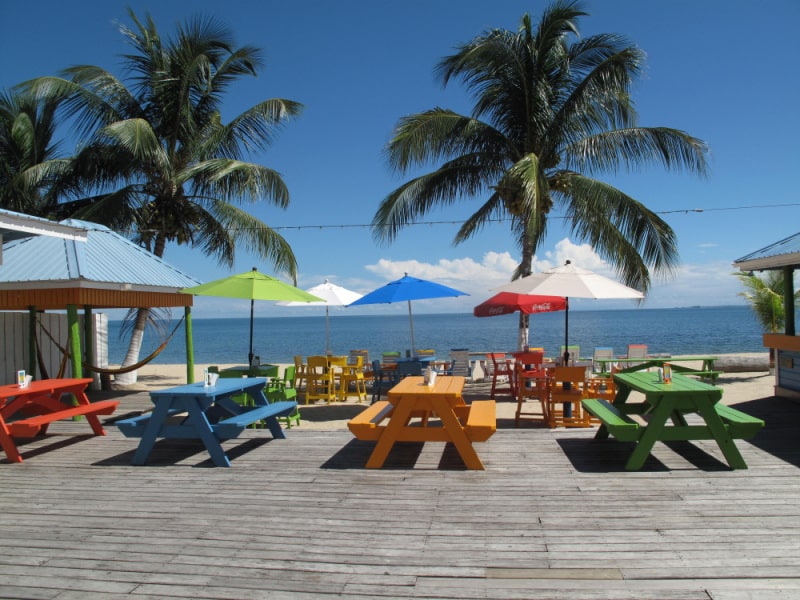 …but there are other communities.  Seine Bight (about 800 people), Maya Beach…you have options…and each area has a different feel.  And a small village sense of community.
The reef is off shore – about 40 minutes to one hour by boat road so it is a bit of a trek to the  gorgeous snorkeling and beautiful little cayes.
The beach is beautiful though the sand is river sand rather than coral – a bit darker in color and can really heat up in the bright sunshine.  But during heavy rains, the water can become a bit murky with local river run off.  Here is a picture of the beach in the Maya Beach area taken this February.
They also have the great restaurants and bars (the selection is great – there are just fewer of them) and the best gelato in the world at Tutti Frutti Gelateria (and that is nothing to sneeze at).  There is no movie theater but there is a…bowling alley.
Placencia Peninsula is part of the mainland so that many people who move here own a car…to travel to the Maya sites, the waterfalls, the hiking trails in the mountains, the neighboring areas and all that the mainland has to offer.
I asked Shane McCann of Belize Sotheby's International Real Estate to help me out with some example listings in both areas.  Belize Sotheby's has offices in both places – Ambergris Caye and Placencia so that if you are unsure, they can help you with both (and, in fact, the entire country.)
These are some different properties and homes scattered across the price scale – click on the links to see all of the gorgeous photos.
Ambergris Caye
I will start with land.
Located 10.5 miles north (north of El Secreto Resort) – is this small parcel of land.   $65,000USD.  (I'm kinda digging this one – all I'd need was a tent…oh…and a boat.)
Land about 1 mile south of San Pedro town.  It is on the road but very close to the beach.  And is available for home building or a store/business.  $199,000.
For those looking for some more room and amenities…Water's Edge Villas, Mata Grande Area, North Ambergris Caye  $1,995,000
For more seclusion AND a lower price, 8.5 miles north of town, this beach front home.  $449,000.  Click on the link…the inside and the location are beautiful.
And one more larger home, located in the coveted Tres Cocos neighborhood, JUST north of town.  Villa Adagio.  $1,578,000.
Sigh.
Now let's take a look at a few properties available on the Placencia Peninsula.  Much of the mid-Peninsula is undeveloped or just beginning to be developed so there are some differences that you will see.  Such as planned communities…
Clearly a rendering of a development in the works called "Wild Orchid Belize", this is called the Wild Orchid Marina Home.  $469,000US.
Or as an investment or a spot to build your dream home – a marine lot at the same development is available for $80,000.
And now for those who dream…and think big…6 acres on the peninsula and this HOME for $2,950,000.
Need more?  How about your own private island – North Saddle Caye.  Fully developed with everything from a reverse osmosis water system to its own natural deep water harbor.  $6,000,000.
I hope that gives you something to think (or dream) about.  There are more listings at all different prices in both places (and, again, around Belize) on the Sotheby's site.
And honestly?  Though 8 years ago, I picked Ambergris Caye (without seeing one other spot in Belize),  I can easily EASILY see why people are drawn to both spots.
Please feel free to ask questions or make comments – I know that both Team San Pedro and Team Placencia have very strong opinions.
Please note:  I am using the word expat for those who relocate from other parts of the world to live in Belize.  There is much controversy whether I am an immigrant or an expat.  I don't mind either word – but for this post, I am using the word expat.