San Pedro Snapshot Sunday: A Wrap Up of My Week on Ambergris Caye, Belize
For the full planes that came down to celebrate Thanksgiving with us in Belize – I couldn't be happier…it was a gorgeous week…and this weekend, perfection.  I have been struck with a bit of  head cold over the last few days…and trying to nest and rest so that I can be at my best to plummet into a 300 feet deep sink hole tomorrow.
Yes.  No joke.  I don't want to talk about it tooo much because I am terrified of heights and will easily wimp out.  But this is a CRAZY opportunity and only a complete ninny would say no.
SO let's get QUICKLY to the snapshots – both mine and some that I love from around Instagram. I just LOVE to know what others are doing around Belize.
Jr. Buddy at the Belize Zoo.  Posing for the camera.  He is such a national treasure.
A bit more local – The bike shop across the street from my home.
A turtle I moved across the road up north – apparently a furrowed wood turtle.  Super cute.
Gorgeous weather on Ambergris Caye.
Elsie walking.
And Caye Caulker.  WOW.
Kids walking across Central Park, San Pedro during lunch break.
An osprey plotting to pluck my eyes out…
Art shop also across the street from me.
And the amazing green out west in Cayo – and gorgeous Xunantunich.
Beautiful stormy weather at the end of a few days…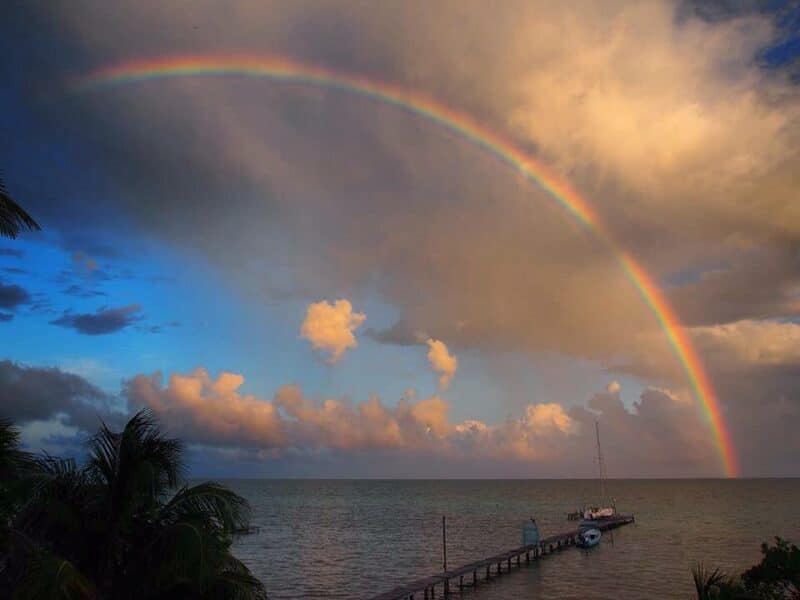 And it was Thanksgiving week…and I ate a FEAST.  Not just once…but twice.  Pumpkin pie the next day for breakfast is LOVE.
A beautiful cranberry walnut boule that my friend made…
That made the most delicious open faced post-Thanksgiving sandwich EVER.
My trip to Rubimoon Boutique.
And soups…as my nosed stuffed up.
Black soup/chilmole.
I won't give you a close up of the beef soup…but it was delicious.
And here are the rest of the pics around Belize.
And I'll add in my plea.  PLEASE VOTE FOR ME…it really takes 5 seconds.  To send me to Kerala, India for 2 weeks with other travel bloggers.  It would be AMAZING.
VOTE HERE FOR REBECCA COUTANT