Belize's Black Hole Drop: Leave The Chicken at The Top
Belize's Maya Mountains (that cover much of the lower left quadrant of the country) sit atop caves and hidden rivers…places discovered and undiscovered.  Yesterday, starting in Ambergris Caye (and returning there in the same day), I hiked deep into the jungle, dropped 300 feet into a limestone sink hole and lived to tell the tale.
Who would have thought?  But let me start at the beginning…
Last week, I received an invitation from Tropic Air – for one of the many tours they facilitate – making the journey to Lamanai or ATM Cave or cave tubing so much easier.  IT WAS MY HUGE FEAR – THE ONE BELIZE TOUR I SWORE NEVER TO DO.  THE BLACK HOLE DROP.
I answered within seconds – YES, I want to go and please do not respond to any messages that I might send in the future to change that.
With very little sleep the night before and my prayers for heavy rains unanswered, Monday morning, we boarded the 8pm Tropic Air flight to Belmopan.  The nation's capital.
Once over land, you remember how unpopulated Belize really is…much of the land, at least for the first few miles as you fly inland, is wetlands and savannah.
And then higher ground…and…OY!…a beautiful day.
The airport.
We hopped in a van for the 25 minute ride to Ian Anderson's Lodge…and signed some strongly worded waivers.  NOT HELPING!  Especially not the word DEATH in bold print.
The nice lady at the front desk assured me that there have been none to date.
I was practicing some deep breathing and was gauging my fear factor at about a 5 out of 10.  10 I will save for the IDEA of jumping from a plane.
We hopped on one cool looking grey school bus and headed out.  A 5 minute ride with pretty orange grove on one side and DENSE jungle rising up on the other.
I wasn't even thinking about a hike…I was only focused on the drop.  We were given back-packs – 3 liters of water to carry – THREE! and told it was two miles in with 3 "significant" hills.
This hike is NO JOKE!  We were a group from Tropic Air, Ramon's Village Resort, The Phoenix Resort, Sleeping Giant Resort, Banyan Bay, Grand Caribe Resort and The Blue Tang Inn.
And here we are starting off…a some point, I became so sweaty and focused, that taking photos didn't even occur to me.  Madness!
At least an hour later, we got to our spot.  The Black Hole.  A limestone sinkhole formed so long ago that there is a jungle growing at the bottom.
We waited as everyone got strapped in.  My nerves went from 5 to 7 rapidly.
Rose, one of our TRULY KICK-ASS GUIDES, gave us all the facts, all the information and showed us exactly what we would need to do.
One guide went down…you are controlling yourself to some degree but there are about 15 back-ups in case you mess-up.  This is good.   Very good.  I watched 3 groups go over.  Everyone seemed calm and collected.  It was decided that I would go with Norma…she has a very good "calm face".  You know…like flight attendants have on a bumpy plane.  Like ALL is well.
I walked down to the edge and strapped onto all the ropes.  And was so busy concentrating on where to put my feet that…it wasn't AT ALL like jumping into an abyss…it WASN'T THAT BAD!
I was doing it!
My dirty feet and Norma way ahead.
The first 10 feet walking down the wall…and then it's a hang…or drop.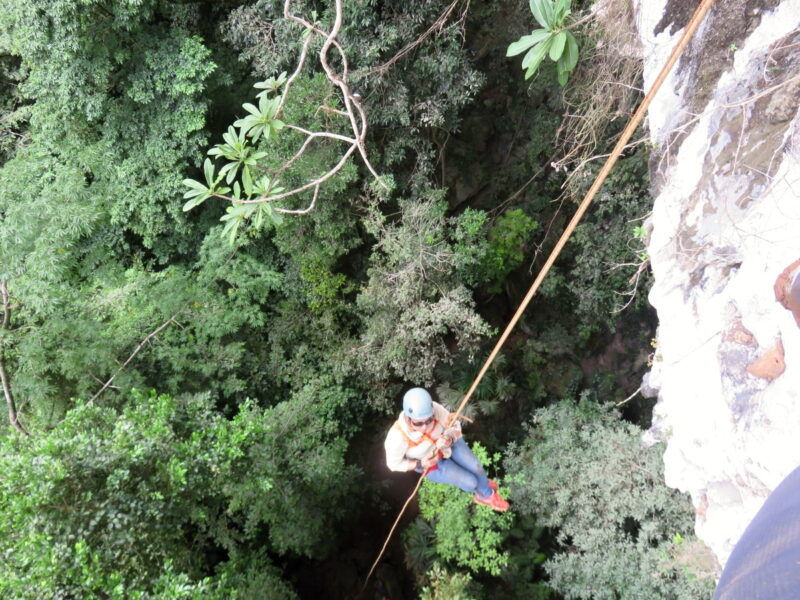 All the way to the bottom…less than 10 minutes in all…and my legs were a bit jellied…it really wasn't that scary at all.  It was super fun.
Dennis and Tatiana perched on a limestone mound when I reached the bottom.
And then I stood to the side and watched others come down.  The cave, once your fear-blindness subsides, is gorgeous.
And then, when I was pretty sure I could be no hungrier, a feast.  At the bottom of a cave.  The resort actually does a overnight honeymoon package down here!!!!!!!!!!!!!!!!!!
Time to climb out…this hike, honestly, is no joke.  You hike about an hour…maybe a little more each way.  Because it is November/the "rainy season", the trail was muddy – and though there are LOTS of rocks and roots and rails to hold onto – it is a tough hike.
Exhilirating, TIRING! and on the way back, buggy.  (Again, a seasonal thing – and you apply your mosquito repellent often.)  JC, from Tropic, was wearing a heart rate monitor/calorie counter, chest strap and watch.  By the end, he has burned about 2100 calories.
Based on my sweat, soreness and overall muddiness, I believe it!  Here comes JC.
We stopped to catch our breath before we headed back into the jungle…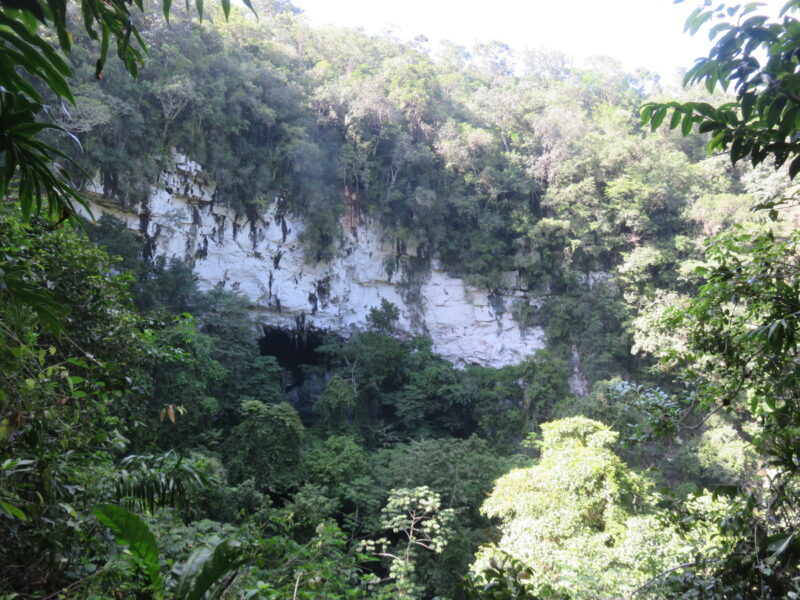 And then HOLY HIKE BACK!!!!!!!!!!!   We….were….at…the….bus.  Or perhaps it was heaven.  I wasn't sure at that point.
The weather had turned a bit greyer…but it's still gorgeous out there.
We loaded up…back to Ian Anderson's to change out of some SERIOUSLY dirty clothes…
And we were off…back to Ambergris Caye.  With our new co-pilot.
And a beautiful view.
Totally exhausted.  I fell asleep on the plane for a few minutes.  WHAT A DAY.
I can't believe I just did that.
This is for real adventurers and good hikers.  I asked Hector, one of our guides, the ideal time of year to do the Black Hole Drop and he said February thru April.  When the land has dried and the mosquitoes have disappeared.
It makes the hike easier.
I'm still a bit sore this morning but super glad I did it.  Like my friend from Ramon's Village said after I told her I was a TOTAL CHICKEN.
I left my chicken at the top.  And I'm pretty damn proud.  Thanks Tropic Air.
And Priscilla (in front) from Ramon's Village took this selfie et al of our crew.  Ha!  And it reminds me of a tip:  BRING BANDANAS!  2 wasn't even enough for me.
Note as of August 2023:  Tropic Air no longer does a trip to the Black Hole.  But…you can stay at Cave's Branch Resort and drop right in…