2015: Holiday Shopping in San Pedro, Belize For About $100bzd or Less
Christmas is hurtling towards us…a blink or two and it will be here.  I did a bit of shopping around town to find some nice gifts that you can purchase – for yourself or a loved one – for $100bzd or less.
I think I found a few good things.  Let me show you.  AND how cute San Pedro is looking…
It's nice to see Orange Gift Store open again in town.  They are located just north of Fido's on the Front Street and I found some really cute gifts there.  And while some of their stuff is very high end and pricey…these items are quite reasonable I think.
Rosewood is beautiful but the rosewood burl – the big spiky knot you would sometimes see on the side of the huge tree is rare and gorgeous.  The grain swirls and dots the wood…
For $28bzd.  These beautiful earrings with natural pearls and silver.
And then this gorgeous carved Christmas ornament that I'm pretty sure no one would put away after Christmas.  $92bzd.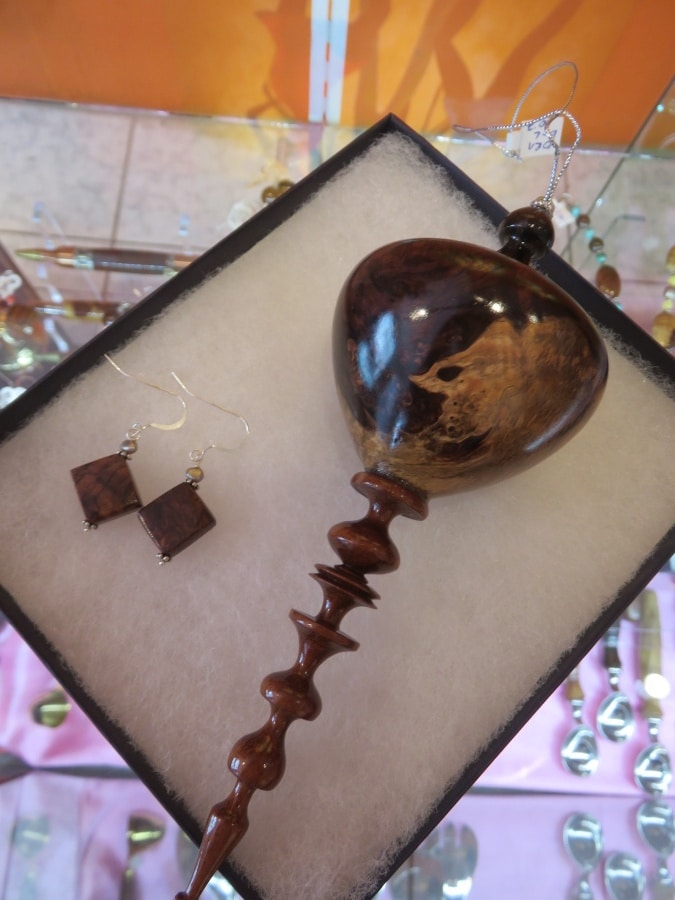 What drew me into the store initially were the hand beaded Christmas ornaments.  The Belize ones are very cute – and this photo does them no justice.  $50bzd
I found some beautiful brass and embroidery thread necklaces at Belizean Arts.  They have some great jewelry and art in the shop…check them out inside Fido's.  $35bzd.
On my way out, this caught my eye.  Love it.  Sparkly and available in tons of colors but on a simple cord.  Gorgeous with just a t-shirt.
How about using your Christmas budget for this beautiful cause – pick up a bear and buy a gift for a local child who might not get one otherwise.   Pop into Crazy Canuck's Bar or Sandbar and choose a bear from their Christmas trees.
Each bear comes with a Christmas wish from a child.  Some kids want dolls or school books…let's just hope you don't pick the one who wants a golf cart.  That's my bear.
I kid.
Buy the gift (Caye Supplies will give you a 15% discount if you present the bear), wrap it and drop it off.  Britney from SandBar and Kaitlin from Projects Abroad will make sure these kids get their gifts.  And you can feel FANTASTIC knowing that Santa hasn't passed a child by.
There are some cute t-shirts around town if you look…
Blue Water Grill (along with tons of cool stuff like hats, fishing shirts, running wear) has these new "I LOVE BELIZE" tees.  $40bzd.  And super cute.
The Rum, Cigar and Coffee Shop has these fun shirts with Belize's unofficial national drink featured…and the Coppertone girl all grown up.  $35bzd.
Stop by Graniel's Dreamland for lots of cute stuff.  Here, by the way, is a rosewood burl carved into a bowl.
I love all the wood bowls – made of trees that range from light grey to rose to black.  It's a great spot to learn about the amazing Belizean hardwoods.
My choices in the price range?  From about $50bzd to $70bzd – these beautiful zericote shells.
And I always like these flip flops…for about $50bzd.
I passed by a manger in front of Nellie's Laundromat.
And stopped into Papo's Art store.  He is the artist that did the FABULOUS mural at the Truck Stop…
(And if you are there…you can pick up one of the super cool Truck Stop hats for $40bzd.)
Papo has a great shop on Middle Street.  And while the larger pieces are out of my assigned price range…
…I'm going to squeeze these sailboat paintings in.  You can choose your colors, you can pick the names on the sailboats.  And for $125bzd?  You have one gorgeous souvenir or gift.
The Belize Chocolate Company is filled with great stuff…but you cannot go wrong with Chocolate Tea…$12bzd.
And NO ONE will be unhappy with a box of chocolates…or any of these beautiful products.  The cocoa powder is dark and rich and gorgeous – absolutely amazing for baking.  Or adding to your coffee as you brew it.
And have a cookie or a brownie or a muffin while you are there…you are working hard!  And just inhale the overwhelming smell of good chocolate.
Rubimoon
They have some super versatile, super soft scarves that dress up anything for $35bzd.
I LOVE their sarongs…beautiful colors, beautiful fabric.   I promise you – if you are shopping for a woman, you can find something great in here.
For the fisherman in your life or just someone who LOVES Belize – this gorgeous book is a series of love letters to the country (and to Belikin).  The pictures are SPECTACULAR.   You can stop in Tres Pescados Fly Fishing Shop on Front Street (across from Fido's Courtyard) to see and buy the book – or order it online.
It is JUST above my price range (again) but it's a piece of art.  Really.    Take a look here at some of his photos of Belize.
For those who like rum (or spirits of any kind), Tiburon is a premium blend and is winning awards left and right.  Stop in the Traveller's Liquor Store on Middle Street for tastings and a bottle of Tiburon.  $60bzd.
Hopefully that gives you some ideas.  Don't forget the basics for stocking stuffers – Marie Sharp's Hot Sauce…
If you haven't tried the Smoked Special addition…you must.  It's my favorite.
And check out some of the Mayan vendors on the beach – they have great little toys – and now even stuffed Santas – for the holidays.
Oh!  And Heather at Pampered Paws is making these DARLING ornaments – you can pick one from her collection or order one that looks like your dog.  I know she is working overtime!  $15bzd – $5bzd of which goes to SAGA Humane Society.
If you found anything special, let me know!  I'd love to add it to the list.