The Backwater Region – A Magical MUST DO in Kerala, India
Kerala, India has so many things that make it unique within India and rest of the world.  It has an amazingly high literacy rate (about 95%) and the lowest birthrate in India.  The landscape ranges from the coconut palm lined beaches of the Arabian Sea to the gorgeous Backwater lakes and canals to the mountains, spice & tea plantations and hill stations.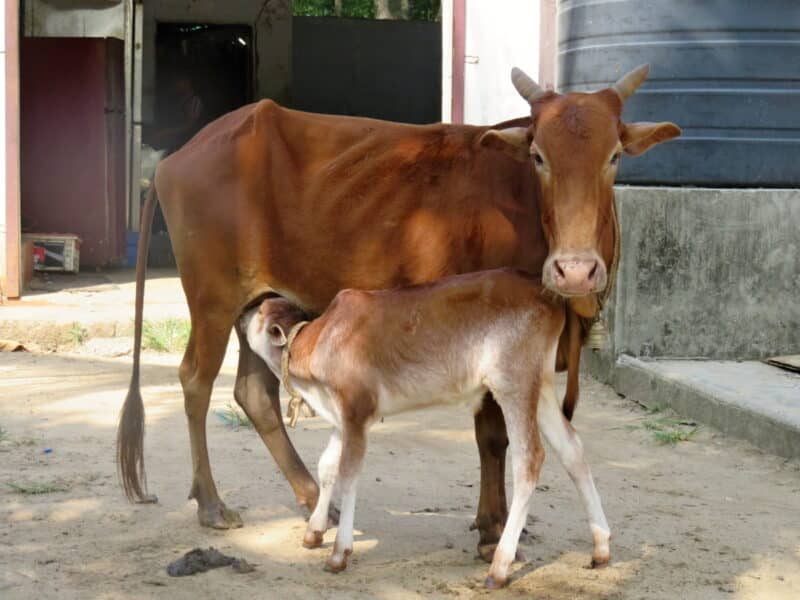 Kerala is home to a mixture of Hindus, Muslims and Christians (accounting for almost 20%) of the population.  Over the years, the state has ruled by Portuguese traders who were then kicked out by the Dutch merchants and then the British…Vasco De Gama was originally buried in Kerala.
All left behind parts of their culture.
Tuesday morning we woke early to head to the Backwater region (the name "Backwater" is a tricky one…but once I saw the area, it no longer held any negative connotations).  Let me stop talking and get to the pictures.  I can not take enough in Kerala.
We started our day at a gorgeous hotel for breakfast.  And we were ushered in by a parade.  Yes…that's right.  A PARADE.  Incredible drummers.
Men in traditional costumes that take HOURS to don…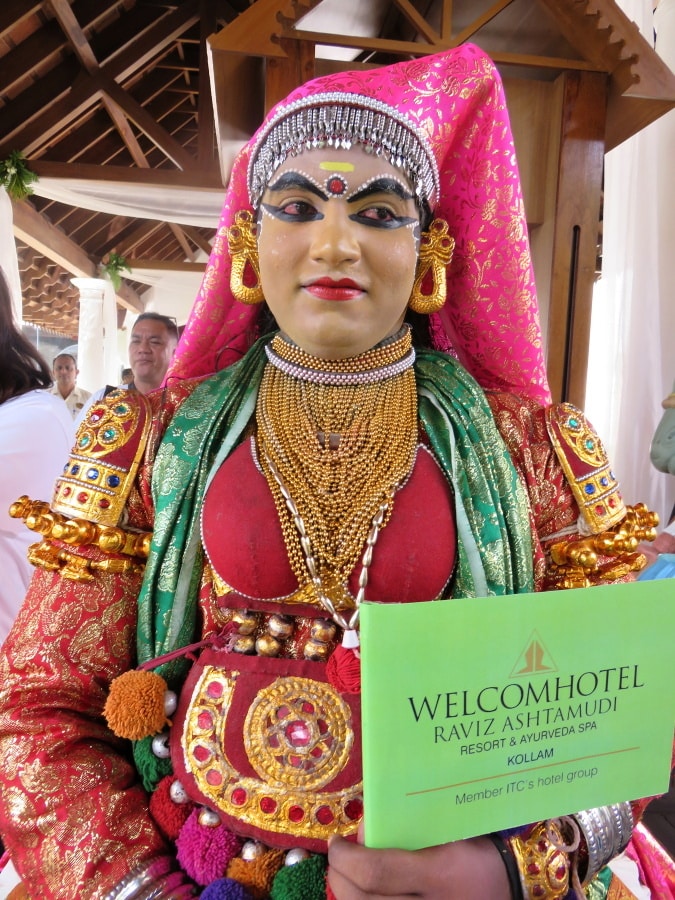 The staff waiting for us with ropes of fragrant jasmine, fresh coconut water and smiles.
And ROSE PETALS RAINING UPON US.  I felt like I was at my coronation…or at the very least my wedding.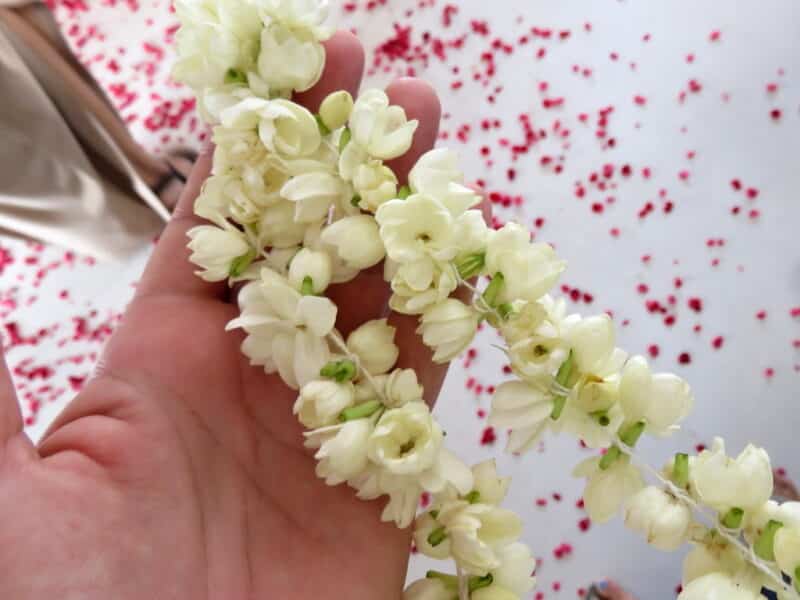 It was absolutely overwhelming.  After breakfast we headed up to the spa to take a look at the view.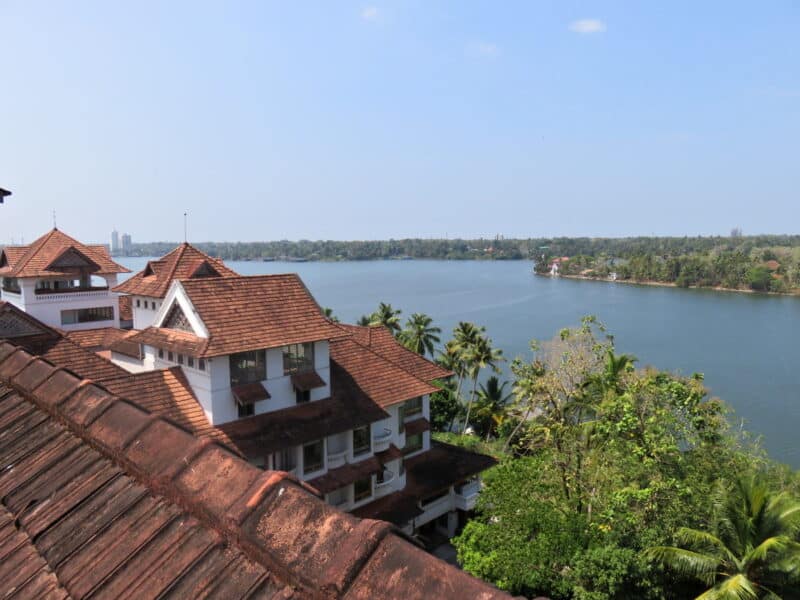 Our first look at the series of freshwater rivers, lakes and man-made canals through what is called the "rice bowl" of Kerala.  Gorgeous rice fields dotted with birds and water lilies, narrow walkways…an area where the main source of transportation is boats.  And we were spending the night on one.
The area is called "The Venice of the East" and it is stunning.
Our group boarded a tuk-tuk for the ride to our boats.  Tuk-tuk driving (or being a passenger) is no joke.  HOLD ON.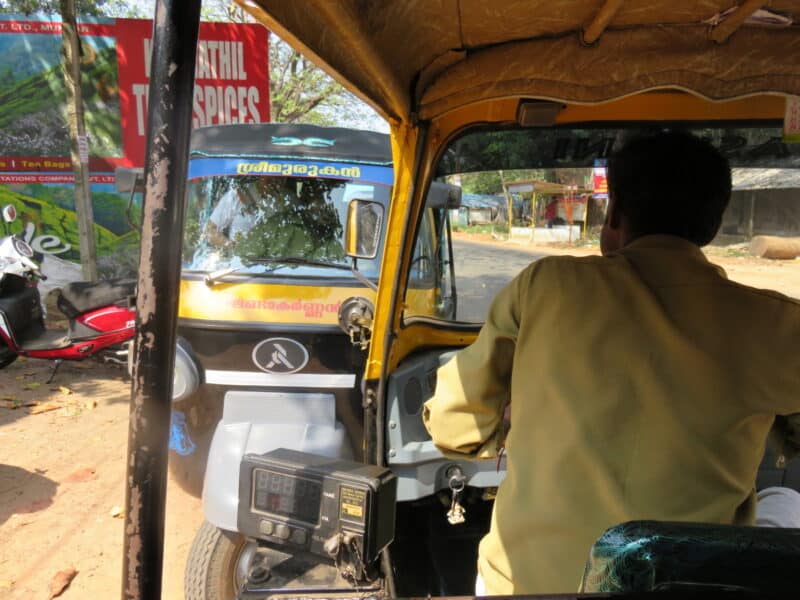 Our fleet at Rainbow Cruises.
And the door to our room.  TV, air conditioning, a crew of 4, 3 bedrooms…totally amazing.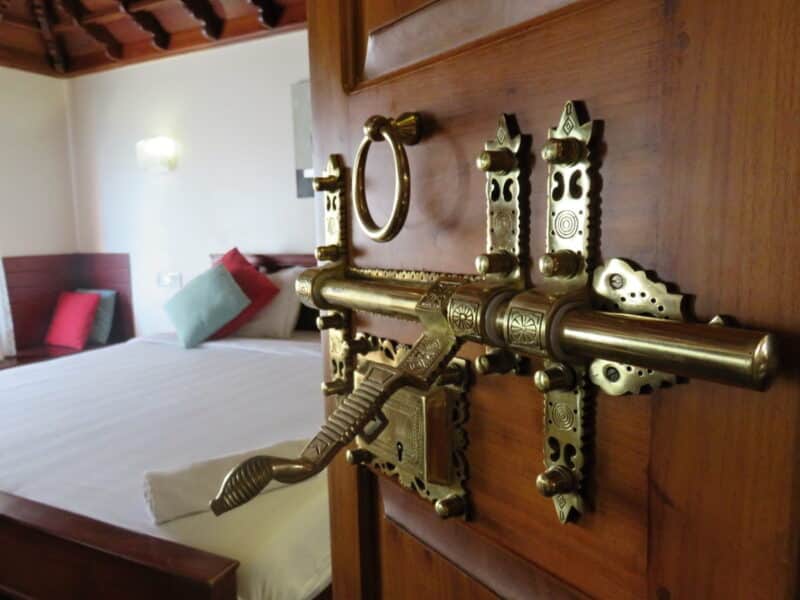 We set out onto a large lake and…well…here are some pictures.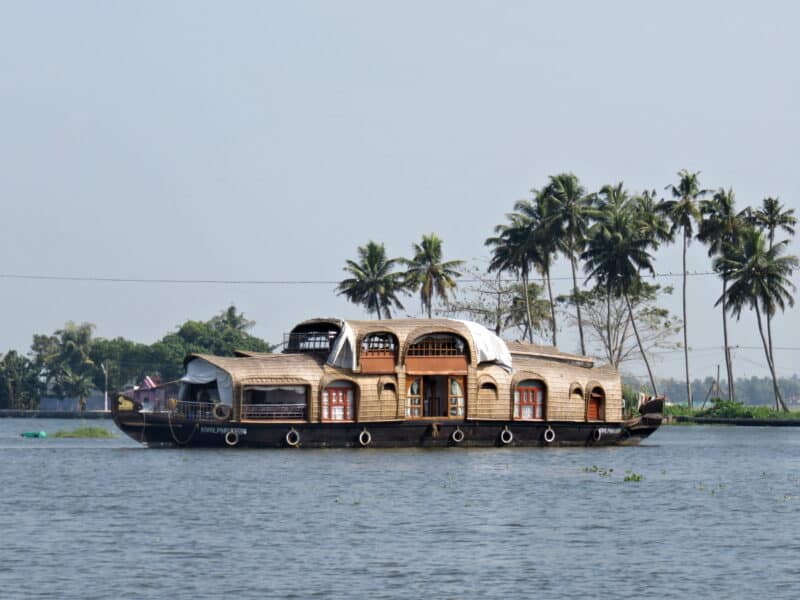 And down through the more narrow canals.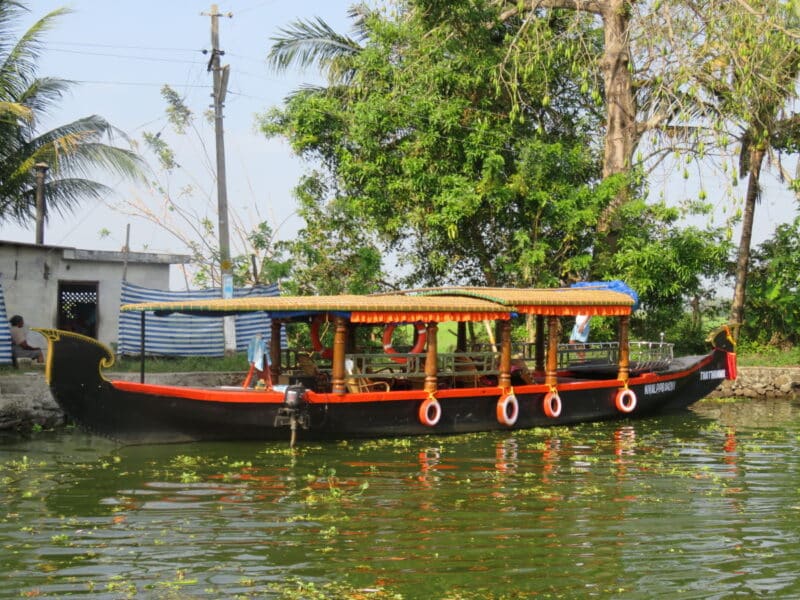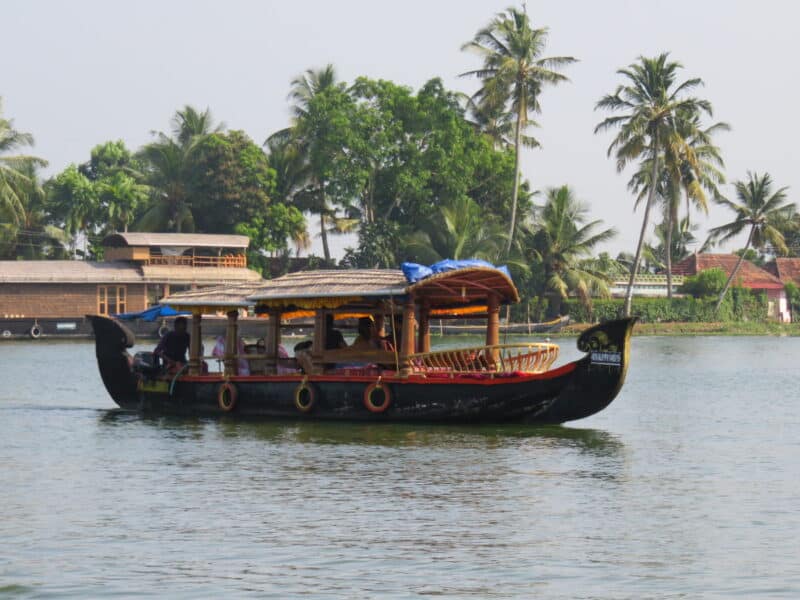 Everyone so friendly.  I have not met one person who says "no" when I ask to take their picture.  
Towards sunset, we pulled up to one of the narrow walkways that separates the canals from the rice fields…or in this case, one giant flat of hot pink water lilies.
And just a bit past, brilliant green grass.
Pulling into our final berth.  A man bringing home his two water buffalo.
Is she saying "take me with you" or "back away"…very hard to tell with water buffalo.
Have you seen flowers more beautiful?
Or a pink sunset like this?
We ate a huge meal (we are doing that at least 3 times a day…if not four) and went to sleep.  We woke as the boats were pulling out into the morning haze.
We passed the local floating "supermarket"…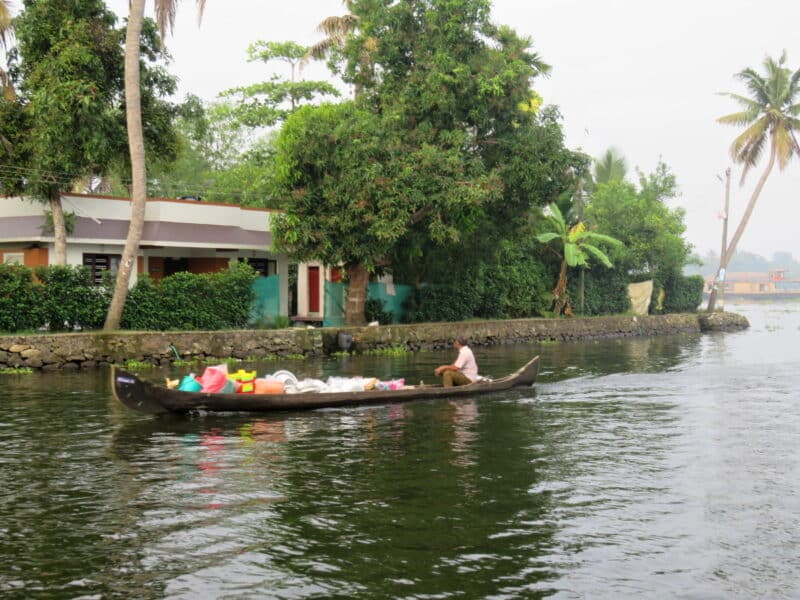 and returned to our dock.  The crew had prepared some fantastic meals, snacks, delicious sweet coffee and teas and desserts all on the boat.
We were off to ANOTHER amazing hotel for some beach, pool time, lunch and…30 bloggers!
Just like it says on the bus.
You know there are going to be a ridiculous amount of selfies.  Here's Betty from Bulgaria with the selfie stick.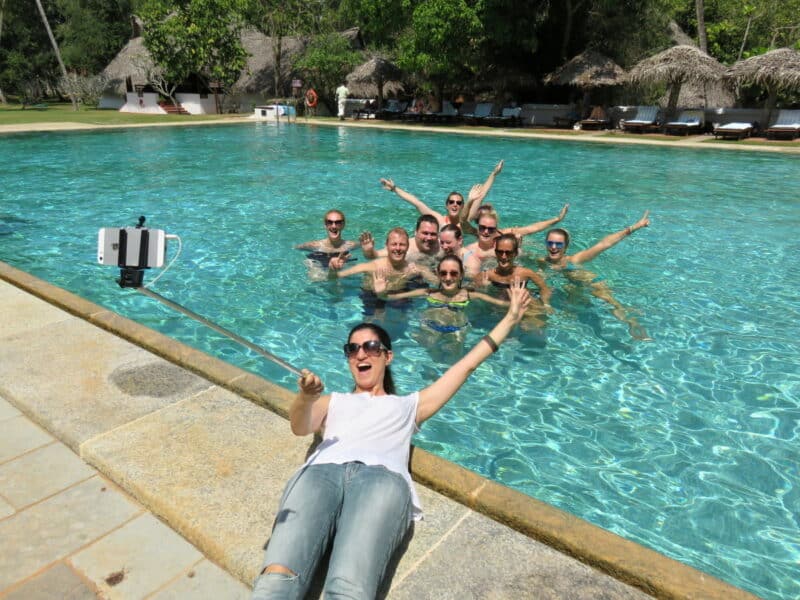 And for me…just footsies.  Baby steps.